Cars, watches and Negronis: A. Lange & Söhne's CEO Wilhelm Schmid in conversation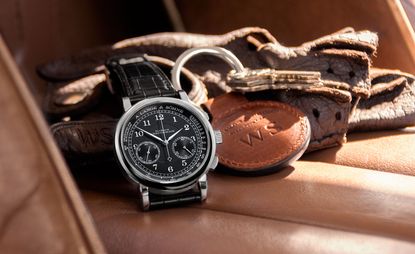 (Image credit: Lange & Söhne)
Wallpaper* Newsletter
Receive our daily digest of inspiration, escapism and design stories from around the world direct to your inbox
Thank you for signing up to Wallpaper. You will receive a verification email shortly.
There was a problem. Please refresh the page and try again.
Wallpaper* meets A. Lange & Söhne CEO Wilhelm Schmid in what can only be described as rarefied conditions. Behind us the Fellini-ish cinerama of Lake Como, glistening in the sunshine, rows of immaculate Riva Aquarama speedboats on the wooden jetty, jostling like taxis on a busy city rank. Beyond us, the immaculate lawns of Villa d'Este where some of the world's most beautiful and desirable automobiles are parked in the style of high gloss industrial art; Marc Newson's butch, sky blue Bugatti 59 single-seater Grand Prix racer (pictured below) and a low slung, sci-fi Lancia Stratos concept from 1970. A priapic Ferrari 500 Superfast that once belonged to actor Peter Sellers alongside Gianni Agnelli's impossibly cute Fiat 500 Spiaggia complete with rattan upholster.

This is the seventh year that A. Lange & Söhne has sponsored Europe's most prestigious classic car jamboree Concorso d'Eleganza Villa d'Este and Herr Schmid has no doubt that the event is the perfect fit for Glashutte's finest watchmaker. 'This is La Dolce Vita,' he says as the waiter arrives with our Negronis. 'People who like cars tend to like watches – there is a definite synergy between the two. The cars at Villa D'Este have all been technically innovative, handmade and built to last in the first place … and then restored and maintained by hand. That requires a high level of craftsmanship and dedication, a meticulous attention to detail. These are all things that we try to do with our watches also.'

The marque's long-term commitment to the event, he says 'reflects our deep rooted passion for sophisticated mechanics and classic elegance. Both in car construction and watchmaking, the inventive spirit has repeatedly set milestones in terms of technology, design and craftsmanship. The enthusiasm for these achievements connects collectors and connoisseurs of precision mechanical timepieces with lovers of classic automobiles
Discover the best cars in show at Villa d'Este Concorso d'Eleganza 2018
A. Lange & Söhne donates the coveted trophy for the finest car in the Concorso d'Eleganza Villa d'Este competition – the 'Best of Show' category winner being presented with a LANGE 1 TIME ZONE 'Como Edition' in white gold made especially for the occasion. Its hand-engraved case back bears the coat of arms of the competition. On the city ring of the time-zone watch, Central European Time is represented by Como (replacing Berlin on the regular models). 'It is our nod to the ingenious designers of the past and the committed collectors of today who preserve these precious treasures for us and future generations,' says Schmid.
The A. Lange & Söhne marque inspires a similarly discerning, loyal and recession-proof fan base. 'We have the privilege of being a very small producer we make just a few thousand watches a year so that makes us more resilient. We talk to our collectors and we listen to what they are saying and we realise that they are maybe not so affected by the volatile market as some other names are.' As far he knows, not one single Best of Show Lange 1 Time Zone has appeared in auction. 'And I don't think they will ever come up for sale. These people don't need to sell.'
Mr. Schmid's own love affair with cars began when he was a boy. 'My father had – and still has – a Ford car dealership close to Cologne. He was an entreprenneur with a small business so, as kids, as far back as I can recall - we were in the dealership. There was a petrol station, so whenever a car would arrive we would rush on to the forecourt to wash the car, fill it up, maybe change the water and pour in some oil. As a natural progression I became a car mechanic.' And a self-confessed petrol head.
As soon as he could afford it, Willem (a BMW South Africa executive before he joined the Richemont brand in 2011) bought himself a 1963, left hand drive, Belgian-registered MGB Mark 1 Roadster. 'I paid exactly 1000 German marks – around 500 euros in today's money. It was in very lousy condition – probably worth more in spares than for resale. That was 1980 and I still have that car today. It's now on its third engine. For years Wilhelm Schmid used the MG as his every day car clocking up over 360,000 miles.'And I still like to do a few thousand miles a year in the MGB to keep it in shape.
Acknowledging his thing for British cars (and German engineering) Wilhelm's Saxony garage is also home to a classic Bristol ACS and a rare Frazer Nash Le Mans. 'But at least the Bristol has a BMW engine!' he adds patriotically. (The ACE is fitted with a 1940 Mille Miglia-winning BMW 328 engine, the parts being seized by the Brits from the German manufacturer as part of war reparations.)
That same boyish passion for cars now informs his seven year long career at A. Lange & Söhne. 'I am not a watch maker but think I do have an understanding of how a watch works,' he says with a smile. 'Whether it's a watch or a classic car, the fundamentals – the physics, the mechanics and engineering, the craftsmanship – are always the same.'
INFORMATION
For more information, visit the A. Lange & Söhne website
Receive our daily digest of inspiration, escapism and design stories from around the world direct to your inbox