La dolce vita: the best cars in show at Villa d'Este Concorso d'Eleganza 2018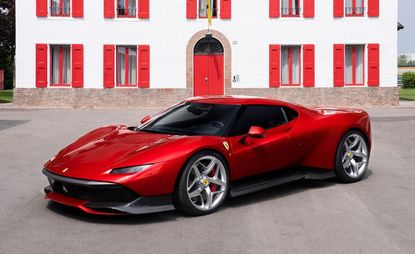 (Image credit: TBC)
The sun blessed all three days of Villa d'Este Concorso d'Eleganza this year – despite the threat of looming nearby thunderstorms – helping to make the 2018 edition of the elite classic car and bike show held on the shores of Lake Como in Northern Italy one of its best. The recipe for the annual late-May weekend event is simple: Firstly, choose a small selection of the rarest vehicular transportation from the early 20th century to now – just 56 cars and 34 bikes were entered this year, from powerhouse marques that straddle much of, if not all of that period, like Bentley, Ferrari and Porsche, to deceased brands from the past (Isotta Fraschini) and newcomers as well (Genesis).
Secondly, ask each owner to take turns to ride or drive (or in some of the older classic car cases, be pushed!) from their lawn or gravel pitch to loop around the stunning Villa d'Este and promenade in front of a special design jury and the show-going public. Finally, get the jury and public to cast their votes and award various prizes, based on provenance, rarity, authenticity… and of course beauty.
This year's car winners were unusually all Italian, including a 1958 Ferrari 335 Sport Spider with coachwork by Scaglietti (the Jury's Best of Show); a 1968 Alfa Romeo 33/2 Stradale with bodywork by Scaglione (the visiting Public's Best of Show); the 1970 Lancia Stratos Zero concept with bodywork by Gandini (Young People under 16's top gun); and the 2018 Ferrari SP38 designed by Manzoni (the Public's Concept Car winner). On the bike side of things, the 1948 Moto Major was applauded by the professionals (Jury's Best of Show); the Nottingham-born 1939 Brough Superior SS80, with its immaculate pin-striped side car, claimed the public Best of Show vote and a 1907 Indian Twin-Cylinder took the Jury's special prize.

From big-engined 1920s behemoths to 1950s beach buggies then, to 1960s and 1970s Formula 1 racing cars and Noughties electric concept cars and bikes, there was an exotic automotive flavour for everyone. Read on for Wallpaper's highlights…
Marc Newson's 1934 Bugatti 59
Owners of rare classics at Villa d'Este tend to be more wealthy than well-known, but Australian product designer Marc Newson is, like Ralph Lauren at Villa d'Este events in previous years, perhaps an exception (while neither are exactly poor). Either way, Newson's automotive taste is clearly on point, his 1934 Bugatti 59 Grand Prix car winning its early motor racing-inspired class category.
2018 BMW Concept 9Cento
BMW usually launches a concept car and concept bike at Villa d'Este as the wider BMW Group organises the modern event, but this year there was only the BMW Concept 9Cento motorbike (plus a brief glimpse of the Rolls-Royce Cullinan). Edgar Heinrich, design director of BMW Motorrad told Wallpaper* that the Concept 9Cento's purpose was to 'up the desirability factor of a touring bike' normally known more for their long-distance practicality rather than wow factor. Based on an existing chassis and engine, the design process was a super-quick four months and in a nod to the need for touring bike practicality, the Concept 9Cento also features clip-on-and-off panniers (shown here small, but with bigger options envisioned).
2018 Genesis Essentia concept
First shown at the New York Auto Show earlier this year, Hyundai's upmarket brand Genesis chose Villa d'Este to take its latest Essentia concept out into the open and bask in the sunshine by the side of Lake Como. The combined talents of Luc Donckerwolke (ex-Bentley and Lamborghini), SangYup Lee (ex-Bentley and GM) and Alexander Selipanov (ex-Bugatti) created this all-electric GT concept and its clean and curvaceous exterior looked right at home among the classics on show.
1929 Rolls-Royce Phantom I
It's the gold plating accents that adorn all the visible metal parts of this otherwise glossy black 1929 Phantom mk1's exterior that catch the attention initially, but arguably its most delightful element – and surely the best automotive interior detail at 2018's Villa d'Este – is the incredibly intricate wooden rear-door cabin panel. Featuring a built-in Rolls-Royce timepiece, artistic wood inlay and vertical slots for what look like two cut-glass perfume bottles, a book plus an ornate vanity mirror, the level of skill and refinement is incredible.
INFORMATION
For more information, visit the Concorso d'Eleganza Villa d'Este website (opens in new tab)
Guy Bird is a London-based writer, editor and consultant specialising in cars and car design, but also covers aviation, architecture, street art, sneakers and music. His journalistic experience spans more than 25 years in the UK and global industry. See more at www.guybird.com (opens in new tab)