Technically speaking: beautifully designed smart gadgets for technophobes
Our bi-monthly dissection of technology happenings the world over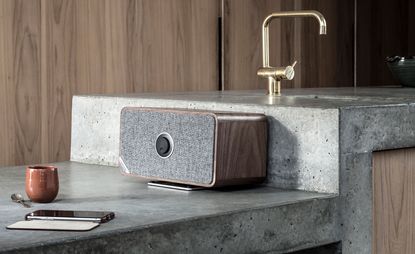 (Image credit: Ruark )
Love it or hate it, beautifully designed gadgetry is booming. Tech titans like Apple, Yves Béhar and Google – which is making its Salone del Mobile debut with a much anticipated experiential installation this year – have become expert at packing terrifyingly complex software into elegant, familiar cases. Recall our commentary on the epic battle of the butler bots, where AI aliens sneak into the living room concealed in stylish shells, blinking their red lights cutely, or our dissection of new school products encased in comfortingly retro frameworks.

Here's five of our favourite hardware hard-hitters that soften the blow for technophobes with mantelpiece-worthy contemporary design...
Ego
When we first received this mysterious, alienigenate package from the far-reaches of Italy, it got the Wallpaper* office intrigued – and confused. Rising on a pulley system from an aeroplane-like black box, a smooth black egg appears from the dark; entirely markless, buttonless and beautiful. Initially, we weren't sure what this bizarre gizmo actually is, or does. Only after taking it home and tinkering with it (hours of fun) and translating the Italian handbook (less so), did we discover it's a data storage device. Oh.

But anti-climax this is not. Ego is an exciting new concept of personalised, wireless, private memory, designed to protect the inviolability of your information. Under the steam of its own Wi-Fi this egg will scramble your data (excuse the pun) using personalised encryption so powerful and newfangled we couldn't possibly tell you how it works. Cambridge Analytica watch out.

Bad eggs aside, Ego is finely crafted, expensively weighty, and a talking point, available at the Wallpaper*STORE. Put it on the mantelpiece and watch visitors raise a question – and an eyebrow.
MaximusPro, by Map and KPIT
Something else from the left field: a tiny sat nav you never knew you wanted. Design studio Map has collaborated with KPIT – a leading global technology company from India – to create the world's first connected motorcycle navigation device, MaximusPro, designed specifically for touring on two-wheels.

This paperweight-sized, handlebar-mounted device, which connects to a smartphone, displays the direction and distance to your destination, without prescribing a specific route. Designed specifically for India, its makers conducted a deep ethnographic study of the country's bike culture (including surveys and road trips) to discover that motorcycle tourists chose to ride for the journey, not the destination. But India's roads are tricky to navigate, and conditions are often difficult and varied. So Maximus Pro is built to withstand pretty much whatever the rider throws at it, with a minimal design so as not to distract them from the road.
Powerbank stone, by Wood'd
Designed to resemble a pebble, and available at the Wallpaper*STORE, Wood'd's portable powerbank supplies enough energy to give even the busiest of smartphone's a full charge. Deceptively, the 5200 mAh powerbank (pictured) is carved from lightweight wood and charges via a concealed USB cable port on its slim base.

Simple, elegant, practical – this is more than a charger: its a symbol of high quality, well-crafted design's ability to seamlessly connect with the kind of contemporary technologies we can't escape. 'Our aim is to improve the relationship we have with the daily goods we keep carrying, sure of the impact that a well manufactured and design product can have in our lives,' explains the family-run Italian brand. It'll be a must have for busy folks with bursting bags during Salone and Fashion Week, as it's super lightweight and compact, as well as being a stylish objet d'art.
Ruark
Another family-run business, British brand Ruark has been making stylish speakers since the Eighties – but its a late pretender to the crowded connected tech showroom. This April, it has launched its first ever connected wireless speaker, the Ruark MRx.

It has everything you've come to expect from your connected speaker: multi-room, network music and Internet radio, USB playback and charge port, Spotify Connect, Deezer and TIDAL connectivity. But what's especially pleasing to see, while adding all the mod con must-haves, Ruark has retained its unmistakable visual and audio identity. Rich walnut and soft grey finishes will complement any existing Ruark speaker you might already own (the MRx connects to the existing R2 or R7 models, great for a multi-room, annoy-the-neighbours effect). And its quirky, on-centre button makes it stand out from the tiresome tapestry of existing fabric speaker models on the market.
Contactless watches from bPay
bPay, Barclays' wearable payments technology solution, announced at this year's Baselworld that it was partnering with seven watch brands (including Guess, Timex, Mondaine and Kronaby) to embed wearable payments in traditional timepieces and fitness trackers, as consumer demand for this technology breaks the bank. Spending via bPay's payment chip jumped 129 per cent year-on-year in 2017.

Like the now ubiquitous contactless payment cards, and smartphone payment services like ApplePay, watch brands have been increasingly keen to get their hands on the tech. 'This is where fashion meets lifestyle functionality,' says Paul Martin, managing director of Sequel UK Guess Watches.

Function follows form here – the tiny, flexible microchip will be invisible, tucked inside the watch itself, or its strap (depending on the brand). The aesthetic of the watch stays the same, but the chip allows the wearer to pay in seconds with just a swipe of the wrist. As Adam Herson of Barclays Mobile Payments adds, 'Our game-changing, flexible bPay chip means we can transform any traditional timepiece into a smart device – without sacrificing style.'
Elly Parsons is the Digital Editor of Wallpaper*, where she oversees Wallpaper.com and its social platforms. She has been with the brand since 2015 in various roles, spending time as digital writer – specialising in art, technology and contemporary culture – and as deputy digital editor. She was shortlisted for a PPA Award in 2017, has written extensively for many publications, and has contributed to three books. She is a guest lecturer in digital journalism at Goldsmiths University, London, where she also holds a masters degree in creative writing. Now, her main areas of expertise include content strategy, audience engagement, and social media.