Back to the future: Cao Fei brings the BMW Art Car into the digital age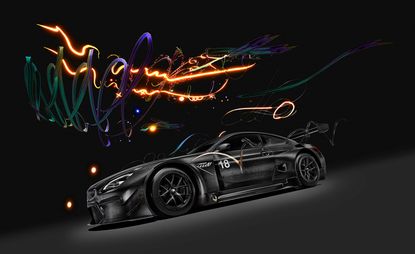 (Image credit: BMW AG and Cao Fei Studio)
A time-travelling monk leaves a dramatic mountainous setting in what appears to be ancient China. He sets off by foot, walking through time toward a nameless megacity. With a composed expression and dressed in traditional costume, we see him pass by fragments of modern China – mass construction of soulless high rises, super highways with endless traffic, giant advertising billboards, a factory car park with row upon row of identical cars. He approaches a black racecar, puts on a virtual reality headset and enters the future, projecting dazzling, dancing lights onto the vehicle.

Unmanned is the video-art prelude to BMW Art Car #18 by multimedia artist Cao Fei, unveiled in Beijing at the Minsheng Art Museum. Following the video, an M6 GT3 racecar appears on stage cloaked in a deep matt carbon black. The audience aim their smartphones at the number 18 on the car, and through a special app project colourful light swishes onto its surface.

There are three layers to this latest Art Car: Unmanned, the racecar and a free app that employs both virtual and augmented reality. The idea is to experience these elements simultaneously for a theatrical experience as the light swishes form an AR installation floating above and around the car. Here we, the audience, are active participants. This is art as experience.

Cao is one of China's most notable contemporary artists. Following the contributions by Jeff Koons and John Baldessari, at 39 she is also the youngest and first Chinese artist to be involved in the 42-year-old series. The unique BMW Art Car project began life quite innocently when racing driver Hervé Poulain asked his artist friend Alexander Calder to paint his 3.0 CSL which he subsequently raced at Le Mans. Since, some of the most notable names in art history have painted BMW racecars, with all but Olafur Eliasson's competing on the international racing scene.
A decade ago the Icelandic artist made an ecological statement by taking the wheels of his Art Car. Yet no artist has attempted to take this into virtual space – until now. Cao's project can be read as a statement on the second life of the automobile – the clean, multi-functioning, digitalised, autonomous vehicle. Simultaneously, she is narrating the dazzling speed of change in China.

The artists who work on the Art Cars have complete creative freedom, but as these are functioning racecars, they cannot interfere with the body shape or weight. In Cao's case the challenge was to find a surface that would work with AR technology, and the only way this could function effectively is on a flat matt colour as reflective surfaces tend not respond to the algorithm. She explains, 'I needed the darkness shade so when the colour appears with the AR you only see the shadow of the car.'

Cao was chosen by an independent jury that includes some of the world's most notable gallery directors and curators, and it took some convincing the BMW board members in Munich to take a risk. 'It wasn't easy for BMW to go ahead with this car,' admits Thomas Girst, head of BMW Group cultural engagement. The jury though were unanimously in favour of this rising star. 'She is a very courageous choice because of her capacity to make parallel universes,' offers Richard Armstrong, director of the Guggenheim Museum in New York.

The BMW Art Car #18 has taken three years from initial concept, during which time Cao has had a racing experience and visited the BMW headquarters, working closely with the engineers, designers and digital specialists. A virtual experience will be on display during Art Basel this week. Then in November, BMW racing driver Augusto Farfus will take the M6 GT3 on the track at FIA GT World Cup in Macau. How Cao's virtual and augmented vision will play out on the race track, when the car zooms by at high-speed, is something we are told the team will work on perfecting by then.

The following day we visit the artist's studio in Beijing. She has occupied an abandoned 1950s cinema complex since 2015, painstakingly restoring many of its original features. This and the surrounding neighbourhood are relics from the Soviet Union and later German Democratic Republic's involvement with China as part of the Five-Year Plan. Sadly, the area, once considered a utopian vision, is being demolished in a couple of years to make way for more high-rises, the kind that occupy Beijing's skyline.
Cao is very much from the digital age. She has a prominent presence in Second Life and says to her the machine 'is like human'. You can sense her comfort within the virtual world as she speaks passionately about technology, of using virtuality to imagine another reality. 'When looking at the boundaries between the virtual and real world my answer is light, something visible and something invisible,' she says. 'To me, light represents thoughts. As the speed of thoughts cannot be measured, the Art Car questions the existence of the boundaries of the human mind.'

Her is a mix of old and new customs and philosophies. For instance, in Unmanned the practitioner executes spiritual movements, which echo in colourful streams of light. When the monk performs his dance, Cao is paying tribute to the traditional Asian spiritual ceremony when a new object is blessed – here the racecar and driver. She says the light elements mirror what the eyes cannot see and the mind may not be able to picture. When the AR app is projected on the car, a similar experience is meant to happen.

She offers: 'We are entering a new age, where the mind directly controls objects and where thoughts can be transferred, such as unmanned operations and artificial intelligence. Which attitudes and temperaments hold the key to opening the gateway to the new age?'

Cao is from a generation born into a modern China. Her father was a prominent socialist realist sculptor who created busts of heroes and political figures, and his daughter often accompanied him to revolutionary gatherings. She speaks fondly of the experience. In contrast, she was raised in Guangzhou, a city close to Hong Kong and one of the first to experience change in 1980s. She admits her work takes a great deal from witnessing China's rapid development, first as a child then when she moved to Beijing over a decade ago.

Cao admits that these many layers and contradictions have helped inform her work. Aware of the disconnection from the past, she will now spend time investigating the country's immediate history – the 1950s and 60s. Although on the whole artists here are left undisturbed by the government, Cao admits there are always constraints – from not being able to log onto social media, to the banning of Google, but that 'swimming along' is a Chinese skill.

She offers: 'My father was expressing the idea of restrictions within restrictions. For me virtuality is a means to express myself, to understand reality which is what I'm interested in. I use writing and film too, but we are living in an age of rapid technology and in this context, we need to know that virtuality has changed the way reality works. And to do this we need to be part of it.'

Much like the city she works in, Cao's work is interjected with slogans that are political but also about advertising and high-consumerism. 'I used to do advertising where you have to first catch the eye of the consumer to then draw them in,' she says. 'Here I want to convey a message to the younger generation by using an app. This kind of interaction is crucial for me.'

The vehicle for mass consumption is relatively new in China and there is little historical connection to the romance of the motor car here. Perhaps it is this lack of emotional context that allows an artist like Cao Fei, who doesn't hold a driving licence, to so breezily visualise the vehicle in its next digitalised, autonomous life. China's dazzling development, whereby city maps are reconfigured every six months or so, leaves little time for contemplation.

With BMW hoping to evolve into a technology firm, exploring cars that are advanced mobile tech gadgets, we ask the artist if she is aware that her project is expressing this vision? She contemplates this question for some time, then offers, 'Today, it isn't enough to use a brush to paint – we need to go beyond aesthetic values. The monk in the film is travelling from past to the future through different spaces. It is about past, present and future, but also reality and virtuality. Image can give energy to cars because this kind of energy cannot be expressed in language. These images can showcase our vision for the future automobile.'
INFORMATION
The BMW Art Car #18 will be on view at Art Basel from 15 – 18 June. For more information, visit the BMW Art Car website (opens in new tab)