Husqvarna's Svartpilen 701 road bike pairs minimalism with original spirit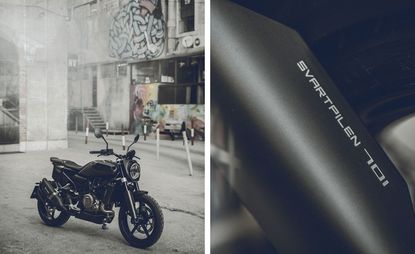 (Image credit: press)
The Husqvarna Svartpilen 701 is a very focused motorcycle indeed, but focused on what exactly? Sharing key components with the Vitpilen 701 'café racer' released in 2018, the Svartpilen, meaning 'Black Arrow' in Swedish, is the latest addition to a vision from parent company KTM's French designer Maxime Thouvenin, to capture some of the original spirit that originally made motorcycling so appealing.

Successfully harking back to the flat track oval racers of the 1970s and 80s, but with an injection of contemporary rawness, Thouvenin has taken the 'Go fast, turn left' mantra of these exciting machines and very successfully reduced it for the modern day, and indeed the street. Compact and minimal, the package includes wide-raked bars, an 18-inch front wheel, fork guards, a kick-tail seat with number board and rugged Pirelli MT60 flat track tyres; pure flat track-inspired touches that give an incredibly purposeful but approachable look, especially painted in matte black. Climbing aboard the Svartpilen reveals a firm seat and a very narrow design with only the sides of the radiator protruding out into the airflow. You sit neatly in the bike however, arms apart, feet slightly back, with your knees low over the motor. The riding position certainly means business.
Power comes from the same KTM-sourced 693cc single-cylinder as you'll find in the Vitpilen 701 and the Duke 690, but in Husqvarna guise it produces 75bhp (compared with the KTM's 73bhp), making it the world's most powerful single-cylinder engine. Delivering incredibly smooth drive for a single, all the way up to its 8500rpm rev limit, the impressive unit weighs just 50kg according to Husqvarna, and goes some way to explaining where your investment has been spent. Fueled up, the Svartpilen weighs approximately 175kg, which means performance is startling.

The moment you take your first corner however, is when the penny really drops. Here, the Svartpilen 701 really starts to focus the mind. The bike is incredibly easy to ride with its up/down quickshifter and willingly accepts almost any approach angle or entry speed. Feather light controls and a beautifully supple-but-firm WP suspension setup only encourage you further to pick a line that would be unfathomable on poorer handling machines. Pulling on the single Brembo front disc brake also incites huge confidence when the need to stop approaches.

Few bikes this side of large capacity Supermoto bikes can deliver such rewarding and grin-inducing progress at legal speeds. The Svartpilen also cuts such a dash on the street, especially in the city, that it's easy for the progressive styling to fool you. Flat track-inspired it may be, but the Svartpilen 701 is able to 'go fast' on tarmac and with it, turn left or right with the best of them too. Classic minimal design with performance to match.
INFORMATION
Husqvarna Svartpilen 701, £8,999. husqvarna-motorcycles.com (opens in new tab)