Range Rover's positive reboot: the best 4x4 flagship?
'Less thrusting and more soothing': we take a drive in the new-for-2022 Mk5 Range Rover and find it smoothed and refined, inside and out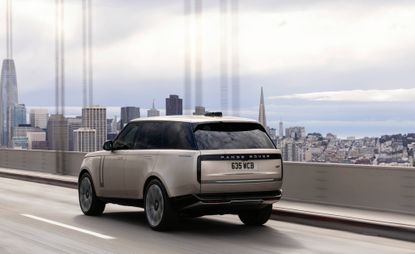 (Image credit: Range Rover)
The tricky balance with iconic cars like the Range Rover is to launch new ones that evolve enough in design and tech for everyone to recognise the latest version from the last, but not to move so far away from the original blueprint so that it no longer feels like part of the family.
The fifth-generation Range Rover (unveiled last year and now on the road) achieves that balance through retaining the basic ingredients that made it famous: long, high nose, clamshell bonnet, raked windscreen, spacious cabin, large windows for great driver vision, simple body sides below a horizontal shoulder, plus that 'uptick' rear sill signifier, gently rising behind the back wheels.
At the front and sides, everything on the Mk5 Range Rover has been smoothed and refined. Flush-mounted door handles – as championed by the Velar and continued in the Evoque – replace the Mk4's chunkier ones.
Creases on the front-to-back horizontal body line and lower sills are now less deep and graphically delineated, and the headlights and grille are externally neater and internally sharper.
Better than all of these subtle individual changes is the new stand-out rear end. Here, a dark crossbar unites much slimmer, vertical tail-lights that, when unlit, remain dark – rather than red or clear like almost all other cars' rear light clusters – and in so doing create a very pleasing 'dark staple' or lower-case 'n' graphic.
Follow one along a road or track – the luxury SUV has long since been adept on either, not to mention along rivers, over mountains and through deserts – and you'll be in no doubt it's the Mk5. It's a key identifier and an elegant solution, making what is a large vehicle appear more subtle.
Which is a good thing, as the Range Rover is still a big car, with three model types in its line-up: a short-wheelbase 'regular' Range Rover; an SV version from the Special Vehicle Operations division, offering many more customisation options; and a long-wheelbase (LWB) model that offers seven seats for the first time, something Jaguar Land Rover's chief creative officer Gerry McGovern had once declared would only happen 'over my dead body', due to the altered exterior proportions it would likely entail.
He has since conceded that 'now we've managed to re-jig the geometries, I'm pleased'.
From an engine perspective, Range Rover is also moving with the times. Beyond two still-excellent diesel and two petrol units, both with plenty of well-insulated power on tap, ranging from 350-530hp, there are also two plug-in hybrids – offering a very useful 70 miles of electric-only range – and a full-electric version due in 2024. Good future-proofing.
McGovern also hired an interior design chief from Rolls-Royce, Alan Sheppard, in a bid to move the Range Rover interior even further upmarket. Where the Mk4 had a smaller, integrated screen, the new Mk5's 13.1in screen is bigger, floating, curved, more intuitive and responsive. Steering wheel controls feature capacitive elements and superb wood veneer marquetry abounds, as does the interesting use of ceramic on the SV's switchgear.
'We wanted a more porcelain effect, something the customer can actually see,' Sheppard explains. 'Ceramic is also a good insulator, and it has a familiar touch you recognise from your morning coffee mug. That's a nice, personal aspect plus it's extremely scratch-resistant and super-durable.'
In the second row, seats recline gently, with calf supports; there is a tray table option that wouldn't look out of place in Business Class; and also a pleasingly complex motorised central cupholder. Third-row seating in the seven-seat version is 'stadium style' – sitting slightly higher than the second row – and although access isn't quite as easy or glamorous as for the first and second rows, once you're inside, the passenger space is fine. You don't feel like you're sitting in a boot.
Talking of that shapely rear end, another high-end feature that shows how Range Rover has super-luxury rivals in its sights is the new 'event seating' – rear-facing, boot-mounted pop-up seats – which with the hatch opened up, allow passengers to sit in the fresh air. Deployed when the car is stationary, they fold flat so they don't rob usable boot space.
Helming any Range Rover – and this Mk5 even more so – tends to engender more considerate driving. You have huge power, so there's no need to endlessly demonstrate it when departing every set of traffic lights. The high-up and commanding driving position affords a great view of your surroundings – and clever new tech can reveal any bits you can't see via the centre screen – so the vehicle always feels easy to control and soothing to sit in for long journeys.
The move upmarket means that almost the entire range starts above £100,000, beginning with the D300 SE SWB and rising to a serious £178,220 for the P530 SV LWB. That's significant money, but not compared to, say, a Lamborghini Urus, Bentley Bentayga or even a Rolls-Royce Cullinan. And arguably, the Range Rover Mk5 is a more elegant design than all of them. As Sheppard sagely concludes: 'The new Range Rover is less thrusting and more soothing. It's a celebration of achievement, rather than an expression of aspiration.'
Guy Bird is a London-based writer, editor and consultant specialising in cars and car design, but also covers aviation, architecture, street art, sneakers and music. His journalistic experience spans more than 25 years in the UK and global industry. See more at www.guybird.com