Lamborghini Urus: unsubtle, loud, and unconsciously retro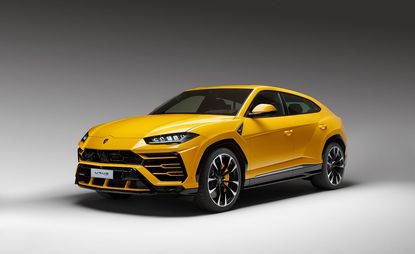 (Image credit: lamborghini)
SUVs are the brightly coloured waistcoats of the automotive world; a stylistic choice that doesn't always suit everyone. But one must assume that those who wear the loudest colours enjoy the closest scrutiny, and so it is with cars. There is nothing, repeat nothing, subtle about the new Lamborghini Urus.

The idea of a four seat, four-wheel drive Lamborghini is not a new one. In the late 70s and early 80s, the company – then a centre of ferociously individual design and engineering – built a few prototypes for a fearsome 4x4, culminating in the LM002 of 1986. Despite only making around 300 cars, the LM002 was hugely influential, a brutish powerhouse that introduced a very different way of displaying power and wealth.
Since 1998, Lamborghini has been a subsidiary of Audi and effectively one of the brands in the vast VW Group. Although the company still focuses on exotic mid-engined supercars, the real money is to be made in the still burgeoning SUV sector. Plans were drawn up to broaden the brand's appeal and the Urus was the result. First shown as a concept way back in early 2012, the production model arrived largely unchanged in 2018. The company's two main models, the Huracan (introduced 2014) and the Aventador (2011) and their variants, are both two-seater mid-engined super sports cars, dramatically angular statements of style, intent, purpose and taste. The Urus is a very different piece of packaging, a conventional front-engined four-seater, riding high on massive wheels but with the docility and practicality of a car you can use every day. Depending, of course, on the statement you wish to make.

The Urus is a big beast, but by the ballooning standards of the industry it's not particularly excessive. It does, however, make the kind of noise that is rapidly going out of fashion. A throaty V8 is never going to be quiet and so it proves here. Throw in angular, dramatic and aggressive styling inspired by the Stealth bomber aesthetic of its low-slung siblings and garnish with one of Lamborghini's signature vibrant paint colours (Giallo Auge or Rosso Mars, for example), and you're an attention magnet of some strength.
If you can brazen out the stares, turned heads, questions and occasional gestures (and in this modern age, the inevitable focus of camera phones), then the Urus is a perfectly agreeable day to day companion. VW Group knowhow sits beneath a layer of Italian exuberance in the switchgear and sharply creased dash, so everything works. Twin touch screens impart the necessary info, while the graphics are a striking blend of synthwave neon and everyday functionalism.

Of course, it performs just as a Lamborghini should. The old LM002 paired its V12 engine with brutalist aerodynamics and crushing weight; it could just about get to 120mph. Suffice to say the Urus does rather better, reaching 60mph in less than half the time of its ancestor. It's also worth noting that where the LM002 was an exotic, hand-built rarity, the Urus has practically doubled Lamborghini's sales volumes in a stroke.
We'd be doing the world a disservice if we didn't mention the environmental impact of cars such as this. A few years ago, Lamborghini's then CEO waved his hand airily at the idea of restrictive emissions legislation, claiming that as most of their cars were barely used by their capricious owners (presumably given their comprehensive collections of similar machinery scattered around the globe). As such, he said, a Lamborghini had a negligible effect on the environment. It's an argument that sounds rather less plausible in these more enlightened times. In any case, the 'scarcity of use' clause cannot be said to apply to the Urus, which is by its very nature a car for day to day use, not high days, holidays and unwitting appearances on schadenfreude-drenched YouTube outtakes.

Whether or not a V8 is music to your ears or an unwanted aural intrusion, it is probably a technology with a finite lifespan. Like many of its luxury, high performance rivals, Lamborghini hasn't stuck its neck out with an all-electric model although given the VW Group's push for EVs, it's safe to assume that there's something in the works. For now, the Urus works best as a piece of unconscious retro design, closer in spirit to the LM002 than its maker intended. Needless to say, the Urus customer will be more than happy with this spiritual connection to a titan from the past.
INFORMATION
Lamborghini Urus, from £159,925. For more information, visit the Lamborghini website (opens in new tab)
Jonathan Bell has written for Wallpaper* magazine since 1999, covering everything from architecture and transport design to books, tech and graphic design. He is now the magazine's Transport and Technology Editor. Jonathan has written and edited 15 books, including Concept Car Design, 21st Century House, and The New Modern House. He is also the host of Wallpaper's first podcast.