McLaren's flagship supercar has still got what it takes
Five years after its launch, the McLaren 720S is still the purist's supercar of choice. Few cars can go faster and yet remain so precise and amenable to drive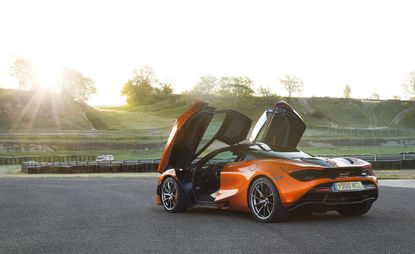 (Image credit: press)
McLaren is a company that transcends easy classification. Founded by a New Zealander, Bruce McLaren, in 1963, and forged in competition, it set up a dedicated road car division in 2010. Today, its products theoretically go head-to-head with the scarlet offerings from Maranello. But whereas Ferrari is a riotous cult of personality, laden with emotion and garnished with unicorn-like special editions and one-offs, McLaren remains an idiosyncratic combination of rigorous engineering and a defiant streak of individualism.
In practice, both companies usually have a car or two that closely tracks its rival. Ferrari's long-running mid-engine series, currently represented by the 296 GTB, will have its natural competitor in the shape of the forthcoming McLaren Artura.
Both have a hybrid powertrain that blends a battery with a V6, effectively productionising technology that debuted last decade on high-priced hypercars (the 2013 LaFerrari was the first hybrid road car to bear the prancing horse, while McLaren pipped it to the post with its 2012 P1 hybrid).
McLaren 720S: the purist's choice
While the future is undeniably electric, there's still a little life in the traditional petrol engine. A case in point is this car, the McLaren 720S, the self-described 'core McLaren Automotive product'.
Built around a V8 engine that puts out 720PS, hence the name, the 720S was originally launched in 2017. Five years is a long time in the modern car industry, especially with the current rapid rate of technological change. So is the 720S still competitive?
The answer is a resounding yes. In the interim years, McLaren Automotive has doubled down on the extremes, producing both cars that are more hardcore – like the magnificent Speedtail – and cars that are slightly better pitched at long-distance touring – the McLaren GT.
The 720S remains the purist's choice, with a breadth of ability akin to a champion triathlete. Few cars can go faster and yet remain so precise and amenable to drive. Even fewer cars can rip up a racetrack and yet remain a pleasant place in which to dispatch a couple of hundred trans-continental kilometres. And few cars look quite as dramatic as this.
Time has not withered the 720S's appearance in any way. It still has the most expressive lines of any McLaren road car yet devised, a pleasing synthesis of the outlandish (the dihedral doors, the various ducts and scoops, the stalk-like wing mirrors) and the simply beautiful.
In profile, it's one of the best-looking mid-engined cars ever built, with a cockpit-like glasshouse set inline from broad flanks that sweep up from the front wheel arches to the active spoiler incorporated into the rear.
This blend of purposeful form and rakish proportions somehow exudes a less showy aura than other cars of this ilk. No one could deny that the 720S stands out, even when the burbling V8 isn't running, but it also doesn't seem to wave its privilege in your face like certain other marques.
Nevertheless, the 720S is a formidable presence on the road, not least because of the low-slung bodywork, the wail of the V8 and a deep, deep well of performance that never seems to run dry. And when you want no distractions from the track ahead, the folding instrument binnacle can be flipped down to present a more minimal, performance-focused display.
The 720S demonstrates the very best qualities of a traditional engine, the visceral translation of energy into motion with all its accompanying sound and fury. It's the very acme of a technology that is soon to be obsolete, mated to a superior chassis and aerodynamic bodywork that will at least remain relevant in the post-fossil fuel era. Carbon-fibre construction – a characteristic that has defined every McLaren since its MP4/1 became the first Formula 1 car to use the material – makes the 720S incredibly light.
The interior doesn't scrimp on luxuries, however. Leather abounds, with a simple touchscreen navigation system that hasn't aged too badly. If you're keener on comfort than hard cornering, specify regular seats, not the fixed-back racing buckets. Similarly, you can opt to adjust the amount of exposed carbon fibre on display if the miracle material doesn't meet your aesthetic standards (amazing, but ugly, in our opinion).
Most of all, you'll want to focus on the road ahead, and revel in quite how quickly distances can be compressed with a 2.8-second 0-62mph time. Of equal importance is the car's ability to stop from 124mph in just 4.6 seconds, together with steering so precise that it feels like driving, well, a racing car. Which is not really very surprising.
There won't be a direct replacement for the McLaren 720S, with its old-fashioned turbos and cylinders. Any successor will have to incorporate hybrid power at the very least or possibly go all-electric. With a new CEO, Michael Leiters, in charge, McLaren has to tackle a few imminent challenges brought about by the endlessly evolving car market.
Its immaculate, Foster-designed HQ outside Woking, Surrey, is still very much a hive of activity, prepping the company's F1 cars in between races, hand-building the range in the adjoining Production Centre, and taking prospective starry-eyed customers on tours of the impressive collection of racing machines and trophies in the Technology Centre's capacious halls.
The elephant in the room is not electrification, but the ongoing economic viability of luxury sports cars. With almost every rival engaged in building an SUV in one form or another (even Bugatti is rumoured to have a crossover-type vehicle in the works), McLaren remains a notable outlier for its steadfast commitment to two-seaters. Five years after launch, the 720S is still a fine testament to the company's skills. But will it have to venture into a very different realm in order to stay competitive?
INFORMATION
McLaren 720S, from £222,800
cars.mclaren.com
Jonathan Bell has written for Wallpaper* magazine since 1999, covering everything from architecture and transport design to books, tech and graphic design. He is now the magazine's Transport and Technology Editor. Jonathan has written and edited 15 books, including Concept Car Design, 21st Century House, and The New Modern House. He is also the host of Wallpaper's first podcast.