Mercedes EQE tiptoes around a revolution to inch EV design forwards
We road test the new Mercedes-Benz EQE, the car that may ease the Mercedes E-Class customer into the electric age – balancing the formal experimentation that EVs allow with the familiar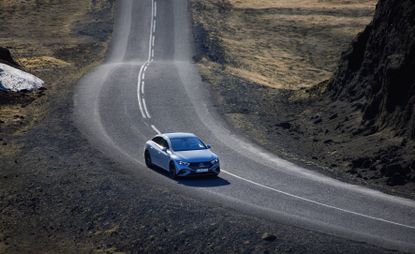 (Image credit: Jonathan Glynn-Smith)
There are various imagined futures for the electric car. In one, Tesla (opens in new tab) maintains its market lead – in 2021 around 70 per cent of all new electric cars bought in the US were Teslas, though its share of the global market is more like 14 per cent – while de-fossilising legacy and EV-native brands fight for what's left.
There is another future where that only holds until Apple launches its EV and disrupts and comes to dominate the electric auto industry – and eventually the entire auto industry – in the way it did telecommunications, personal computing and pretty much everything else with the launch of the iPhone (the current rumours are that Apple will pick up the troubled but highly innovative and design-led Californian electric vehicle maker Canoo (opens in new tab) as it gets its EV launch ducks in a row).
In this future, Apple eats Tesla's lunch.
This reading underestimates the lingering pull of the industry's established powerhouse brands and the essential conservatism and caution of the average car buyer, leaser, or subscriber. The essential established order will be updated but not overthrown.
The key to how the EV market develops will be how the legacy brands swap out their combustion engine ranges and ease in a parallel electric fleet. And it seems they will do that not by electrifying existing models but by creating close but born-electric cousins.
As cute, cuddly and innovative as the BMW i3 (opens in new tab) was, it proved too radical a proposition for many BMW loyalists. BMW's newest electric vehicle, the BMW i4 (opens in new tab) looks much more like, well, a BMW.
The tipping point for electric cars will be when benchmark best-sellers are replaced by accessible electric counterparts. The future of the VW Golf 'people's car' market, then, is not the electric Golf but the Volkswagen ID.3 (opens in new tab), an electric car designed to be electric, just as the original i3 was.
Another model key to this transfer of power is the Mercedes E-Class, the definitive executive saloon and traditionally Mercedes' best-selling model.
And Mercedes has just launched the car they think will ease the E-Class customer into the electric age. Or to put it another way, this is a car designed to take on and outpace the Tesla Model S.
The EQE's arrival follows the launch of the EQS luxury saloon and is based on the same 'electric architecture'.
Designed by in-house designer Bastian Baudy, the EQE is recognisably an E-Class but has distinctive 'one-bow' lines and a notably shorter front end (no need to find space for that big combustion engine).
The EQE's cabin sits on top of the powertrain rather than behind it, which essentially means you get a lot of big, airy space and it's noticeably taller, longer and with higher seating than the smoke-belching E-Class.
In truth, it's a design that takes some getting used to. Its proportions make practical sense, but you have to unlearn a lot of inherited thinking about what makes for an elegant line in car design. There is also little in the way of creases and sharp edges, so in flat light, it can seem low in drama.
The EQE is not entirely free of quirk and character; see the auto pop-out sensually curved door handles and the heating coil-effect rear light. And head-on, it does pull a slightly sinister face.
But this is a car engineered to be effortlessly easy to live with and drive. It's a car for sitting in, not staring at, and its design pulls you inside.
A car like the EQE is all about the cabin experience, the plush leathers and actual wood but, as in all areas of life, it's also about screen time.
Ever since Tesla essentially put a flat-screen telly between the two front seats, the EV market has seen a screen arms race.
The MBUX Hyperscreen debuted in the flagship EQS EV (opens in new tab). It's available as standard in the EQE 500 and an optional upgrade in the EQE 300, and stretches touch display screens right along the dashboard, offering the passenger their own set of digital controls and gizmos. The standard set-up, with digital display and central touch screen, is far more elegant, offering more than enough screen for your needs and leaving space for tactile wood with snappy graphic marquetry.
The EQE also features the brilliant AR sat nav which projects the essentials onto the windscreen in front of the driver.
Multiple layers of driver assistance, if required, take the car close to automation but, barring slightly squidgy brakes, the EQE is an easy-going pleasure to drive, the executive stress-busting cruiser it needs to be.
In design terms, car makers are still grappling with balancing the formal experimentation that electric power trains allow and the need to create cars that feel familiar and that have a familiar design language.
It's not an easy line to walk and many reviewers have been less than wowed by the EQE's design, and particularly, its short front end.
Those reactions seem less a reflection of the EQE's failings than a failure to see how car design is morphing and answering new functional demands.
And that fundamentally, the modern driver is now less concerned with looks and performance and more with comfort and screen presence and just enough familiarity.
INFORMATION
Mercedes-Benz EQE, from £76,450
Mercedes-Benz.com (opens in new tab)