Eight years on, Tesla Model S continues to break electric car convention
It's worth revisiting what Tesla is up to at regular intervals, even if you haven't been following the sky-high ambitions and bold online pronouncements of its founder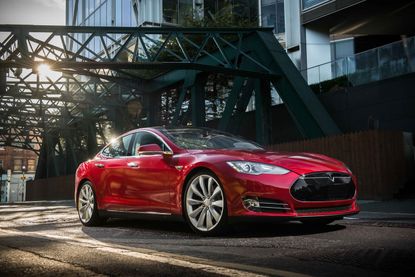 (Image credit: tesla)
Tesla is a company that likes to shoot for the moon, sometimes literally, and although a hefty pinch of salt is often required, there's no denying that it's a company that can move faster and take more risks than its competitors.

Although Tesla has a paucity of models compared to most other car brands, it continues to punch well above its weight, thanks to a strategy of investment, investment, investment that most other makers can only dream of. Profit is regularly sacrificed on the altar of progress, enabling the Californian company to go from zero to fully-fledged market leader within just a few years of its foundation, laying down a loyal customer base and expansive infrastructure in the process.
As Mr Musk must know all too well, a high profile also means high levels of scrutiny. The state of the company's bank balance or the status of his Twitter spats don't seem to matter much to the Teslarati, who can proudly point to their own cars or at Musk's big shiny spacecraft as evidence that something is being done correctly. Mars shots notwithstanding, the past three years have seen the introduction of the Model X SUV and the new Model 3, while the forthcoming Model Y is imminent, alongside Tesla's first commercial vehicles in the form of a pick-up truck and Semi-trailer truck. There's also the ultra-high-performance Roadster waiting in the wings.

If you go back to the car that started it all (after the strictly limited 2008 Tesla Roadster), the Model S of 2012, and you'll find the origins of Tesla Love. Like a venerable laptop that is given a fresh lease of life by a faster processor, more memory, a better screen, etc., the Model S has undergone a bevy of regular updates and upgrades. Aesthetically, the tweaks are minor, but interior, electric motors, batteries and software have all been improved since the first cars appeared in California at the turn of the decade.

The Model S is a big car, on a scale designed for the American market but which also helps when it comes to squeezing in as many batteries as possible. The model tested here, the Long Range, lives up to its name, with the most impressive range of any electric car on the market, 600km (or 370 miles). That's on a test cycle, however, not everyday real-world use, but it's still long-legged enough to quell any nagging range anxiety for the majority of trips. Tesla's deep pockets also pay off in the form of the superlative Supercharger system, which has seen rows of ultra-fast charging posts dumped around the world, sometimes in helpful spots like motorway service stations, occasionally rather more out of the way. No matter, because they squirt electricity into the battery at an unprecedented rate.

As a result, the Model S has got steadily plusher and more upscale as the years go by. The slightly anodyne styling hasn't aged too badly, while the interior isn't nearly as sparse and empty as it first felt on the earlier cars. Tesla's habit of banishing all buttons save the hazard lights and glove box opener in favour of a touch screen certainly makes the dashboard feel minimal, and it takes a bit of familiarity to find the function, but once you have, the feeling of moving on from the mainstream is very satisfying. Space can't be faulted, although the optional rear jump seats are now discontinued.

It's still sensible to think of the optimistically named 'Autopilot' as a glorified and very capable cruise control. You can also marvel at and then discard the gimmicky on-screen entertainment options that include arcade games, fake log fires and other sophomoric distractions. Far better to focus on Tesla's App, still the gold standard for remote auto check-ups (although the newly launched 'Smart Summon' feature should be handled with care, according to early reports) and the whole software architecture itself, which is regularly and remotely upgraded wirelessly and seamlessly.
The enduring ace up the Model S's sleeve – performance – is still right up with the very best. Few people can still be unaware of how rapidly an EV can accelerate. Tesla's mastery of this one attribute is a key reason why other luxury performance makers are venturing into this market sector. Right now, it looks like the most credible rival is Porsche's new Taycan, a car that walks a fine line between devoting itself to all-out performance and ultra-long range; these are not yet mutually compatible goals in the world of EVs. The Taycan is a significant challenger, as is Jaguar's E-Pace, and others are no doubt rushing to muscle in. Yet despite all that performance on tap, more often than not the EV mindset is one of coasting and cruising, eking out as much range as possible and using the devastating but draining acceleration sparingly.

That's partly why Model S stacks up so well against its more performance-focused rivals. A Porsche, by definition, has to go fast, so is it not slightly pointless to buy one solely to practice hypermiling? By contrast, Tesla's rule-breaking verve sets it apart from such 'traditional' car companies, however big their investment, impressive their engineering and elegant their designs. The spirit of a challenger brand is still strong in this Californian company, thanks in part to the superlative eco-system of chargers, dealers and software that surrounds the cars. Nearly eight years but in no way outdated, Tesla's Model S deserves a little longer at the top of the tree.
INFORMATION
Tesla Model S Long Range, from £80,700. tesla.com
Jonathan Bell has written for Wallpaper* magazine since 1999, covering everything from architecture and transport design to books, tech and graphic design. He is now the magazine's Transport and Technology Editor. Jonathan has written and edited 15 books, including Concept Car Design, 21st Century House, and The New Modern House. He is also the host of Wallpaper's first podcast.