The Spartan Tesla 3 breaks from traditional car design tropes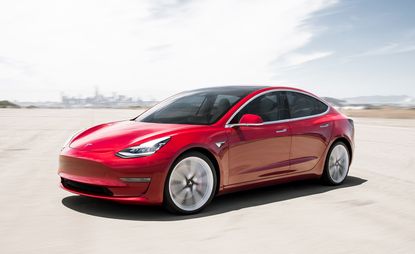 (Image credit: tesla)
Whatever you think of the self-promotion, ill-advised Twitter spats and intergalactic ambitions of Elon Musk, Tesla has undoubtedly hired some of the best people in the car industry. Freed from the bonds of brand expectations and design heritage that straitjackets so much contemporary car design and possessing seemingly bottomless funds, Tesla has stuck religiously to its strategy.

At a time when BMW is self-flagellating (recently ousting its CEO) for failing to capitalise on the colossal and expensive head start it created for itself in the form of the BMWi range, Tesla's much simpler plan is bearing fruit. Beginning with a proof of concept all-electric Roadster back in 2008, it previewed the Model S saloon in 2009 and launched the car to general acclaim in 2013. The S was, followed by the Model X (2015) and now we have the all-new Model 3, the company's first 'affordable' car. The Model 3 was heralded by a much-publicised scramble to place deposits to secure a car, swiftly followed by equally prominent production delays and quality problems as supply struggled to meet the promised demand. Now that American demand has been partly sated, the Model 3 can finally come to the right-hand drive market.
First impressions are excellent. The Model 3 is far more attuned to European tastes, certainly in terms of scale. It carries over the slightly blobby, nondescript styling language of its siblings, but that anonymity is a good match for the silent, stealthy, outsider ethos of the brand. Certainly, in the US you no longer drive a Tesla to stand-out, and although the cars (and charge stations) are rarer in Europe, they're still relatively low-key.

Like all Teslas, the Model 3 delivers a combination of impressive performance and class-leading range. There's a variety of battery options, which all have a corresponding effect on price, but this Performance model offers a 329-mile range and a supercar baiting 3.2 second 0-60 time. That effortless electric shove is by means unique to Tesla – it's one of the great assets of a dedicated EV and the characteristic that sways buyers unlike any other. The cheaper Long Range version adds another second or so to the sprint time in return for an extra 20 miles worth of range (and a lower price), while the 'entry level' Standard Range Plus will still reach a decent turn of speed but only take you just over 250 miles between charges for around £20,000 less.
As you can see, it's still all about the batteries; they make up the bulk of the weight and the cost, and driving an EV, even one as sophisticated as a Tesla, becomes just as much about what happens at the end of a journey than the travel time itself. Where can I charge? How long will it take? Where will I need to go next? Tesla's battery management and energy-focused mapping is better than its rivals, but its dedicated Supercharger network is largely focused on European motorways, meaning you're stuck with the slow and comparatively expensive on-street charge points (or your own power) in urban centres. Happily, the car comes with a full quota of sockets and cables to deal with almost any eventuality.

Lingering range anxieties aside (and these surely diminish with familiarity), the Model 3 is a superb car to drive. It handles well, with that big battery anchoring it to the road around corners. A number of driving styles can be dialed in, including one for indecent acceleration, but there's nearly as much fun to be had in nurturing the battery level by driving as efficiently as possible. The interior strips back everything to that big central screen, which sits atop the dash, rather than being shoehorned into it, as in the S and X. Having information out of your immediate line of sight required another adjustment (a head-up display would be a welcome addition), but that said, the system is almost peerless. Navigation, information, entertainment and car systems are easily activated and there are also a tranche of the company's traditional Easter Eggs, including a suite of arcade games that might appease young passengers as they wait for the battery to be topped up. The ventilation system in particular is a masterpiece of minimalism – a slim vent that stretches across the dash and can be directed using the touchscreen. The accompanying app is one of the best available for any car and your smartphone doubles up as a key.
In comparison to its rivals, the Model 3 is a bit Spartan, inside and out, austere even, but this disconnect from the traditional tropes of car interior design – wood and leather, stitching, chrome, buttons and vents – only adds to the sense of futurism and game-changing evolution. The Model 3 can take on practically any traditional car in terms of driving ability and practicality, but it also serves equally well as an anonymous appliance, a machine for transportation without the cultural baggage of any of the conventional car brands.

Next year, the company launches the Model Y, a compact crossover that adds more functionality to the Model 3 platform with a taller body and a couple of extra seats. The company is unlikely to repeat the faux pas that dampened the initial ardour for the Model 3 (now by some considerable distance Tesla's best-selling model), and providing the production lines have been finessed, the sales curve can only go upwards. In the third quarter of last year, Tesla sold nearly twice as many cars as Jaguar, and a hefty chunk more than Porsche.

It hasn't all been plain sailing. Other companies are finally getting in on the act, although to date it's only Jaguar that has exploited the 'clean sheet of paper' approach that an EV platform offers, with its impressive I-Pace. Otherwise, mainstream opposition currently takes the form of slightly compromised multi-fuel platforms, which keep manufacturing costs down while preserving brand identity. Right now, this Tesla can be recommended without reservation, but the company's first real challenges lie on the road ahead.
INFORMATION
Tesla Model 3, from £36,490. tesla.com
Jonathan Bell has written for Wallpaper* magazine since 1999, covering everything from architecture and transport design to books, tech and graphic design. He is now the magazine's Transport and Technology Editor. Jonathan has written and edited 15 books, including Concept Car Design, 21st Century House, and The New Modern House. He is also the host of Wallpaper's first podcast.