The future, now: Tesla hits emission-less high with world-beating Model S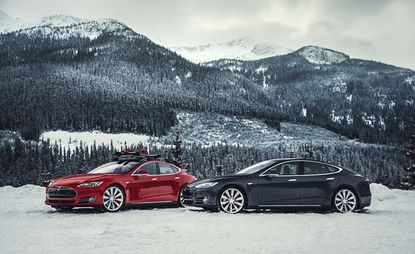 (Image credit: Tesla)
Even the most hardened motorphobe cannot have failed to have heard of Tesla. In just over a decade, the Californian manufacturer has gone from nothing to one of the hottest properties in the industry, responsible for changing not just the way people drive but the way cars are built and sold. Other brands might also make and market electric cars, but no company has invested quite so much in the infrastructure of bringing zero emission motoring to as many people as possible. As a result, Tesla has shaken up project plans from Tokyo to Munich, and has a fair claim to being one of the most positively disruptive products the car industry has ever seen.

All this praise will be music to the company's ears, but it would be pretty meaningless if the actual product itself wasn't much good. But the Model S (opens in new tab), introduced in 2012 and constantly updated since, has been widely acclaimed. A big, conventionally handsome saloon, the Model S fulfils many of the promises made for the all-electric future, namely a decent range, class-leading comfort and dynamics and – most important of all – an ever-growing infrastructure of charge points to support its owners.

For the most part, those owners are devotees, their loyalty and enthusiasm exceeding that of even the wildest Apple fanboy. The Model S plays especially well in markets like California – where car buyers are prosperous, status aware and legislatively funnelled towards greener choices – but it's also big in countries like Norway and has a growing presence in the UK.

Even so, Tesla is still something of a minnow in industry terms. How can a company that's sold less than 80,000 of its flagship model be so influential? The answer is twofold. For a start, there is infrastructure. Reasoning that governments are unlikely to fund the network of charge stations needed to make long-distance electric driving a reality, Tesla simply went ahead and built its own, right across the USA, Europe and Asia. And then there's attention to detail. The Model S is attractive, but it's not an aesthetic leap forward. The real innovation has gone into dovetailing the tech with the user experience.

The interior is dominated by a 17 inch touchscreen, through which practically every aspect of the car is controlled. The ability to have a full size Google map on display trumps almost every other manufacturer, and the graphics are clean, crisp and don't try too hard. The absence of buttons and switches make the Model S's interior space feel slightly unfocused and hollow, an odd criticism given how much more volume there is without the intrusive transmission tunnel of a conventional car.

On the road, the driving experience is akin to a superior luxury saloon, with crisp steering and pliant ride – helped by the 1,200lb of batteries built into the floor of the car. That low weight makes for excellent handling and, of course, there is the acceleration. In its most powerful iteration, with front and rear electric motors (a standard car is rear drive only), the Model S offers a 0–60 mph time of 2.8 seconds (the so-called 'Ludicrous Mode'), or just three hundredths of a second slower than a Bugatti Veyron or Porsche 918. In day-to-day driving, the instant hit of speed is utterly addictive, but it's mitigated by hyper-awareness of the range indicator – every precious mile counts. Thankfully, the display offers up a statistician's paradise of graphs and charts to assess and improve your driving style.

Tesla might be the best American car manufacturer right now, but it also designs its cars for its home market first and foremost and the Model S is big – not far short of 5m long and wider than a Mercedes S-Class. That's not always an advantage in Europe, especially in urban areas. The other fly in the ointment of an otherwise perfect package is range – or rather, range anxiety. If you can park off street and install your own charger, this caveat is meaningless, but in big cities charge points have to be subscribed to (except Tesla's own Supercharger stations) then hunted down.

The Model S is a real contender, a genuine alternative that'll never make you feel short-changed. The most recent batch of cars are fitted with a full suite of cameras and sensors, providing a 360 degree view of the vehicle's surroundings. Telsa's 'Autopilot' system is gradually being introduced via over-the-air software updates; in the future, you'll be able to summon your car to the front door, air-conditioned to the right temperature and primed for your journey.

The big players are lining up tech partnerships that go far beyond sharing apps and interfaces. Electric cars, charging infrastructure, self-driving systems – there are myriad ways in which our century-old relationship with the automobile could change. With both Apple and Google jockeying to be in the transportation game, the next few years will certainly be interesting. With Tesla, however, you can experience the future right now.
Jonathan Bell has written for Wallpaper* magazine since 1999, covering everything from architecture and transport design to books, tech and graphic design. He is now the magazine's Transport and Technology Editor. Jonathan has written and edited 15 books, including Concept Car Design, 21st Century House, and The New Modern House. He is also the host of Wallpaper's first podcast.