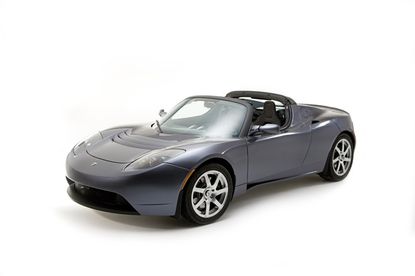 (Image credit: TBC)
A lot has been written about the Tesla Roadster. Now in its 2.0 iteration (yes, in the future, cars will get upgraded just like software), the Roadster recently started rolling silently off the production line in right hand drive format, giving British - and Japanese - enthusiasts no excuse not to add one to their fleet.
Since last Summer, the company has also opened several European outlets, a clear shift away from its very Californian roots towards an eventual goal of market leader in the EV sector.
Back when Tesla (opens in new tab) was founded in 2003, that goal was laudable but highly ambitious. The all-electric car was still firmly stuck on the golf course and delivery route and the world's cities hadn't even started opening up their congestion zones to ZEVs. Much has changed. Today, there isn't a major manufacturer without a viable all-electric or hybrid concept in their workshops and this decade will see the roads start to hum with the sound of AC-powered transmissions.
The original Roadster debuted in 2008 after a couple of years of prototyping. Tesla's route to all-electric domination is deliberately top-down, with the $100K sticker price pitched not just at wealthy environmental advocates but also sports car enthusiasts.
To this end, the Roadster was developed as a performance showcase, making full use of the 'instant on' qualities of a one-speed electric transmission, where the throttle is effectively little more than a switch that lets in a massive thump of torque. There's also a Roadster Sport model that manages to eke even more power out of the company's hefty proprietary battery pack.
To date, over 1,000 Roadsters have been built, with a fully revised car issued 2010, featuring a slightly more high-tech interior with touch panel controls. Compact, lightweight and stripped down, the Roadster apes its conventionally-fuelled siblings in style and stance, only snarls are replaced with silence.
Tesla says the battery pack is good for a couple of hundred miles between charges, with an overall life of around 100,000 miles, depending on your driving style. Charging is made simple by the ability to use a standard wall socket and the company pushes the analogy with mobile phones, describing the car as a device you hook up every evening when you get home as a matter of course. Push hard and the battery-meter plunges alarmingly, but cruise carefully and mileages in the low 200s should be achievable.
Where the Roadster instantly steals a march on its rivals is its acceleration, a sub-four second zero to sixty time that effortlessly bests offerings from Lamborghini, Ferrari, Porsche, etc. Just snap your foot down on the accelerator and the car surges forward, the power train giving off a subdued but still thrilling whine.
It's utterly addictive, a guilt-free pleasure that helps build an emotional bond with the car, banishing any thoughts that the silence and smoothness of an electric powertrain would be in some way sterile and disconnected with the act of driving. Our only quibble was the brakes, which needed a hefty shove, hindered no doubt by the considerable weight of the battery pack.
With no power steering, stiff suspension, surprisingly good balance, and that snappy acceleration, the Roadster feels track-ready right out of the box - for many owners, that's exactly where it goes. As a commuter car, it's light years ahead of a G-Wiz, even the electric Smart, with the ability to soak up all the rebates, free parking and other perks thrown at early adopters without any micro-car compromises. For instance, the Roadster runs just fine on highways, keeping pace with traffic without any hint of strain at speeds up to its 120mph max. Right now, it's the only electric car able to do this, although the market is poised to explode with competitors.
Tesla aren't too worried. The Roadster's failings are shared with most of the sports genre - you can't slip in and out of with ease; a low, tight cockpit means limited dash storage space; driver and passenger sit in close proximity, shoulder to shoulder. But waiting in the wings is stage two of the company's product onslaught, the Model S. Not due to begin production until late 2011, the S is a svelte saloon that not only exceeds the Roadster's frugal appetite for energy but presents it in a package that'll allegedly seat seven (five seats plus two for children).
Given the staggering competence of the original Roadster, plus the EV's sector rapid rate of technological chance, the Model S promises to be a landmark car. If you don't have a plug socket in your local stretch of pavement, now might be the time to call in the electrician.
Jonathan Bell has written for Wallpaper* magazine since 1999, covering everything from architecture and transport design to books, tech and graphic design. He is now the magazine's Transport and Technology Editor. Jonathan has written and edited 15 books, including Concept Car Design, 21st Century House, and The New Modern House. He is also the host of Wallpaper's first podcast.