The zero emission delivery vehicle elevating ecommerce
Canoo's new MPDV (Multi-Purpose Delivery Vehicle) makes zero emission business transportation inexpensive and easy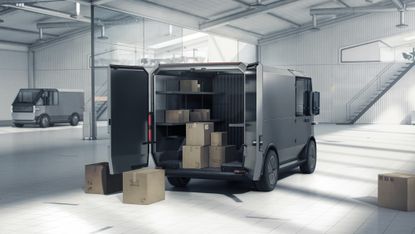 (Image credit: canoo.com)
For one Los Angeles-based start-up, the all-electric vehicle of the future needs to multi-functional and massively flexible. Canoo's new MPDV (Multi-Purpose Delivery Vehicle) aims to make zero emission business transportation easy, affordable, and supremely practical. Electric utility vehicles are starting to make a mark on our cities. Up until now, the big players have been conventional car companies electrifying their existing fleets, with the occasional all-new EV like Nissan's E-NV200 gathering popularity. Big change is afoot, with Amazon teaming up with Rivian (part-funded by Ford) to create a bespoke delivery truck for its vast fleet. Other power users, like the US Postal Service, are in the market for a new vehicle – USPS potentially has $6bn to spend on a country-wide fleet. There are also a number of electric pickup trucks arriving soon in the US, spearheaded by the striking Tesla Cybertruck and Hummer EV, all threatening to upturn the combustion engine's decades of dominance as a symbol of vehicular might.

Canoo isn't pitching itself at such lofty heights or weighty volumes. For a start, the company doesn't expect to start deliveries until 2022, and that'll be with a series of pilot schemes. Full production is slated to begin in 2023, starting with the US market and then hopefully expanding around the world. The MPDV is, however, a very elegant solution for a customer base who care passionately about the bottom line. Designed to be inexpensive and suitable for limitless applications, Canoo hope to become the transport of choice for the small business owner. There are two initial variants, the MPDV1 and a larger MPDV2, both of which come with three battery sizes. The max range of around 230 miles is well over double what the average delivery driver typically does in a day in the Western USA. The larger model is designed to accommodate a standing position throughout the cargo space, with an MPDV3 promised at a later date. The company has commissioned research showing that same day deliveries in the US could grow to 10 billion parcels a year by 2030, with a corresponding demand for smaller, lighter, and more nimble vans.

We spoke to Canoo's chief designer, Richard Kim, about the newly launched machine. It follows the lozenge-like people carrier unveiled by the company last year; both vehicles share the same 'skateboard'-style electrical architecture, a self-contained driving module that allows for infinite body shapes.
Wallpaper*: Tell us about the MPDV?
Richard Kim: It's not necessarily a pure commercial vehicle, certainly not a B2B vehicle. We actually call it a 'B to all' vehicle. It's been designed for delivery, of course, but there's also the small business market as well, everything from flower shops to groceries to coffee stalls.
W*: What were the basic requirements for the vehicle?
RK: As well as maximising cargo space, the vehicle is also a place where you can plug in devices and equipment – you can use it to work from. There are recreational uses as well, from camping to recreation. Our form language is very easily adaptable.
W*: What were the challenges behind creating such a simple design?
RK: Frivolous styling work, whether it's subtle or not, takes time and money for designers to develop and companies to manufacture. This product is about maximising interior space on a small footprint. You end up with a shape that is super boxy, which you typically try to hide with styling. But why? We describe this as 'anti-styling'. It's the most authentic, honest, design you could possibly have. Every line is straight and precise. Anti-styling ends up as a style in itself – it looks like a chunk of granite that's just been sliced away until it meets the perfect requirements; a monolithic, solid, stealthy shape.
W*: How will this functionalism benefit e-commerce in the future?
RK: Right now, no matter how much you agonise over buying something online, at the end of the day it's typically just a brown box that's thrown at your doorstep. We believe that this part of the customer service is going to be elevated.
W*: What about the interior detailing?
RK: We did a lot of research – we talked to drivers, we watched them all over the world. What you find is that every square millimetre counts. And space is money. So for example there's no front seat, just a shelf for more cargo, and a size and width that means it doesn't clog up narrow streets when you deliver.
W*: What differentiates it from a conventional commercial vehicle?
RK: Design is almost always stuck with something from the past. This is the first project I've had to do where we could focus exclusively on what was important, required and desired by the user, with nothing to get in the way. The skateboard platform offers us endless opportunities.
INFORMATION
Jonathan Bell has written for Wallpaper* magazine since 1999, covering everything from architecture and transport design to books, tech and graphic design. He is now the magazine's Transport and Technology Editor. Jonathan has written and edited 15 books, including Concept Car Design, 21st Century House, and The New Modern House. He is also the host of Wallpaper's first podcast.