Road trip: Lexus is in the midst of a design revolution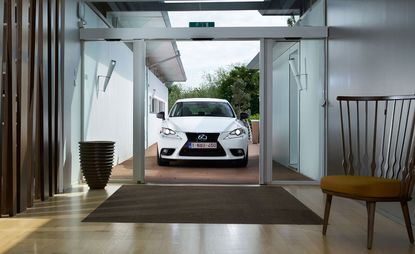 (Image credit: TBC)
We're in Switzerland on a road trip of sorts to familiarise ourselves with Lexus. The Japanese marque has organised visits to a handful of companies – brands it feels will subtly express its own identity. It's a somewhat unusual exercise. We visit the interactive new Nestlé 'Nest' museum, the TAG Heuer factory, and Charlie Chaplin's stunning, if surreal, Swiss residence, Chaplin's World. We also learn to make origami cats, using our less dominant hand, in under 90 seconds.

The Nest is about customer relations, TAG provides a journey into intricate craftsmanship, in Charlie's private cinema we are premiered a couple of short films sponsored by Lexus and produced by Harvey Weinstein, and the origami master-class reveals the level of performance expected from Lexus' elite craftspeople.

For a car company, particularly a premium maker, this is an unconventional manner of storytelling. Yet, Lexus is an unusual marque. You could say it is a little bit of a dark horse, not quite as established and polished as its German rivals – BMW, Audi and Mercedes – but nevertheless containing a quiet charm and capable of bold, expressive designs.

As we end our whirlwind of activities and settle into Palafitte, itself an unusual hotel built on stilts over Lake Neuchâtel, we learn that Lexus has bold ambitions to be a luxury maker of daring, distinctive and provocative cars starting with the upcoming pinnacle LC 500 coupé.

Lexus is in the midst of a design evolution that is expanding on the marque's underlying principle of 'L-finesse' – a term coined to roughly mean the application of edge design and technology, with a touch of panache. This young company, formed in 1989, has ambitions to create exciting products, each model line boasting its own distinctive look, yet with an identifiable visual link. Elements such as the spindle grille, the use of the 'L' motif in the lights and treatments such as the diamond-shape in the NX crossover will help form a family bond.

Behind this daring design thinking is parent company Toyota Motor Corporation's president Akio Toyoda who himself comes from the creative world. Under his direction, every model in the range has been updated in the past few years with new cars being introduced in different segments to attract a wider audience. This includes younger buyers which the company hopes to court through the new F Sport bespoke tailoring service.

The new range is undeniably dramatic in its appearance – somewhat contrasting the softer side of Lexus. The LC high-performance coupé, for instance, maintains so much of the concept car's drama as to almost look like a show car. Yet, behind these big explosive narratives lies subtler stories of omotenashi and Takumi that echo old Japan.

Omotenashi is the spirit of hospitality which informs the Lexus philosophy of putting the customer, the user, at the centre of everything from design to engineering, sales – even when dealing with the press. Following our visit to the Lexus exhibition at Salone del Mobile earlier this year, we had an email from one of the chief designers enquiring over our observations, in order, he wrote, to help inform his future work. We had similar correspondence on our return from Switzerland. This level of openness and curiosity is highly unusual for a car company.

The Takumi are an elite group of craftspeople who inspect every single car that comes off the production line, detecting the kind of blemishes only visible to the trained eye. They come with at least 25 years' experience, and one of their qualifying tests is the origami task we were put through in Switzerland.

We were also given the chance to test the range of hybrid cars on Swiss roads. Lexus was one of the first premium carmakers to invest in sustainable technology for production cars, introducing the RX 400h SUV as far back as 2005. Now, almost every line offers a hybrid model. Next year the number will grow to include the radical LC 500h which premiers the firm's most advanced Multi Stage Hybrid System technology. For 2020, the engineers are planning the zero-emissions LF-FC fuel cell production car.

The products may not appeal to all, but it is refreshing to see such radical statements expressed in the often cautious premium car world. As a company, this is an intriguing one too – at once restrained and radical, old-school conservative and thoroughly modern. Lexus runs numerous programmes to actively support the arts and in particular young creatives, while not necessarily striving for much self publicity in the process.

The two movies from the Lexus Short Films series screened in Charlie's cinema are of outstanding quality. In particular, French filmmaker Alexis Michalik's tense Friday Night delivered a compelling story that captures the love of a mother and daughter, staged in Paris on the eve of the 2015 terrorist attacks.

The annual Lexus Design Awards in Milan is also an inspiring programme that sees four of the 12 young international finalists develop their ideas into prototypes. This year's winner, the Japanese collective AMAM, has had a great deal of interest from companies who will be using its innovative algae based Agar Plasticity concept for ecological packaging.

Recently, Lexus showed that it can let loose a little too, by creating a fully functioning hoverboard, which the company sadly says will remain an experimental prototype.
INFORMATION
For more information, visit the Lexus website