In motion: car brands catch the design bug at Salone del Mobile 2016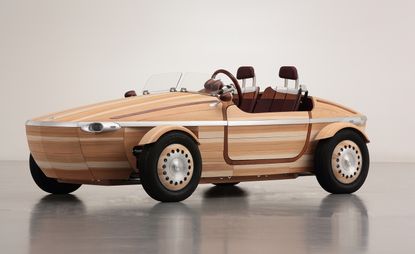 (Image credit: Toyota)
This year's Salone del Mobile saw a bevy of car brands catch the design bug. Here's our edit of the best.

Setsuna by Toyota: This wooden roadster concept explores the value of a car beyond mere driving. The functioning roadster is conceptualised to explore our relationship with our vehicles, our memories, history and the physical ageing process.

The Setsuna is constructed using 86 handmade wooden panels chosen according to weight, durability and stiffness, and assembled using the traditional Japanese wood joinery method of okuri ari
Car companies are increasingly finding their way to Milan in a bid to absorb the creative spirit of Salone del Mobile; it makes sense to be involved in the wider design world given the car's ongoing evolution from a vehicle for transport to a multi-functioning product and advanced tech gadget.

This year, Toyota presented an unusual study car as part of Fuorisalone, away from the main trade show in the vibrant Tortona design district. The Setsuna is made of wood, and at first glance it could easily be mistaken for a toy car. Yet this is a fully functioning roadster replete with an engine conceptualised to explore our relationship with our cars, our memories, history and the physical ageing process.

Meanwhile, sister company Lexus took over a former metal factory to exhibit 'Anticipation' with Formafantasma. Here the Italian design studio based its study on the Lexus LF-FC, first seen at last year's Tokyo Motor Show, to create a curious trio of installations that explore the fusion of machine, craft and tradition in the context of this hydrogen powered fuel-cell car.

The Japanese marque also exhibited its Lexus Design Awards, an ambitious annual project to support emerging international talent. Among the 12 finalists chosen from over a thousand entries were some interesting and unusual propositions. They included packaging material made from seaweed, an instinctive children's toy set, modular clothing and a clock that visualises the present by marking the passing of time.

Also in Tortona, 'Mini Living' explored urban life, with some simple yet intriguing ideas on affordable compact housing for a utopian future. The concept saw four 30 sq m apartments share a residential building to form a micro-neighbourhood where basic assets are shared through a clever wall mechanism of rotating shelves that are pushed out into a communal space.

Elsewhere, 'Cactus Chair' by Italian designer Mario Bellini utilises Airbump, the intelligent protective side shield mounted on the Citroën C4 Cactus, for a lightweight and comfortable seating product.

Land Rover and industrial designer Odo Fioravanti created an installation featuring a surfboard, snowboard and longboard to celebrate the freedom of movement offered by the latest Evoque Convertible SUV, whilst Aston Martin joined forces with Quintessence Yachts to celebrate the imminent launch of its first luxury powerboat, the AM37.

See above for our pick of the most inspiring car-related products in Milan above...
Japanese cedar makes up the exterior, chosen for the refinement of its wood grain and its flexibility; the chassis is made of birch; strong Japanese zelkova constitutes the floor; and the seats are made of smooth Castor-aralia.

The idea is that the material will change colour and texture with time, showing the evolution of the vehicle and thus adding emotional value to the car. The Setsuna has ecological benefits too, since the modular panels can be exchanged when needed, rather than having to replace the whole body.

Meaning 'moment' in Japanese, the Setsuna is a romantic study of the car as a living, breathing object that matures, not just visually but spiritually absorbing the aspirations, memories and emotions of its various owners
Lexus x Formafantasma's 'Anticipation': Lexus took over a former metal factory to exhibit a trio of installations by the Italian design duo Formafantasma. Working to the overall theme of 'anticipation', the Amsterdam-based studio explores the fusion of machine, craft and tradition. The Lexus LF-FC fuel cell vehicle is the muse here, investigating the possibilities of the lightweight material and sustainable hydrogen energy outside the context of motoring.

For the overall structure, Formafantasma has installed translucent partitions inspired by Japanese shoji – the paper walls and doors are fixed over a lattice frame of wood to allow light to pass through and reveal shadows and shapes in a theatrical way
Visitors enter through a 'garden' of multiple wooden gates revealing a series of exhibition areas. The first features a set of metal stools painted, like the LF-FC, using traditional Japanese lacquering techniques that involve layering colours by hand and machine.

In the second room a large metal frame holds 7,200 delicate flowing transparent threads; an homage to early Japanese mechanised textile making, Formafantasma explains. Here a loom-like machine pulls and releases the threads that, once stretched, subtly reveal the three-dimensional outline of the LF-FC vehicle.

In the third and largest space Formafantasma celebrates the advanced hydrogen fuel cell technology in the LF-FC, used here to power a kinetic light installation. The four semi-circular stainless steel sculptures, mounted on a reflective pink platform that hides the power source, move to a choreographed slow dance.

To complete the sense of anticipation, Formafantasma worked closely with Michelin-starred chef Yoji Tokuyoshi, of Milan's Ristorante Tokuyoshi, for a range of surprising tasting experiences (pictured) centred on clear water emitted by the LF-FC hydrogen fuel cell technology as an expression of its sustainable qualities
DADA by Myungsik Jan, for Lexus Design Awards: DADA is inspired by the Korean ceremony doljabi, when on a first birthday a range of objects are placed in front of the child. What they choose is said to reveal their career. This modern rendition uses a range of natural blocks, cylinders and fabrics to pique the child's curiosity and predict their future path
AM37 by Aston Martin and Quintessence Yachts: The AM37 is a joint project between Aston Martin and Quintessence Yachts, and the car marque's first venture into nautical design. The name suggests its size; this 37-foot water vessel utilises carbon-fibre in its construction with a clever vacuum infusion technology to build a scalpel-sharp hull that is at the centre of its design.

The marque is promising further advances, such as interactive voice control and activation, a fully HD-integrated touch screen with navigation and multimedia system and remote control functions. The boat is expected to launch later this year
'FreeRide' by Odo Fioravanti, for Land Rover: Industrial designer Odo Fioravanti has worked with Land Rover to create 'FreeRide', an installation featuring a surfboard, snowboard and longboard to celebrate the freedom of movement offered by the latest Evoque Convertible SUV
'Cactus Chair' by Mario Bellini, for Citroën: The 'Cactus Chair' by Italian designer Mario Bellini utilises Airbump, the intelligent protective side shield mounted on the Citroën C4 Cactus, for a lightweight and comfortable seating product.

The supple TPU (thermo-plastic urethane) skin on the Airbump, with its multitude of air capsules, requires no particular maintenance and is designed to protect the car's bodywork against knocks and scratches. Bellini's design utilises similar technology to create a lightweight construction that offers the same levels of comfort as a traditional chair
'Shape Shifters' by Angelëne, for Lexus Design Awards: This is a new form of textile cutting for adaptable clothing to promote personalisation and reduce consumption and waste. With an MA in material futures from Central Saint Martins, studio founder Angelene Laura Fenuta looks at how modular principles can help create dynamic garments with embedded silhouette versatility
'Plants-Skin' by Hiroto Yoshizoe, for Lexus Design Awards: This intelligent, moderately permeable flowerpot is made from coloured mortar coated with hydro-chromic ink. When the surface absorbs water the white ink becomes transparent and colour appears, the gradation revealing the level of moisture, so as to indicate when the plant requires feeding
'Mini Living' by Mini, ON and Arup: 'Mini Living' explores new models for urban existence in the form of a modern shared-living concept. This inspired idea sees four 30 sq m apartments on a single floor of a residential building form a micro-neighbourhood with basic assets – kitchen, laundry, utilities – shared through a simple wall concept of folding and rotating shelves that are pushed out into communal spaces.

Here, Mini worked with Yokohama architects ON Design for their expertise in micro-housing and collaborative living, whilst the Berlin office of engineering consultant Arup provided technical support.

'Mini Living' visualises likeminded people residing almost communally without sacrificing privacy in an affordable and rather attractive housing project
'Trace' by Studio Ayaskan, for Lexus Design Awards: The clock visualises the present by marking the passing of time through a liquid that changes colour under ultra-violet rays. Conceptualised by the London-based, Turkish studio Ayaskan, a UV light beam rotates around the face of the clock to mark every second, minute and hour, leaving a trace of colour as time sweeps by, then fading back to transparency
'Agar Plasticity' by AMAM, for Lexus Design Awards: Winner of the Lexus Design Awards, the Japanese studio AMAM worked with Max Lamb as a mentor, to explore sustainable packaging using a gelatinous material made from red marine algae. The flexibility of the material means that it can be used for both cushioning and packaging; it can be ecologically disposed of and won't harm marine line if it should drift into the sea
INFORMATION
For more information, see our Salone del Mobile live report