Geneva Motor Show digital showcase: the luxury edit
A digital walkthrough of the Geneva Motor Show 2020 in light of its precautionary cancellation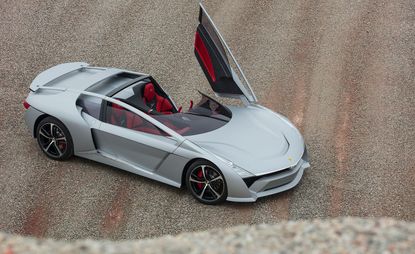 (Image credit: press)
Geneva 2020 was a motor show that wasn't. Oft-cited as one of the industry's most important showcases, Geneva is traditionally relatively compact, well-attended and much-liked by both car makers and media types for its tight focus and plethora of interesting concepts and innovative debuts. Sensible precautions aimed at preventing the spread of the Coronavirus put paid to months of planning, transforming what would have been the 90th edition of the show into a selection of online events.
So what have we missed? There would have been innovation aplenty, no doubt, but overarching trends are harder to discern without being able to compare new ideas side by side. One thing has stayed the same, however, and that's that March looks set to remain a key date for launches and reveals, regardless of where and how they take place.
Bizarrely, there's still a burgeoning market for bespoke hypercars, although in recent years the number of all-electric super-fast machines has increased significantly. But big volume electric is now effectively the mainstream – witness Fiat's 500E and VW's ID.3 and new ID.4 – and plenty of companies are pushing bold visions. Our round-up of the cars that broke cover this month showcases the high-end (for whom Geneva is an important place to garner interest from customers and investors alike) and the more tech-centric ideas that are promising to deliver massive change across the industry.
GFG Style 2030
GFG stands for Giorgetto and Fabrizio Giugiaro, father and son car designers with an impressive haul of highly regarded designs to their name. GFG Style is a venture that knows its market, and the by-now familiar equation – low-slung, mid-engine, carbon-fibre bodywork – has been given an extra spin to bolster its appeal to the Middle Eastern market. The result is the Vision 2030 Desert Raid off-road hypercar, with jacked-up suspension for dune-bashing, alongside a more conventional performance model and a third open-topped Barchetta, the Bandini Dora.
www.gfgstyle.it (opens in new tab)
Pininfarina Battista Anniversario
Italian design house Pininfarina is forging ahead with its ambition to become a pioneering luxury brand. The new Battista has been given a limited edition make-over even before it goes on sale. Just five of the projected 150 Battistas will be this special Anniversario model, with a bit of added visual drama inside and out. Expect prices to be around $2.9m.
automobili-pininfarina.com (opens in new tab)
Vega EVX
Sri Lanka's first homegrown supercar has skipped the petrol stage altogether and gone straight to electrification. The Vega is an ambitious project for any company, not least in a country with a tiny auto industry. For a first effort it's more than impressive, with a genuinely different take on the common supercar stance. Much of the technology under the skin appears to be developed in house by an engineering team that cut its teeth on high-tech industrial design. using the Vega as a showcase of what they can do.
vega.lk (opens in new tab)
Koenigsegg Gemera
At the same time as revealing the Koenigsegg Jesko Absolut – the Swedish niche manufacturer's fastest-ever car – the company also sprung the surprise debut of the Gemera model, its first four-seater. Mating a compact petrol engine with three electric motors, the Gemera will put the frighteners up companies like Bugatti and Lamborghini. It achieves all this without being especially over the top. The price, on the other hand, is expected to be around $1.7m.
koenigsegg.com/gemera/ (opens in new tab)
Czinger 21C concept
The $1m+ market must be reaching saturation soon; there seems to be no end of boutique manufacturers touting wondrously specified hypercars in limited edition runs. Geneva is where many of these break cover for the first time. The Hispano Suiza name was revived with a carbon swathed oddity, the Barcelona-built Carmen Boulogne, while just five examples of the extreme €4.2m Pagani Imola will be made. Czinger is another new name hoping to join this exclusive club. The American company's 21C hypercar will be limited to 80 units and makes extensive use of 3D printed elements, mating a big V8 with twin electric motors. The bodywork and aero are explicitly inspired by aviation, with the passenger sitting behind the driver like a jet fighter.
Hyundai Prophecy
If Hyundai's Wallpaper* Design Award winning 45 concept was channeling the 1980s, the company's new Prophecy evokes the swooping forms of the 90s – is it time for a streamline revival? The digital light patterns and shiny black bodywork are straight out of the era's sci-fi visions, while there's a generous dose of 90s-style tartan trim on the spacious interior. The four seats are accessed by rear-hinged doors without a central b-pillar and you'll note the absence of a steering wheel, a rather explicit way of putting faith in the accelerating power of driverless systems.
Concept only, hyundai.co.uk (opens in new tab)
Aston Martin V12 Speedster
Just 88 examples of Aston Martin's latest limited edition, the V12 Speedster, are due to be delivered from early next year. There's a rich stew of influences at play in this bespoke creation, built by the secretive Q by Aston Martin department, which has added a bit of aeronautical-inspired drama with detail design inspired by the legendary Boeing F/A-18E Super Hornet fighter plane. Built on a unique platform derived from the company's DBS Superleggera and Vantage models, the V12 Speedster is a strict two-seater, with twin open cockpits that refer back to 50s-era Le Mans cars and even Aston's own 2013 CC100 Speedster concept.
From £765,000, astonmartin.com (opens in new tab)
DS Aero Sport Lounge
The Aero Sport Lounge concept puts Citroen's sister brand back where it belongs; creating large, elegant avant-garde designs that evoke the spirit of a relaxed, languid grand tour, rather than a furious cross continental dash. A fast-charging, long-range EV, the Aero Sport Lounge has an interior inspired by first class cabins, with motion sensing technology given a haptic spin courtesy of a partnership with a Silicon Valley start-up, Ultraleap.
Concept only, dsautomobiles.co.uk (opens in new tab)
McLaren 765LT
The 765LT is McLaren's latest supercar. Made to a limited 765 numbers, it is the lightest, most powerful, and driver-engaging car in the marque's Longtail product line – created as a nod to the 1997 McLaren F1 GTR Longtail, the extreme evolution of the original exotic F1. The 765LT promises the purest of (road-legal) driving thrills – 62mph in 2.8 seconds, 755-horsepower at 7,500rpm and maximum torque of 800Nm at 5,500rpm from the 4-liter two-turbocharged V8 engine. McLaren cars are all about clarity of expression and here too the design firmly supports the 765LT's hyper power with its stretched silhouette and a host of imaginative aerodynamic ideas to improve performance, downforce and cooling. There is some theatre to be experienced too – the exposed engine bay lights up at speed, and the centrally-mounted titanium exhaust pipes are positioned in such a way to offer a unique LT soundtrack. Only 765 cars will be made, available from September.
cars.mclaren.com (opens in new tab)
Jonathan Bell has written for Wallpaper* magazine since 1999, covering everything from architecture and transport design to books, tech and graphic design. He is now the magazine's Transport and Technology Editor. Jonathan has written and edited 15 books, including Concept Car Design, 21st Century House, and The New Modern House. He is also the host of Wallpaper's first podcast.