7 showstopping concept cars at Geneva Motor Show 2018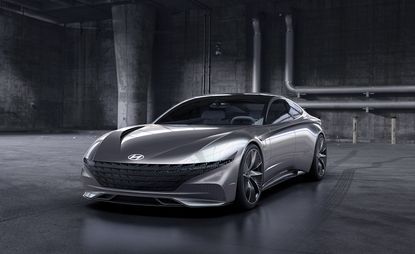 (Image credit: Hyundai)
The Geneva Motor Show (8 – 18 March 2018) is quite simply the best place in the world to see the widest range of concept cars. From the big players to the small, this year's event included all manner of electrified and sportscars, saloons and coupes – plus two flying cars – one of which is slated to be less than 12 months away from final customer delivery.

Read on for our seven favourite showstoppers...
Pininfarina HK GT
Renowned Italian design house Pininfarina (behind countless historic Ferraris) uses Geneva to showcase its talent to the world. Although now owned by Indian vehicle maker Mahindra, it's still based in Turin and works for many marques including the Hybrid Kinetic Group. Indeed, the elegant near-five-metre 2+2 GT is the fourth concept Pininfarina has conceived for the Hong Kong-based emerging tech brand and features an electric powertrain with range-extender capability via an aero industry-inspired micro-turbine, fuel cell or conventional combustion engine to give 620 miles of range. Created by new design VP Carlo Bonzanigo, the GT boasts a well-resolved exterior paired with a modern and tasteful interior. HK says it is on course to launch a production model for the Chinese market by 2020 with some of this concept's upmarket character and pitched as a luxury Asian marque to rival Tesla and Bentley. High-end stuff.
Icona Nucleus
The Icona is a name you've probably not have heard of because it's not a car brand but a design business – based in Turin, Shanghai and now California – that creates cars for other brands to produce. Already officially eight years old and boasting ex-Bertone senior personnel among its ranks – including Icona VP and global design director Samuel Chuffart – the group chose Geneva to reveal its 600hp in-wheel-electric Nucleus concept. Pitched as a 'Level 5-autonomous' vehicle – one that can drive itself in all situations – the Nucleus was born, Chuffart tells Wallpaper* from the 'idea of a car that you will still love and want to own, despite autonomy' in a retort to the notion that all future cars will merely be hired as necessary.

It's big: 5.25m long, 2.12m wide, 1.75m high and riding on 27" wheels with a 3.3m wheelbase, those dimensions allow for a huge interior space for up to six people. 'As this will be a car for all occasions, you won't need to own so many cars,' Chuffart reasons, 'so you might invest more on this one, perhaps it will cost €60,000 or so. As it's autonomous, it could drop you off at the airport, pick up the kids from school and take the grandparents to the doctor as well'.

The other striking element of the design is the lack of conventional glass windows – there's no driver so no need for a front windscreen, and occupants can look out the sides through semi-transparent body colour panels that allow for privacy from the outside. Considerable time was spent on a well-resolved human machine interface too, which works like a more intuitive Uber app, requesting user interests as well as destination info to curate a more tailored journey, that might for instance, suggest restaurants and other points of interest along the way based on your daily preferences. Despite its two-tonne weight, grand-tourer flexibility is promised via a hydrogen-powered range-extender good for circa 750 miles of travel… in about 2030.
GFG Sibylla
On the small GFG Style stand at Geneva sat two concept cars – the 1963 Chevrolet Testudo concept and the 2018 GFG Sibylla – 55 years apart but designed by the same man: 79-year old Giorgetto Giugiaro. Arguably the most important car designer of the 20th century, behind the VW Golf mk1 and Lotus Esprit among dozens of others, Giugiaro launched a new car design firm called GFG Style in 2015 – named after him and his son Fabrizio, who runs the day-to day business – after selling the final part of his Italdesign business to VW.
This year's Geneva show was the first time GFG had its own exhibition stand though, where it revealed a four-seat 400Kw electric concept for Envision – China's second largest wind turbine company and a manager of 100GW of worldwide energy assets. There's no production intent for this car though. It exists to promote Envision's EnOS electricity system concept where EVs integrate into a wider energy eco system by contributing power to domestic houses and back to the grid. But GFG has two SUVs launching in 2019 in the Chinese market for a Chinese brand, and plans to open an engineering company with an EV-specialist partner in Shanghai by the end of 2018 (as well as continue its thriving industrial design and architecture businesses).
Italdesign Airbus Pop.Up Next (concept flying car)
VW Group's Italdesign and Airbus added seriousness to the flying car race at the 2017 Geneva Motor Show with their Pop.Up all-electric part-car, part-drone modular concept. At 2018's Geneva show the Pop.Up Next – now with added Audi – aims to make clear that the big-hitting companies are still taking the idea of a connected, hail-and-ride, eco-friendly, congestion-busting fly/drive future vehicle seriously. The two-seater has been made more aerodynamic, lighter and a bit more stylish – enough to warrant Audi adding its four rings to the nose – and Italdesign and Airbus's engineers have improved the coupling and de-coupling systems between the car and flying modules. Although smarter in every sense then, the electric city commuter concept still only offers a 30-mile range and could be 5-10 years away from being production- and cost-viable.
PAL-V Liberty (production flying car)
Unlike the Italdesign Airbus Pop.Up Next, the PAL-V flying car is production-ready – albeit powered by a conventional airplane engine and fuel – with first deliveries due in 2019. The Dutch business Dingemanse behind the vehicle says it has taken 100 orders at between €400-600,000 each, depending on specification (and with 25 flying lessons thrown in) and says the vehicle shown at Geneva only needs certification before customers can literally take-off.
300 miles of flying range is promised and much more on land alone. CEO of PAL-V was more than bullish at what he sees as the first-ever production flying car: 'This is the moment of truth. All certifications for commercialisation will be granted on the basis of this production model. It is the pivotal point that separates pioneers from dreamers.'
Hyundai Le Fil Rouge concept
The South Korean powerhouse group – also boasting Kia and now Genesis within its ranks – has made a great job of transforming into a globally-accepted mainstream volume maker of reliable and smart cars. Now it's looking to move a little more upmarket and has hired two high-profile ex-Bentley designers – Luc Donckerwolke and SangYup Lee – to help do just that. The Le Fil Rouge concept is their first statement of intent. The four-seat, four-door coupe's exterior might be classically conventional at first glance, but its simple lines hide new ideas. These include LED pipes underneath its feature lines to create a distinct side profile light signature and a pared-back interior where space normally reserved for bulky dashboards is stripped bare to create curvaceous laminated wood pathways for air flow. A big leap on from today's Hyundai range, Lee sums ups the change well: 'Our cars today are practical and good value but in the future that won't cut it, we have to create emotional value too.'
Touring Superleggera Scià di Persia
It takes old-school Italian design house Touring Superleggera up to 5000 man-hours to transform the Maserati Gran Turismo donor car into the shapely Scià di Persia ('Shah of Persia') limited edition that graced its Geneva show stand. The first of only ten units maximum, head of design Louis de Fabribeckers explains that the design house's focused business model is based on very special customers (with very deep pockets to match, Touring wouldn't reveal guide prices) who want something bespoke and luxury. 'With this approach the customer creates a piece of automotive history, regular carmakers can't match. We do one-offs too.'
INFORMATION
For more information, visit the Geneva Motor Show website (opens in new tab)
Guy Bird is a London-based writer, editor and consultant specialising in cars and car design, but also covers aviation, architecture, street art, sneakers and music. His journalistic experience spans more than 25 years in the UK and global industry. See more at www.guybird.com (opens in new tab)