Exotic motors triumph over autonomous machines at the Geneva Motor Show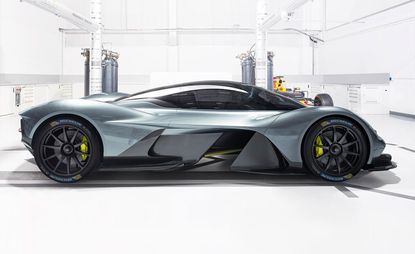 (Image credit: TBC)
Autonomous driving is side-tracking. The conversation has temporarily diverted from its original explosive futuristic narrative for an altogether more tangible one. The automotive world is looking at more pragmatic solutions that can be applied now, without the complications of full autonomy. The excitement is still there, with carmakers focusing much of their R&D efforts into making this a long-term reality. But for now and the near future, the driverless vehicle has been placed on hold for semi-autonomy – as was evident on the pavilions of this year's Geneva Motor Show.

Customers are not entirely ready to hand over complete control to a machine. Nor, it seems, are they willing to give up driving pleasure. So, for now, autonomous technology will help us to be safer drivers – acting as a co-pilot who controls the wheels on long commutes and dull motorway routes, while we take back sovereignty on fun, twisting, challenging roads.

BMW is going as far as repositioning itself as a tech firm acknowledging the intimacy between the two worlds. The 5 Series Touring and new 4 Series at Geneva are testimony to the company's commitment to making all its cars as connected, piloted and advanced as possible, and crucially responding quickly to new technology. With competition from Google and Apple, and in response to the likes of Tesla, speed of delivery is key to the survival of traditional carmakers. A similar approach is happening with Audi, Mercedes and across the premium auto world.

Elsewhere, there were plenty of SUVs of all shapes and sizes on display. Volvo's latest XC60 continues the marque's confident design theme. Yet with its formal simplicity, clean and clear visual language, and perfect proportions, the Range Rover Velar is proof that Land Rover remains the most accomplished maker in this genre.

However, this being Geneva, the real stars of the show were the exotic motor cars highlighting the disparity between fantasy and reality. These exclusive cars can seem a little indulgent, though in terms of design and innovation they are also often the most accomplished products.

The McLaren 720S, for instance, is sensational. The two-seat sports car is so advanced in design and engineering that it almost feels like it skipped a generation from the 650S it replaces in the Sports Series. This is also a hugely important car for the young marque, for it represents the first production vehicle to be replaced since McLaren Automotive formed seven years ago.

'It is special. It almost feels like a milestone in the maturity and development of the company,' says chief executive Mike Flewitt. 'We started out with one car, the 12C, which evolved to be a range of cars. Now that journey is over, we are replacing them one by one with new models.' This includes 15 cars planned for 2022, half of which will be hybrids.

The Ferrari 812 Superfast is also fantastic to look at and, as the name suggests, surely a great pleasure to drive – as is the Aston Martin Valkyrie hypercar. Bentley's 6e is an electric concept that explores the marque's future design and previews some of the ideas to be seen in the upcoming new Continental GT. Meanwhile, Rolls-Royce displayed its bespoke collection, showing the marque's unrivalled tailoring skills. We particularly enjoyed the custom-built Ghost, a thousand crushed diamonds infused in the paint.

These cars are all about voluptuous, visceral lyricism. They may be indulgent and exclusive, yet they are a reminder of the beauty and the romance of the motor car.
INFORMATION
For more information, visit the Geneva International Motor Show website
Receive our daily digest of inspiration, escapism and design stories from around the world direct to your inbox