Next-generation concept cars unveiled at Geneva Motor Show 2019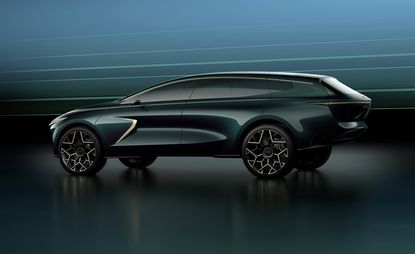 (Image credit: press)
Wallpaper* Newsletter
Receive our daily digest of inspiration, escapism and design stories from around the world direct to your inbox
Thank you for signing up to Wallpaper. You will receive a verification email shortly.
There was a problem. Please refresh the page and try again.
Arguably, the quality and depth of concept cars on display at the 2019 Geneva Motor Show was the best for years. Certainly that was the opinion of most of the commentators we bumped into while walking the halls of the Palexpo exhibition located next to the Swiss city's airport. Which made it all the harder to whittle down to our list of favourites.

But here goes anyway. Here are the next generation concept cars unveiled at the motor show, including product design-inspired city cars to ultra-luxury electric SUVs.
Citroën Ami One
The award for 'most photo-friendly Geneva concept' could easily go to the Citroën Ami One. Celebrating 100 years in 2019, the charmingly idiosyncratic French brand unveiled its 2.5m long city car concept as egalitarian low-cost transport – even for those without a regular driving licence – as the tiny electric two-seater is simple to use and doesn't go above 30mph. Special emphasis was placed on making the car more affordable to manufacture, with a symmetrical design featuring fewer unique parts. Accordingly the left and right-hand doors are identical – opening in opposite directions so the hinges can be positioned in the same place – and various bumpers and panels are interchangeable. Sit inside and the cabin feels remarkably spacious but still with significant storage. There is also a display slot where you can plug in your own smart phone to substitute for a built-in driver or satnav screen to reduce complexity and cost. Aimed to be either 'pay-as-you-go' via an app or owned outright with greater personalisation, Citroën's head of interior design, Jean-Arthur Madelaine-Advenier tells Wallpaper* the car is for a new kind of traveller. 'It's not meant to appeal to a car freak,' he says with a smile, 'the aesthetic is different, it's for a wider and younger audience. The Ami One is more like a "connected" object.'

Kia Imagine
'We tried to create a car that's hard to categorise, not clearly a saloon or a hatch and certainly not a dry-looking electric vehicle either,' Alex Daniel, Kia's exterior creative manager says of the South Korean brand's Imagine concept. Boldly named, the result is equally so, especially the interior, with an original mix of the flamboyant and the technical. Instead of just one large infotainment central screen the Imagine's dashboard proposes 21 iPad-sized ones, fanned out like a pack of cards from door to door. Meanwhile the leather-covered carbon-fibre seat shells ape the look of intricately folded paper and the inner door panel surfacing resembles metal that has been artfully hand-beaten. As Imagine's interior designer Ralph Kluge concludes: 'We wanted an airy and roomy cabin but also wanted it to be more inviting than the normal rational approach.' They've succeeded.
Lagonda All-Terrain
Aston Martin had one of the busiest stands at the Geneva Motor Show unveiling four exceptional new vehicles – from a production-ready V12 hypercar to a V6 supercar concept – but the Lagonda All-Terrain concept also caught the eye for signalling the arrival of Aston's all-electric luxury offshoot brand, starting production in 2022. Following the limousine-shaped 2018 Lagonda Vision, the 2019 All-Terrain concept signposts that there will also be a large and capable electric SUV in the Lagonda range, able to extend luxury travel well beyond the Tarmac and in a cabin environment more akin to a well-appointed front room – with lounge-style seats and softer fabrics including cashmere.
Nissan IMQ
Nissan has been showing various new SUV concepts – mainly electric-powered in some form – for a few years now. Standing out in their angularity of exterior aesthetic, global head of design Alfonso Albaisa tells Wallpaper* the concepts are examples of the firm 'expressing its roots more than before' and in the case of the new IMQ concept specifically, an example of the Japanese word Kabuku 'to embrace the strange or unusual'. The closely-spaced new grille of the IMQ is particularly fresh and the interior features laser-cut fabric on the dash and door panels inspired by a latticed woodwork technique used in classical Japanese screens called Kumiko. Insiders suggest the IMQ gives strong design pointers to the next Qashqai compact SUV and the concept also highlights Nissan's next generation e-Power system – which utilises a small petrol engine to charge the battery for an electric motor to then power the wheels – and which is already a success in Japan. The firm will be bringing the tech to Europe by 2022.
Fiat Centoventi
According to Fiat Chrysler head of design Ralph Gilles, Fiat hasn't made a concept car for about 15 years, such has been its focus on production car realities and profitability. So the Fiat Centoventi concept came as a genuine surprise at the Geneva show. Celebrating 120 years of the Italian company – thus the name – the concept features a host of modular and low-cost ideas. These include a battery housing with extra slots so the customer can purchase more packs to facilitate greater electric vehicle range – like a home computer that can similarly cater for 'extra memory' needs – and a white-only exterior to which various roof, bumper, wheel covers and external wraps can be added to bring colour and personalisation. In keeping with the anniversary theme, there are 120 accessories initially envisioned and 114 of them – including seat cushions, door storage and a sound system – could be ordered online and fitted by the customer at home, or 3D-printed, in the case of one cup-holder design. The idea is these items could also be resold and traded on the internet when the owner fancies a change, all of which Fiat thinks could promote a greater community of fans for its brand.
Piëch Mark Zero
The wild card of this 2019 Geneva concept car selection is the Piëch Mark Zero concept. The Swiss-German start-up's company name comes from co-founder Toni Piëch, the son of former VW chairman Ferdinand Piëch and great-grandson of VW Beetle creator Ferdinand Porsche no less. Big boots to fill then, but Toni Piëch believes his company brings something different to the table. The Mark Zero pairs timeless design – recalling classic Jaguar and Maserati styling cues among others – with a new technology package underneath that he says could dramatically reduce electric vehicle charging times close to a conventional combustion engine's fuel tank fill-up. Piëch Automotive is touting a speed of 80 per cent full in five minutes as possible and says its modular hardware and software concept can accommodate many powertrain types more easily while being easier to update than traditional carmakers' platforms too. Three types of car are being planned – a two-seater, four-seater plus a sporty SUV – to be produced by existing and experienced contract manufacturers. But the bigger ambition seems to be for Piëch Automotive to market its modular structure to other car manufacturers as part of a business-to-business model. Early days then, but interesting.
INFORMATION
Geneva Motor Show runs from 7 – 17 March. For more information, visit the Geneva Motor Show website
Receive our daily digest of inspiration, escapism and design stories from around the world direct to your inbox
Guy Bird is a London-based writer, editor and consultant specialising in cars and car design, but also covers aviation, architecture, street art, sneakers and music. His journalistic experience spans more than 25 years in the UK and global industry. See more at www.guybird.com