Path finder: Mateo goes under the spotlight
Matthew Harris, founder of jewellery brand Mateo, on going his own way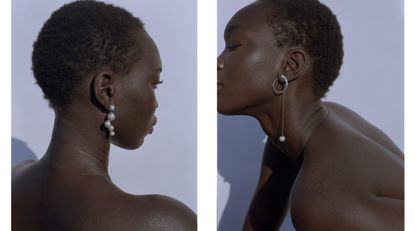 (Image credit: Davey Adesida)
Wallpaper* Newsletter
Receive our daily digest of inspiration, escapism and design stories from around the world direct to your inbox
Thank you for signing up to Wallpaper. You will receive a verification email shortly.
There was a problem. Please refresh the page and try again.
Even mid-interview, Matthew 'Mateo' Harris is in designing mode. During the Covid-19 pandemic, he has experienced an uptick in sales, a testament to the enduring quality of his designs. 'I am making a piece as we speak,' he laughs on the phone from Los Angeles, where he is enjoying his last week on the West Coast before decamping to Houston, Texas, where he has just bought a home.

Since establishing his brand in 2009, Harris has become an exciting name in men's jewellery – eschewing trends and bringing a touch of modernity to more classic jewellery pieces, with a bespoke service to match. 'I want my clients to be a part of the Mateo family, I want to know how they are doing, how they are enjoying their pieces from me.'
He has developed an acute understanding of craft, construction and the power of relationships. He grew up in Montego Bay, Jamaica, the son of a seamstress who made clothes for clients as well as local children. 'She would take their measurements but also just give them gummy bears and make them laugh. People want to have a connection with whatever you're buying and I think that happens less and less now.' He describes Jamaica as 'idyllic'. 'I grew up very lucky.'

During his formative years at an all-boys Anglican high school, Harris knew he was different from his peers. 'I excelled, not in a cocky way.' He went to university in New Hampshire, then slipped into an unexpected path: modelling. 'I hated it,' he says. 'It wasn't for me. I like to have control of my life.'

Despite his early exposure to the fashion industry, Harris never considered working in design. Instead, he studied hospitality management. 'It all boils down to being Jamaican. The economy thrives from tourism. So I thought this was my only option. No one teaches you how to dream or even consider fashion as a career growing up in Jamaica. The moment you say you want to work in fashion, there's this homophobic backlash.'

It was only when he began a consulting business to help designers with sales and marketing, that Harris realised he had a knack for jewellery design. He soon launched his own men's jewellery label, adding women's fine jewellery in 2014. 'The trend was super gaudy, skull motifs, and this hyper-masculinity that was not my aesthetic at all. I was doing construction in my apartment and a screw fell out of the wall; I thought, "Why isn't this a necklace?" As a designer it doesn't make sense to do something that is already out there. I am always trying to fill the blank space.'

An avid follower of architecture and fine art, Harris acknowledges the futuristic work of Norman Foster and the distinctive mobiles of Alexander Calder as inspiration. Often crafted in gold, silver and pearl with delicate diamond or malachite accents, his pieces read like petite sculptures, carefully considered for the body. 'I flew all the way to Moscow just to see Kandinsky's work. I also did a collection around Brâncuși's sculpture – I try to incorporate it all. It can even just be a woman on the train, who just has impeccable style.'

Rihanna wore one of Harris' zipper necklace designs, adding celebrity kudos to his already burgeoning business, and Harris added retailers such as Bergdorf Goodman, Browns and Barneys New York. He opened a flagship in 2016 in New York's Nolita and was a CFDA/Vogue Fashion Fund finalist in 2017. 'I've been super blessed as a Black designer.'

He has added a successful handbag line, with his brand DNA of simplicity, clean lines and wearability at an affordable price point. 'Those classic shapes that never go out of style at a price that doesn't break the bank. I want a younger generation to be able to meet us where they are at, to grow with the brand. I have seen other jewellery brands wildly overcharge and I refuse.'

He also seems set on creating his take on a lifestyle brand. 'I have a candle line that is wildly popular,' he says, mentioning an upcoming perfume based on his Black Onyx scent. 'I would also love to make objects for the home. I just took up pottery, so who knows?' Mateo is relaunching men's jewellery after a hiatus, and making a concerted effort to go direct-to-customer, to more carefully craft its brand narrative. 'If Covid-19 has taught me anything, it's that community is so important. That's the future for me.
INFORMATION
This article originally appeared in the September 2020 issue of Wallpaper* (W*257) – available for free download here
Receive our daily digest of inspiration, escapism and design stories from around the world direct to your inbox