Hemmerle launches a new Egyptian-inspired collection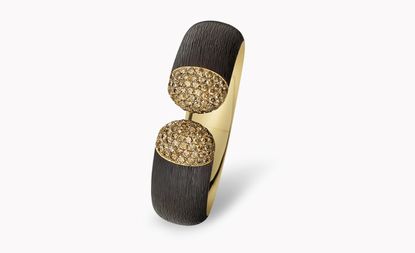 (Image credit: Hemmerle )
We are big fans of Hemmerle (opens in new tab), and the Munich fine jeweller's unashamedly narrative take on a theme, not least because the tales its jewels tell are never as straightforward as they first seem. So when the brand announced it was unveiling new pieces last week, we were eager to see the treasures it had in store.

Some of Hemmerle's Egyptian-inspired earrings were shown at Masterpiece in London this summer, but now the full collection of pharaohs, falcon-headed gods and flowers has been revealed.

'The amuletic power of Egyptian jewels with their fascinating symbols and stories and stylised simplicity captured our minds and inspired us,' say Yasmin and Christian Hemmerle, the young husband-and-wife team behind the brand and the gatekeepers of its creative vision.

A native Egyptian, it was Yasmin who at first explored the theme and, after a family trip to see 'the infinite amounts of treasure' at the Museum of Cairo, the beginnings of the Egyptian collection were set.

Now we have 'temples, pyramids and dazzling colour' realised in a typically compelling series of earrings, rings, bangles and necklaces. And, true to Hemmerle's signature style, the collection is an impulsive mix of fine and basic materials precisely combined within a bold, finely engineered structure.

Traditional tear-shape earrings, for instance, take on a far more contemporary guise in Hemmerle's hands, as sumptuous brown tourmalines are suspended in a patinated copper-and-white-gold frame.

Another Hemmerle trick - and one that we are particularly fond of - is the beautifully considered mismatch of 'pairs': while the design of a set of earrings is exactly the same, the colour of the stones is slightly different (a green tourmaline offset by an olive-green one, say). This is only effective because the irregular tones are painstakingly considered.

The precious nature of Hemmerle's methods and material means that, from concept to creation, each jewel is unique - in every possible sense.
ADDRESS
We are big fans of Hemmerle (opens in new tab), and the Munich fine jeweller's unashamedly narrative take on a theme, not least because the tales its jewels tell are never as straightforward as they seem
VIEW GOOGLE MAPS (opens in new tab)