Delfina Delettrez teams up with Rafael de Cárdenas for her London wunderkammer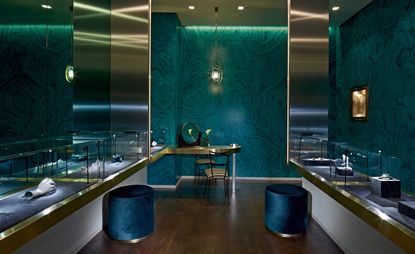 (Image credit: Mark Cocksedge)
Last weekend Italian jeweller Delfina Delettrez opened her second jewelled box on Mayfair's Mount Street to a London Fashion Week crowd that spanned fashion and architecture with a guest list ranging from Lady Amanda Harlech to Zaha Hadid. Split over two floors, the boutique itself was designed by good friend Rafael de Cárdenas, and leads on from the jeweller's first Roman enclave.

And just like Delettrez's multi-faceted work, which fuses the abstract with the surreal, the store's environs are a mix of unexpected textures and metals, uniting faux Malachite leather walls with polished stainless steel, satin brass and mirror. Upstairs, glass vitrines appear to hover in space, just like Delettrez's pearl and gem floating rings, while the lower ground hosts a private lounge for her high jewellery offering - formally entrusted to Dover Street Market.

The pair seemingly had a lot of fun sourcing Fifties modernist furnishings including an Ico Parisi sofa, Azure marble side tables and Fontana Arte artwork, however Delettrez notes that the space's finishing touches were something of a family affair, with pieces 'borrowed' from mother Silvia Venturini Fendi and a host of strong-willed Italian design powerhouses (aka relatives) advising on final placements just hours before the doors were opened.

We snuck in a moment to chat to the jeweller and her architect about bringing the site to life...

Wallpaper*: Delfina, what is it about Rafael's work that most appealed to you?
Delfina Delettrez: Rafael knows my strong, personal aesthetic. He also knows how to make multiple codes coexist, in one concept, which I wanted for my store. He knew I wanted to mix the organic with the industrial, for it to be a place where fur, leather and metals all coexist.

W*: What did you most want to achieve with this space?
Delfina Delettrez: I wanted the London boutique to be a very intimate reflection of my personal taste, like a private wunderkammer. I also wanted the store to have an impact, and have multiple illusions, not knowing where the jewellery ends and the installation begins. Stones and vitrines have the illusion of floating and there is an element of distortion on the Malachite trompe l'oeil.

W*: Did you want to extend the Rome store's vision or keep this location entirely unique?
Delfina Delettrez: I wanted the store to be connected to the Rome boutique, but to have a futuristic evolution. It has the same cabinet de curiousitè feeling, but is more contemporary, sharper. I like to imagine both boutiques as jewellery boxes, and the London store as a very modern jewellery box, where the contemporary is combined with Italian furniture, such as Fontana Arte and Gio Colombo. I wanted the basement to become a very dynamic and free environment, where it is multifunctional and can be easily transformed.

W*: Rafael, tell us more about the boutique's more unique features.
Rafael de Cárdenas: The way the Malachite painting wraps the space and suggests a seductive secret down the stairs is a particularly favourite feature of mine.

W*: Can you explain your unexpected material choices for the project?
Rafael de Cárdenas: Malachite green proved to be a key aspect of the project. It feels ancient, exuberant, Italian and very contemporary as combined with polished, unlacquered brass, stainless steel and dark wood.

W*: Did the Mount Street location present any particular challenges?
Rafael de Cárdenas: Its small and not exactly symmetrical, which is something I often found difficult. We created fine walls in order to suggest further depth than there actually is. These also form arcs that give the main space a symmetrical order. Oh... and the year-long council permit process!
ADDRESS
109 Mount Street
London W1K 2TR