At home with Sophie Bille Brahe
Sophie Bille Brahe's modern jewellery designs, embracing pearls and diamonds for everyday wear, have quietly upended the fine jewellery market. Here, she talks inspiration and creative process, hopes and dreams, and downtime and dogs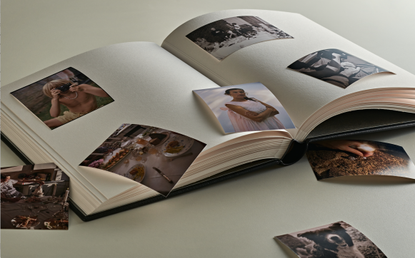 (Image credit: Courtesy of Sophie Bille Brahe)
Sophie Bille Brahe has been quietly yet steadily building her eponymous, independent jewellery business from her home and headquarters in Copenhagen, since founding the company in 2011. Early on, she garnered a loyal following for her 'Croissant de Lune' earring, a curved row of diamonds in her distinctive modern setting, often worn as a single earring. Its name, meaning 'crescent moon', relates to her ancestor, the astronomer Tycho Brahe; the night sky inspires much of her work. Italy, too, serves as ongoing creative inspiration: 'Rome is very contrasted,' she tells us, of the city she has visited all her life, 'a combination of something very classic, beautiful, yet the complete opposite at the same time.' The city provided the canvas for the third edition of her self-published magazine, La Vita é Bella.
Bille Brahe's power lies in her understated approach, which has been instrumental in upending the perception of fine jewellery entirely: in contrast to jewellery once reserved for special occasions only, her beautiful and interesting designs are intended to be enjoyed and worn every day. Thus, her jewellery speaks to the varied tastes of a cohort of modern women, from romanticists to pragmatists, minimalists and design purists.
Diamonds and pearls in graduated sizes and asymmetric designs have become her trademark. Her bridal collection launched in spring 2022 and has become the go-to for design enthusiasts searching for a wedding ring that feels as personal as it does timeless. Her recently launched A/W 2022 collection, titled 'The Bow', is an ode to the feminine motif, a steadfast yet delicate linear form.
Here, the jewellery designer tells us more about her work, creative process, and what makes her tick.
At home with Sophie Bille Brahe
Wallpaper*: Where are you at the moment? Describe what you can see
Sophie Bille Brahe: I'm sitting at my work desk at home. It's an old desk, once given to me by my father, designed by my father's oldest friend. It's timeworn yet very simple and has a special meaning to me. I'm always listening to a podcast, something I enjoy while working on my designs. Out the window, there is a cherry tree about to blossom.
W*: Where do you live?
SBB: I live in a terraced house in Hellerup, north of Copenhagen. It's right by the sea and the forest, a quiet and peaceful area that works well with our family life. If I have the time, I love to start my day with a swim in the ocean, it's rejuvenating and sparks my endorphins.
W*: What's the last thing you bought?
SBB: Classic two-tone Chanel pumps. They are timeless and fit my personal style and wardrobe.
W*: What's the last phone call you made?
SBB: I last called my mom or Anne-Sofie, CEO at Sophie Bille Brahe. They are the most important people in my life.
W*: Where and when do you find you are most productive?
SBB: When I'm at home, having a quiet time to organise my thoughts. I always make sure that there are clean surfaces and fresh flowers in my surroundings before I can start a creative process. I usually start the day with a long walk with my dog, Snoopy, in the local forest. It clears my head and creates space for new ideas.
W*: Favourite place, anywhere in the world? And why?
SBB: I always return to Rome. The city is an eternal source of inspiration for me. I have been visiting Rome from a very young age, having my grandmom's sister living in the city. Rome feels like my second home, it's a sense of belonging. The city is very contrasted: a combination of something very classic, beautiful, yet the complete opposite at the same time.
W*: If Wallpaper* came for dinner, what would you cook us?
SBB: Spaghetti vongole. It's an Italian classic and my favourite Italian pasta dish. My brother, chef Frederik Bille Brahe, always cooks this dish whenever we are celebrating a special moment.
W*: What's the one thing (in your creative field) you wish you had designed or invented?
SBB: A vernier caliper. It is a beautiful measuring device that takes advantage of a vernier scale, a scale used to provide very precise measurements. This tool is special because it's a tool you use to do something very, very precise. I think that says quite a lot about how I work. For me, things need to be extremely precise. My eye can see it when something is off, even by a tenth of millimetre.
W*: Who would play you in a movie of your life?
SBB: I love Alicia Vikander. I'm a big admirer of her. If anyone should play me in a movie it would be her.
W*: Any regrets?
SBB: I don't believe in having regrets. I believe in living life on your own terms, without compromises. I'm afraid of stagnation and being stuck in a rut. If I have the opportunity to actually do something, I will always choose to do it without thinking about whether I will regret it or not. I believe that acting is always the best solution.
W*: Ten years from now you'll be…
SBB: Celebrating Sophie Bille Brahe's 20th anniversary surrounded by my family and loved ones. I love what I do and couldn't imagine doing anything else.
W*: What are you reading, and what do you think of it?
SBB: With two children I hardly find time to read at the moment, but I love Seven Gothic Tales (1934) by Karen Blixen. It's a modern classic by one of the finest and most remarkable artists of our time. I re-read it over and over again. As a woman, I find her so inspiring. She lived without compromise; she lived her life how she wanted.
W*: Favourite indulgence and why? When did you last indulge in this?
SBB: I love to indulge in diamonds. Diamonds are the most enchanting stone; they give me a magical feeling that I can't explain and are always the thing that has driven me as a jewellery designer. They last an eternity and have the most beautiful shades of light.
W*: What's inspiring you right now?
SBB: I'm very drawn to classic elements with a modern twist. It's a part of my designs, imbuing my jewellery with a modern assertiveness. For inspiration, I always return to places that enthuse me. I love Italy, it has been a big part of my life.
W*: Do you have a lucky mascot and is there a story behind it?
SBB: My beloved dog, Snoopy. I used to look after my brother's dog, named Skat, and when he had puppies, I received a puppy as a birthday present from my brother. He follows me around wherever I go and brings me so much joy. He is my lucky mascot. And he is my shadow.
W*: How do you switch off?
SBB: I go for a long walk in the local forest with my dog, Snoopy. It renews my energy. When I have time, I love to go for a dip in the ocean before starting work. It is the best way to wake up both body and mind.
W*: Favourite material to work with and why?
SBB: I love to work with gold. Gold is resilient, beautiful, and long-lasting. There is something magical and meditative about the way the heat moves in the material. It's something quite magnificent, there is nothing like it.
W*: Who is your dream collaborator?
SBB: I love Goyard. It [represents] high-quality craftsmanship and [is] a beacon of luxury. The universe is stringent and yet still timeless. It has its own direction, without expectation.
W*: If you weren't a jewellery designer, what would you have been?
SBB: I have always had a love for opera music. As a kid, I dreamt of becoming an opera singer. I grew up listening to 'Lucia di Lammermoor' sung by Maria Callas; it was my grandfather's favourite. I have always loved the way she made the opera fragile, showing only the emotions. That is what I am trying to do now with my jewellery: taking away all the superficial elements to strip back to the feelings.
W*: What's top of your to-do list?
SBB: I dream of renovating my kitchen or travelling to Pompeii. I haven't been to Pompeii and would love to explore the ancient city. I feel very drawn to the past sometimes and I love immersing myself in a place full of history, where each object tells a different story. They take on a meaning and it becomes almost magical.
INFORMATION
Receive our daily digest of inspiration, escapism and design stories from around the world direct to your inbox
Tilly is a British writer, editor and digital consultant based in New York, covering luxury fashion, jewellery, design, culture, art, travel, wellness and more. An alumna of Central Saint Martins, she is Contributing Editor for Wallpaper* and has interviewed a cross section of design legends including Sir David Adjaye, Samuel Ross, Pamela Shamshiri and Piet Oudolf for the magazine.