Brooklyn Byzantine: ancient artefacts inspire Gamin's modern unisex jewellery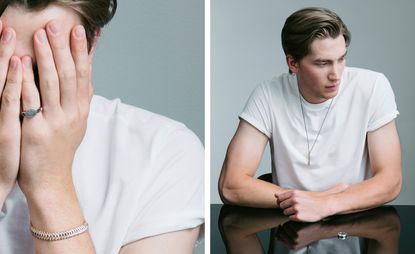 (Image credit: Ivan Bideac)
Ancient pieces in museums, hidden gems in markets and even illustrations in books have provided Brooklyn-based designers Lauren Richards and Mark Ignaczak with inspiration when creating pieces for their two-year-old unisex jewellery label, Gamin. 'Sometimes it will be the overall gesture of a piece and sometimes it is a tiny detail that strikes me as surprisingly imaginative, unusual and modern,' says Richards.
For S/S 2017, the duo looked to the timeworn metalwork of the Byzantine Empire for inspiration, reinterpreting the geometric frameworks with their empty gemstone settings and chipped-enamel channels into refined metal cuffs woven with leather cord, engraved sterling silver pendants and faceted rings that explore the boundaries between masculine and feminine.
'In menswear especially, the space between beaded trinkets and luxury goods does not seem to have a lot of variety, with many pieces tending to be constrained to specific trends and lifestyles,' laments Richards. 'We want to offer unique designs that can be worn every day by a variety of people, united by a sensitivity to detail with a subtle statement of individuality.'
Like the duo's previous work, the S/S 2017 collection is made using a combination of computer and handmade techniques. Working with small artisan manufacturers across the city as well as their own Greenpoint studio, Gamin use 3D printing to achieve high levels of precision, while all the casting, polishing and leather wrapping is done by hand.
Gamin is currently stocked at Assembly NY and LA, By Robert James and Willy Chavarria (previously Palmer Trading Co), as well as online on AhaLife and Not Just A Label.
INFORMATION
For more information, visit the Gamin website (opens in new tab)