A sculptural eye informs LA designer, curator and accidental jeweller Sophie Buhai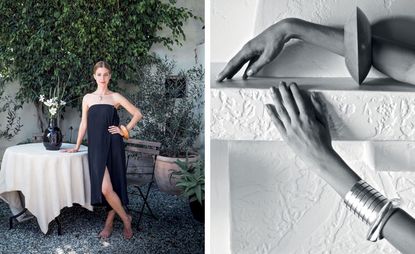 (Image credit: Steven Perilloux & Kayten Schmidt)
Sophie Buhai (opens in new tab) never set out to become a jeweller, which is perhaps why her sculptural designs defy easy categorisation. 'It happened really organically,' says Buhai of her transition from fashion to jewellery and interiors following the closure in 2014 of her ready-to-wear label Vena Cava, founded a decade earlier with fellow Parsons alumna Lisa Mayock.

'Every girl has a jewellery line now, so I was like, "I'm not going to do that!" Then I went to Villa Lena to do a residency,' she says. The visit to the Tuscan artists' colony had unexpected consequences. 'I couldn't bring a lot of materials,' says Buhai, 'so I brought various metal pieces and beads, not even thinking I would make jewellery - and then I really enjoyed it. When I came back, I wanted to explore jewellery in a less crafty, more finished way,' she says. Her new LA home, a 1930s Spanish-style bungalow, is close to the city's jewellery district, and she began experimenting with her favourite element, sterling silver.

Buhai also put her passion for interior design into practice, first at home and then in a friend's New York apartment. 'I returned from Manhattan and started getting calls, so I began taking on other projects,' she says, citing Terence Conran's 1970s designs, Egon von Furstenberg's 1980 book The Power Look at Home, and Axel Vervoordt and Rose Uniacke as influences. At the same time, she started to sketch her own objects, ranging from ceramic vases to sculptures, now available for sale on her website alongside her bold jewellery and a selection of vintage finds collected on her travels.

'The jewellery is almost like little mini objects,' she says, 'so it sort of made sense that the interiors would be the umbrella for the brand.' And anyone who follows Buhai on Instagram will know that the 34-year-old is also exacting when it comes to her brand identity. 'I was trying to do something that felt classic rather than trendy,' she says of her visual partnership with artist Kayten Schmidt. As for production, 'everything is done in LA and I want to keep it that way. We found a high-end woodworker in the Pacific Palisades, so he is executing all of the designs that I sketch.' She works in the same way with a local silversmith.

For her first collection, Buhai looked to African jewellery, as well as the work of Constantin Brâncusi (opens in new tab) and Barbara Hepworth, to create a type of 'sophisticated primitivism'. Architectural cuffs are carved from maple, earrings are set with ebony stone, and even the wood-and-silver hair clips have a museum-worthy regality. 'It takes a certain kind of woman to wear these pieces,' says Buhai. 'They're bold, they're big, so they're not for everybody.' Which is why she's thrilled that her designs will be sold at Santa Fe's Georgia O'Keefe Museum (opens in new tab) and New York's Cooper Hewitt Smithsonian Design Museum, in addition to retailers such as The Line (opens in new tab).

Early influences include her mum - 'still the chicest woman I know' - who taught Buhai 'about having an eye for proportion and appreciating unusual things', as well as her Vidal Sassoon-bobbed grandmother and aunts. 'I learned a lot about Scandinavian design, modern furniture, jewellery and art from them. Those women were a total education,' says Buhai, who is content to be back in California after 12 years living in New York: 'I think it's very free out here,' she says. 'It feels like you can make up your own rules. And what I love about jewellery is you have a toe in the fashion world and a toe in the design world.
This piece was originally featured in the September 2015 edition of Wallpaper* (W*198)