W Hotels: David Rockwell interview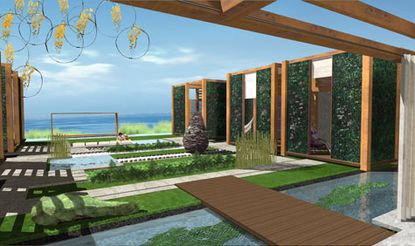 (Image credit: press)
Since designing the first ever W Hotel – the W New York – in 1998, David Rockwell and his team at the Rockwell Group have seen the brand's portfolio swell to include almost thirty properties across the globe (or something that points to the global footprint). Along the way they've designed the landmark W Union Square and more recently, W's newest retreat on the Caribbean island paradise of Vieques.
Click here to see more of W Retreat & Spa, Vieques Island
'When you're talking to a director the ideal input is to get an inspiration but not a prescription,' says Rockwell, who also designs for theatre. 'That's how W is. They gave us a lot of creative autonomy, while expressing a desire for W Retreat & Spa - Vieques Island to be inspired by its unique local culture and context.'
The island's landscape is wild and pristine – a 55 square mile tropical oasis surrounded by clear white beaches and lush greenery. Rockwell's design concept celebrates the wilderness and the breezy informality of island living. 'People go there to really get away,' he says.
The incorporation of local materials, colours and themes was central. The entry pavilion is a grand, modern abstraction of a traditional Vieques home. A courtyard enveloped in thick green planted walls and roped canopies guide visitors through to the lobby, with its stunning views of the sandy coast and the turquoise sea beyond.
'One thing we noticed throughout the island, on gateways to homes and on walls, is the beautiful use of metal grill work with specific types of patterning and scale,' says Rockwell. The design team, led by Diego Gronda, incorporated the motif into the reception area, the hotel's 'living room', and the signature restaurant and bar.
Other standout features include a 40-foot bookshelf made from blackened steel framing the living room area, and the two spectacular light fixtures above, crafted by Foscarini from bent white metal tubes.
But the 'most special place' at Vieques, in Rockwell's opinion, is the property's world-class spa. Set in a sunken garden on the edge of the ocean, the facility is comprised of six individual treatment villas, complete with pools, opulent communal areas and private outdoor showers. Two of the villas were designed slightly larger with couples in mind.
'W understands the notion of the brand being consistent from location to location without being cookie cutter,' says Rockwell. 'The sense of luxury and informality at Vieques is quintessentially W – modern design, easy luxury, hand-craftsmanship, and the buzz of everything working seamlessly together.'
Melina Keays is the entertaining director of Wallpaper*. She has been part of the brand since the magazine's launch in 1996, and is responsible for entertaining content across the print and digital platforms, and for Wallpaper's creative agency Bespoke. A native Londoner, Melina takes inspiration from the whole spectrum of art and design – including film, literature, and fashion. Her work for the brand involves curating content, writing, and creative direction – conceiving luxury interior landscapes with a focus on food, drinks, and entertaining in all its forms