A tribute to Arne Sorenson (1958 – 2021)
Arne Sorenson, who for the past decade ran Marriott International, the world's biggest hotel company, with brands including Edition, Ritz-Carlton, St Regis and Marriott, has died. His last major magazine interview was in Wallpaper's October 2019 Issue (W*247), with his friend and Edition collaborator Ian Schrager. We republish it here in tribute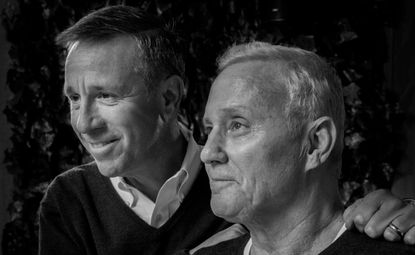 (Image credit: Shane Lavalette - Photography)
Wallpaper* Newsletter
Receive our daily digest of inspiration, escapism and design stories from around the world direct to your inbox
Thank you for signing up to Wallpaper. You will receive a verification email shortly.
There was a problem. Please refresh the page and try again.
To lose one hotel may be regarded as a misfortune; to lose two looks like carelessness. Yet that is what happened to Ian Schrager, the man who created the 'boutique' or 'style' hotel. In 2010, he opened The Waikiki Edition, the first of what he hoped would become a chain of hip hotels, developed and operated in partnership with the world's biggest hotel company, Marriott International. But just weeks after the first guests checked in, the landlord turned up in the middle of the night, changed the locks on the front doors and told staff they worked for him now, not Edition. He was angry at what he claimed was poor financial performance. The same thing happened to the second Edition, which opened in Istanbul in 2011.

The twin setbacks could have been the first and last anyone heard of a brand dreamt up by Schrager and the then CEO of Marriott, Bill Marriott Jr, in 2008. But Schrager and Marriott doubled down – Editions have since opened in London, New York, Miami, Barcelona, Bodrum, Shanghai, Abu Dhabi, Sanya and, from October, West Hollywood. More than a dozen are due to follow over the next few years, including in Rome, Tokyo, Milan (W*235), Dubai, Reykjavik, Madrid, Las Vegas and Tampa.

The latest openings are not just a remarkable reversal of fortune for Edition, but a triumph of perhaps the most unlikely partnership in modern business: Schrager, the scrappy, edgy disruptor of everything from nightclubs to hotels, and Arne Sorenson, who took over from Bill Marriott Jr in 2012, as boss of the buttoned-up global hospitality behemoth whose rooms are decorated in 17 different shades of magnolia.

Schrager co-founded Studio 54, the most (in)famous nightclub in the world. He was jailed in 1980 for tax evasion after tax inspectors found millions of dollars in cash hidden in the club. After he was released from prison (he was later formally pardoned by Barack Obama), he went on to leverage his nightclub experience to create hotels with their own unique attitude and aesthetic 'like a boutique'. From Morgans in New York, through St Martin's Lane in London, he invented the lobby 'scene'; the go-to bar; the dangerously dark corridors; the signature scents; the hot staff with clothes more expensive than the guests'; and the baffling taps in the bathrooms.
After creating small but perfectly formed hotels, he decided in 2008 to do something on a global scale: create a new collection of properties 'with the same DNA, similar attitude and approach', but each reflecting its location. The New York Edition, The London Edition and so on. The only problem was, he did not have the money or global marketing heft. Enter Sorenson, who was then working as Marriott's chief operating officer but was already heir apparent to Bill Marriott Jr.

Born in Tokyo to a family of Midwestern Lutheran missionaries, Sorenson majored in religion at Luther College, Iowa, before becoming a lawyer. He moved on to Marriott in 1996. After masterminding the $13bn acquisition of Starwood Hotels three years ago, the largest takeover deal in the history of the hospitality business, he now runs the world's biggest hotel group, with over 1.3 million rooms.

Sorenson and Schrager's first meeting did not augur well. Schrager was the keynote speaker at a Goldman Sachs hotel investment conference in New York in 2000. 'I'm trying to do everything the opposite way Marriott does it,' he told delegates at just the moment Sorenson walked in. He was the next speaker. Yet against all odds, the two of them have created a global boutique hotel chain that has not lost its edge as it has expanded. 'I call it the anti-chain chain,' says Schrager.

The two men rarely do interviews together, but they agreed to sit down with Wallpaper* in New York at The Times Square Edition. To begin with, Schrager reveals, their working relationship was fraught. 'There were territorial issues. I'd be frustrated by the process they're obliged to go through,' he says. 'They'd tell me, "You can't have a cantilevered desk in the room. People are going to sit on it. It'll fall down. It may not be safe." I would reply, "Where is that written?"'

Sorenson, acting like a big Hollywood studio boss courting an indie director, nods. 'Ian is creative, so he's going to challenge. He will say to any one of our designers: "I don't like that. Have you thought about this?" Also, he changes his mind during the process in a way that can be frustrating to us. We at Marriott can be: "No, no, no. Let's get a plan. Let's stick with it." And he'll come in and say: "You know what, how about an ice rink in The Miami Beach Edition?" We'll react: "Oh, my God, you want an ice rink? Are you kidding?"' (The ice rink was built.)

The two men also found they had very different approaches to data, which increasingly informs the smallest decisions of the biggest hotel companies. Marriott knows more about its customers than some of those customers themselves. But Schrager insists: 'I'm not interested in data – or demographics.' He trusts his gut. Why not? It has never let him down.

But, over time, the duo have come to appreciate one another's talents – Sorenson's for spreadsheets and Schrager's for bedsheets. 'I'm from Mars, but I've learned to respect the people from Venus,' says Schrager. 'We each do things the other doesn't do, and each of us prefers not to do. Marriott sources a deal. They have a whole infrastructure to do that. I couldn't write a cheque for $800m! But I conceptualise, programme and lay out the idea.'

Sorenson agrees: 'We at Marriott bring scale, while Ian excels at product distinction. He has a globally unique insight, especially into the work that is done in the last 30 to 60 days, that really brings a hotel story to life.'

Schrager is a master of creating buzz around hotel openings that drives sales. At the launch of The Shanghai Edition in 2018 he attracted the cream of Western and Chinese fashion, including Gucci boss Marco Bizzarri. On the opening night of The Times Square Edition, former Studio 54 regular Diana Ross was the guest of honour – and performed a set.

Schrager describes his partnership with Sorenson as 'like a marriage. Nobody really understands and appreciates what goes on between a husband and a wife.' One thing everyone does know is that couples argue. The two men admit they constantly go back and forth on design and service. One example can be found in the bedside tables. Most hotels owned by Marriott have Bibles next to the bed – Bill Marriott Jr is a Mormon – but Editions do not. Instead, there are 'intimacy kits' – a Schrager victory. But he lost the battle of the corridors. He likes dark corridors that open into bright rooms to create a sense of visual drama as guests walk in. Edition's corridors are bright. Schrager prefers wood floors in hotel bathrooms 'because it tells you: "I'm going against convention and delivering something unusual."' But Sorenson points out that 'a wood floor that gets wet frequently will stain and is going to need to be refinished frequently'. They compromised on wood around the sink, but not around the bath. The only time they nearly came to blows was when Marriott suggested synthetic ice for the rink in Miami, because it would be easier to maintain. 'I said real ice or no ice rink (but not quite like that!). You pick your battles,' Schrager says.

Who's winning overall? If the language of Marriott executives is anything to go by, it's Schrager. 'The other day I heard the first "fuck" in a meeting in 12 years from any Marriott guy,' he laughs.

Times Square is a deliciously awkward spot to talk to Schrager and Sorenson because just across the way is the New York flagship of a hotel brand that Schrager loves to hate – Starwood's self-consciously 'funky' W. 'They pick-pocketed my boutique hotel idea originally – a completely derivative brand,' he frowns. But following the Marriott/Starwood deal, W is now in the same group as Edition and Sorenson is in charge of both brands, as well as all the others in the Marriott/Starwood stable. What does Schrager think of W now? 'I love W,' he laughs.

The location is appropriate, too, because we're a martini-glass throw from Studio 54 – and the Royalton and the Paramount, two of Schrager's first hotels. He's back on his old stomping ground for a third act in one of the most storied careers in business. As well as hip hotels, and Edition, he has created an affordable-chic hotel brand, called Public, and branded real estate.

But there's a snag. Times Square, formerly Manhattan's red-light district, is now its epicentre of tourist tat. Each day 500,000 fanny-packed visitors are bussed in to gawp at naked cowboys and gorge in the M&M's store. W excepted, few big hotel chains, let alone one as upscale as Edition – it has a Michelin-starred chef – would dare to venture into such a bracingly vulgar place. 'I enjoy the scepticism about attracting New York people here and upsetting the status quo,' says Schrager. 'I've got my narrative: changing Times Square. It's a shift, a disruptive impact.' He's a rebel still.
Receive our daily digest of inspiration, escapism and design stories from around the world direct to your inbox