W Hotels: Jonathan Adler Q&A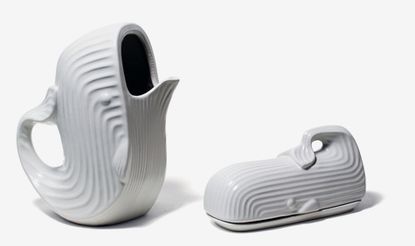 (Image credit: Jonathan Adler)
Wallpaper* Newsletter
Receive our daily digest of inspiration, escapism and design stories from around the world direct to your inbox
Thank you for signing up to Wallpaper. You will receive a verification email shortly.
There was a problem. Please refresh the page and try again.
As part six of our series on the designers behind W Hotels Worldwide, we caught up with New York-based interiors guru Jonathan Adler for a chat about groovy maximalism, happy hotel guests, and why a quarrel between heirs isn't always a bad thing.
Click here to view product from W Hotels
What does the W Hotels brand mean to you?
The W brand is about telling a stylish story, an expression of fun influenced by the new and old, local and global. I too tell stories through my design. Through bold gestures, strong organic elements, bursts of colour, and a sense of humour, I interpret their storybook to create my narrative for W Hotel guests.
Describe the nature of your work with W Hotels and how it fits with your design philosophy.
We've been providing product to W Hotels for years as accent pieces in their properties and for unique design-focused hotel packages. The essence of my work for W lies in the fresh modern perspective with which we approach design. I am passionate about design. My company's motto is 'If your heirs won't fight over it, we won't make it.' I have an aversion to buying things that are just okay or that will do for now – everything we make is the result of passion for design and commitment to quality.
How important is location?
Every W Hotel is a study in the style and design of its location. I don't think my design is as influenced by location as I am by the personal narratives throughout the space – a happy, chic hotel layered with those unexpected touches that are the soul of a groovy maximalist.
What would be the ideal reaction of hotel guests staying in a property you've helped design?
If hotel guests are happy when they walk in the door of a room with my products, then I've done my job.
What would be your dream project?
I am a maximalist in my design and live for those unexpected and memorable gestures that are both fancy and playful with bold colour and layers of pattern and texture. I'll take pause and remember the zest of an orange lacquer cocktail table, or the excess of a giant vase filled with hundreds of peacock feathers -- it's the over-the-top things that stay with us and mean something. With maximalism in mind, I'd love to redesign an airplane interior.
Receive our daily digest of inspiration, escapism and design stories from around the world direct to your inbox
Melina Keays is the entertaining director of Wallpaper*. She has been part of the brand since the magazine's launch in 1996, and is responsible for entertaining content across the print and digital platforms, and for Wallpaper's creative agency Bespoke. A native Londoner, Melina takes inspiration from the whole spectrum of art and design – including film, literature, and fashion. Her work for the brand involves curating content, writing, and creative direction – conceiving luxury interior landscapes with a focus on food, drinks, and entertaining in all its forms