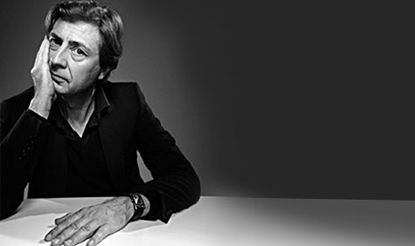 (Image credit: press)
Wallpaper* Newsletter
Receive our daily digest of inspiration, escapism and design stories from around the world direct to your inbox
Thank you for signing up to Wallpaper. You will receive a verification email shortly.
There was a problem. Please refresh the page and try again.
Jerome Sans is the Cultural Curator of Le Meridien group as well as Director of one of the first non-profit art centres in Beijing, the Ullens Centre of Contemporary Art (UCCA). As well as a passion for art, French-born Sans is also in a rock band, and is a keen admirer of fashion, with a particular passion for shoes. We met up with him at Le Meridien Piccadilly and to find out about his on-going and upcoming projects, Chinese Art and he thought about Frieze.
W*: What is your vision for Le Meridien? What are you currently working on?
JS: We want to bring interactivity to our guests' hotel experience. We are introducing a new scent, which will be the same in all the hotels, especially designed for us, by Le Labo. We will enhance that with a bespoke 12-hour music compilation, and also a big display in the lobby area with especially commissioned art by artists like Sam Samore, Younes Rahmoun, An Xiaotong, and Ralph Gibson. This will change every 3-4 years. When walking in a hotel, the first ten minutes are the most critical for the overall impression.


W*: You juggle a couple of different roles; how do you feel your different roles feed and influence each other?
JS: For me, in a way, it is the same thing. I want to and have to take care of the business and the product and the people. And then, I always believed that art is life, and life is art. So they are all one and cannot be separated.


W*: Everybody is looking at China now, but I know you started discovering Chinese contemporary art a long time ago; how do you feel it has evolved and how much has it changed?
JS: They are right. They should be looking at China. China is so vibrant right now! My first encounter with Chinese art was when a group of Chinese art students came to Paris in the 1980s, and I met Chen Zhen and his fellow artists in 1986. Before that they didn't know almost anything about capitalist society. Now they know everything, so the difference is from complete darkness to being in the spotlight. Today you have more, or you get to see more of Chinese art. However, it is still as difficult to be good at it as it was before.


W*: You also have a new book coming up this November. What is it about?
JS: It is called 'China Talks', published by Timezone 8, and it includes interviews of young and established local artists. You always see many books with big photo essays about China. In this book China is not just seen; it talks.


W*: What is your next big project?
JS: I'm organizing an exhibition about Dior and Contemporary Chinese art for UCCA, which will run from the 15th November until February. We have those amazing 1960s Dior dresses which were only shown on the catwalk at the time, and they are put in dialogue with 25 contemporary Chinese artists. The artists were flown to Paris from China especially for the shows, they took pictures, they went backstage; and for some it was the first time they flew, and their first trip outside China. The result is absolutely fascinating.


W*: You are here at the same time as Frieze and all the art fairs. Is this week a big event in the art calendar and in your agenda?
JS: I am a big supporter of Frieze. I always have been. I also love the way it imposed itself on the world of art. You know, you hear people complaining, but then still, they all come here. One could say that it is impossible to avoid it.
Receive our daily digest of inspiration, escapism and design stories from around the world direct to your inbox
Melina Keays is the entertaining director of Wallpaper*. She has been part of the brand since the magazine's launch in 1996, and is responsible for entertaining content across the print and digital platforms, and for Wallpaper's creative agency Bespoke. A native Londoner, Melina takes inspiration from the whole spectrum of art and design – including film, literature, and fashion. Her work for the brand involves curating content, writing, and creative direction – conceiving luxury interior landscapes with a focus on food, drinks, and entertaining in all its forms