A daredevil hotelier and crack team of creatives are burnishing Brunkebergstorg's brutal beauty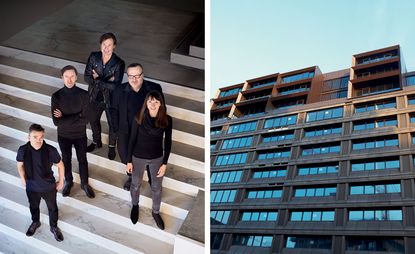 (Image credit: Anton Renborg)
This May, Brunkebergstorg, a hulking brutalist square in Stockholm, will host the most bizarre stunt in its history. Norwegian entrepreneur and billionaire Petter Stordalen is going to swing from its rooftops in a locked safe attached to a rope. The rope will be set alight and Stordalen, something of an escapologist, will have to free himself before he is plunged 30m to his death.

Stordalen is performing this daredevil spectacle at the launch of his latest hotels, At Six and Hobo. The 54-year-old operates 180 hotels under his Nordic Choice brand, plus 20 independents across Scandinavia, and his openings are legendary. In 2012, he abseiled down the façade of his Clarion hotel at Arlanda airport; for the launch of The Edge hotel in Tromsø in 2014 he skied in with two Olympic medallists; and in Malmö in 2015, he famously took a tumble when jet-skiing up a ramp to his new Clarion hotel. 'I hit the concrete at 40mph, in front of 10,000 people and a symphony orchestra. I was blue all over,' he recalls. Undaunted, he's in intensive Houdini-style training with a magician in preparation for the opening of At Six and Hobo. 'It might be difficult to pull it off, not least because the Swedes are quite health and safety conscious,' he says. 'But this project is definitely worth dying for.'
Are two hotels and a rooftop restaurant really worth an untimely demise, however spectacular? Stordalen fought off 75 international operators to acquire the 30,000 sq m Brunkebergstorg site, at a cost of at least SEK500m (€53m). He believes he is bringing something new to Stockholm, and certainly to Brunkebergstorg, a downtown former red light district. At Six offers five-star metropolitan luxury and museum-worthy artworks; Hobo will draw hipsters and showcase local talent; and Tak, a rooftop restaurant, reworks New Nordic cuisine with Japanese influences.

'Hotels are about storytelling,' says Stordalen from the first fully completed bedroom in At Six. 'People take photos of what they eat and drink, but never of the beds they sleep in. Being in a hotel is more about the bar, the lobby, the public areas where you hang out.' With that, Stordalen and his Swedish art adviser, Sune Nordgren, offer me a wrap of snus (Swedish snuff) and begin. They met in 2005, when Nordgren was director of Norway's National Museum of Art, Architecture and Design. 'I was dining at the restaurant Eik, in Petter's Hotel Savoy in Oslo, and I was looking at a horrible, social-realistic painting by a Norwegian painter. It was ruining my appetite, so I complained,' recalls Nordgren. Stordalen was outraged, until he heard who the complaint was from and took the painting down. In 2006, Nordgren set up Strawberry Art + Design for Stordalen and started to build the billionaire's private collection – and redefine the notion of hotel art.

They started small, mixing midcentury furniture from Scandinavian greats with black and white photography at the Clarion Sign in Stockholm. Until At Six, The Thief in Oslo, which opened in 2013, was Stordalen's finest hotel, with more than 150 artworks in situ. 'In most hotels, even somewhere like the Four Seasons, you can see whether it's proper art or something the designers have added,' says Stordalen. Nordgren commissions many artists to create hotelspecific works – more than 1,600 of these appear in At Six. A marble head by Spanish sculptor Jaume Plensa greets visitors from the grand marble staircase in the lobby. 'You almost don't know whether you're entering a national museum or a hotel,' says Nordgren.

There's a Tacita Dean creation in the reception, works by Richard Long and Sol LeWitt in the restaurants, and pieces by Julian Opie, Olafur Eliasson and Swedish photographer Dawid in the public areas. The Thief has artworks in every bedroom, as will all 343 rooms of At Six, thanks to Swedish artist Kristina Matousch and her series of mirror-based works.

Since meeting Nordgren, Stordalen has acquired around 600 large works. He keeps 100 of them at his private home on the island of Bygdøy, near Oslo; the rest are in his 20 best hotels. 'I bought a lot and Sune even said some of it was OK. But, really, I went from nothing to a bit more than nothing. Even a blind hand can find a corner,' he laughs. Stordalen's favourite artists are Tracey Emin, Alex Katz and Opie.
Contemporary Swedish crafts and design will also appear in the Instagram posts that the public areas of At Six are sure to invite. A 4m-long table made from reclaimed elm by artist Lies-Marie Hoffman sits in the ground-floor wine bar; leather tannery Tärnsjö has created all the hotel's balustrades and door handles; lighting is by designers Carina Seth Andersson and Rubn. Hannah Carter Owers, director at Universal Design Studio, the London-based architects behind the interior, says: 'The period and aesthetics of the original building inspired the tone, the materials, and our selection of modernist furniture. We also looked locally to weave in stories of Swedish craft and making.'

A former bank completed in 1977 by Swedish architects Boijsen & Efvergren, At Six has a metal-clad façade and hefty granite columns. 'As fans of modernism and brutalist architecture, we were instantly attracted to the building,' says Carter Owers. 'We had to create an interior that feels authentic and has a dialogue with original features of the facade, but steers away from the municipal and the institutional.'

Brunkebergstorg is in the Norrmalm area of Stockholm, where controversial architecture prevails. Until the 1950s, the area was known as the Klara quarters after the still-standing Klara Church; then, for 30 years, period buildings were demolished to make way for the modern 'City'. Views from At Six and Hobo take in many buildings from this era of development, including Swedish architect Peter Celsing's iconic granite-clad Riksbank, and his nearby Kulturhuset.
'Two hundred years ago, the people of the city would come to its hotels for parties and special events,' says German designer Werner Aisslinger. 'Somewhere along the way this has been forgotten.' As the creator of Hobo, part of Aisslinger's job is to ensure the hotel attracts locals as well as guests. 'In the face of Airbnb, the hospitality industry knows it has to create an experience,' he adds. 'Nice hotel design is not enough. It's about public areas that are connected to the city, that are filled with life.' Creating hotels that are destinations in themselves is a major part of the brief.

Putting lifestyle first and 'local ingenuity' close behind, Hobo has a separate entrance to At Six and features its own restaurants, bars and public areas. 'Space' is a 6 sq m corner near the lobby dedicated to pop-ups by Stockholm creatives; first in line are fashion designer Jennie Ellen, tech start-up ReachTail and jeweller Felicia Swartling. Tech brand Teenage Engineering has provided lobby artwork and free-to-use pocket synthesisers in all 201 rooms. A shop will sell Hobo-branded accessories as well as other carefully chosen Swedish products.

Above Hobo is Tak, the rooftop restaurant, which has its own entrance. Stordalen, who claims to have 'heard every story going about New Nordic cuisine', was won over by Swedish chef Frida Ronge, who opened award-winning restaurant vRÅ in Gothenburg in 2012. Within the 1,000 sq m space is a 'raw' bar serving tartars and sushi and a separate area offering dishes that fuse Japanese and Nordic specialities: think potatoes grown on the beach in the west of Sweden served with brown butter and soy, horseradish instead of wasabi, and soy and caramel ice cream. Tak is spread across two floors and its 200 sq m outdoor terrace (a rarity in Stockholm) is connected via a footbridge to the rooftop of the neighbouring Spotify headquarters. 'It's our very own High Line,' jokes Stordalen, who explains how a series of green interconnecting rooftops will be next in Brunkebergstorg's regeneration.
The square is just one part of a huge scheme to revitalise the area. Consisting of four streets, it's the largest planning project in the city centre since the 1960s. Later this year, Scandic's Downtown Camper hotel, promising an outdoorsy, nature-inspired appeal and the fostering of creativity and connection among guests, will open on the other side of Brunkebergstorg along with a clutch of outdoor cafés. The traffic that once clogged the square's arteries has been replaced by granite paving, cherry trees and refurbished fountains. There will be something of a return to the glory days of the 20th century, when this was the heart of Stockholm, its hotels, boutiques and restaurants frequented by intellectuals and socialites. The 800 digital workers who rent desks in Epicenter, a high-tech co-working space in another former Brunkebergstorg bank, represent the first wave of new visitors.

Epicenter is one of many new co-working spaces that cater to Stockholm's bubbling start-up scene. Another is Alma, located in the former Beckmans College of Design in Östermalm. Unlike Epicenter, which encourages members to implant a chip under their skin to open doors and buy food from its vending machines, Alma has a canteen with an in-house chef, elegantly designed desk spaces, meeting rooms and private offices courtesy of architects Tham & Videgård. Swedish concept store Austere, which has a flagship in LA, sells furniture, flowers and home accessories from the entrance area. Fredrik Carlström is the creative director behind both Alma and Austere. 'There are so few places in Stockholm for design people to actually work and network at the same time,' he says. 'Shy Swedes will be forced to interact in Alma's canteen.

'Not many schools and industrial buildings have been reimagined into interesting meeting places in Stockholm,' he adds. 'There are lots of opportunities.'

As originally featured in the April 2017 issue of Wallpaper (W*217)
For more information, visit the At Six website (opens in new tab), Hobo website (opens in new tab), Tak website (opens in new tab), and Alma website (opens in new tab)
Emma O'Kelly is a contributing editor at Wallpaper*. She joined the magazine on issue 4 as news editor and since since then has worked in full and part time roles across many editorial departments. She is a freelance journalist based in London and works for a range of titles from Condé Nast Traveller to The Telegraph. She is currently working on a book about Scandinavian sauna culture and is renovating a mid century house in the Italian Lakes.