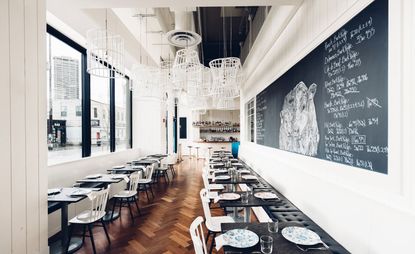 (Image credit: David Dosset, Aaron Leitz and Sean Klingler )
Voyaging far from their usual adventures with the salty sea, restaurateurs chef Renee Erickson and Jeremy Price of the local hospitality group, Sea Creatures, bring Seattle's Capitol Hill neighbourhood the antithesis; land. Bateau, a modern steakhouse, celebrates whole animal eating in a richly appointed street-front dining room.
While the reinforced façade of the pre-WWII building was retained, Erickson and Price re-shaped the interiors, slicing the massive space into sections, creating three separate, varied and more intimate venues. Bateau, French for 'boat', is the centrepiece and was born as a reinvented concept paying tribute to Erickson's original restaurant, Boat Street Cafe.
Repurposed slate tables originally christened at Boat Street are accompanied by indigo tufted-leather seating, custom Price Erickson light fixtures and carefully selected Kati Von Lehman ceramics. White panelling, herringbone solid walnut flooring and decadent Calcutta marble finished restrooms set the more formal steakhouse tone, while chalkboard art showcasing the shining stars of the menu is playful and light.
The only Seattle restaurant to dry age in-house, Bateau's menu is layered with sophisticated small plates to accompany their exclusive cuts of locally sourced French-breed beef. The nightly list of cuts are displayed on the central chalkboard and dramatically ticked off as they're claimed by happy, carnivorous patrons.
INFORMATION
Website
ADDRESS
1040 E Union St
PHOTOGRAPHY
David Dosset, Aaron Leitz and Sean Klingler