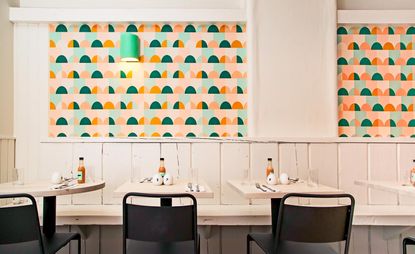 (Image credit: press)
Three years ago, in a bid to fill her need to be able to access an egg sandwich at any time of the day, Sarah Schneider teamed up with her partner (now husband) Demetri Makoulis and chef Nick Korbee (also a partner in the restaurant) to open Egg Shop in a jewel-box size of a space on Elizabeth Street in NYC's Nolita neighbourhood. 'I couldn't find a place that specialised in egg sandwiches, outside of a deli or high-end restaurant,' says Schneider reasonably.

Encouraged by its success, the passion-project turned cult-favourite restaurant with a just-released eggs-all-day (and night) cook book has expanded to include a second outpost in Williamsburg's North Side. Calling on Brooklyn-based interiors firm Carpenter & Mason, the super-speedy 12-week renovation process, that included bleaching dark wood floors, whitewashing the space and adding banquet seating, has transformed the split-level space into a bright, sun-filled restaurant with a street-front bar and a 55-seat dining room.

The finishing touches came together organically, with friends enlisted to design custom wallpaper (LMNOP Creative); artwork (Caroline Ventura, owner of homewares boutique Calliope); and bespoke ceramics (Beau Rush). Also incorporated into the design: subtle, playful nods to the egg-centric menu, like white penny tiling with the sporadic yellow tile thrown in and an oval marble dining table inlayed with a yellow quartz circle in the middle.

The bigger space has also meant an expanded menu that includes a selection of tacos and burritos, in addition to all of the egg sandwich and egg bowl standbys from the original Egg Shop's menu. Our tip: skip the brunch rush and snag a window-front bar seat – and a spicy mezcal margarita – for happy hour, then stay on through dinner.
INFORMATION
ADDRESS
138 N 8th Street