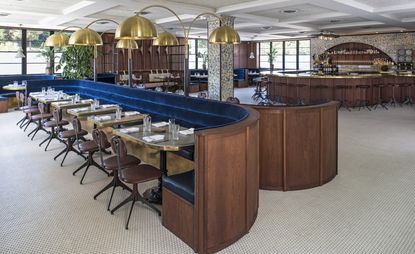 (Image credit: Merrick Ales)
A giant multipurpose drinking, dining and thinking space has opened in South Lamar in Austin. Named Eberly, the former printworks now houses a mix of art nouveau, Victorian, mid-century and industrial design that doesn't sound like it should work, yet thanks to interior designed Mickie Spencer and Michael Dickson of ICON Design + Build, who ties things together with concrete, mahogany, tiling, rare Brazilian marble, midnight blue accents and antique brass, it does.

From the kitchen, expect contemporary American fare – all handmade – and the bar, classic cocktails and locally brewed beer. Take your pick between the restorative study room, where the influence of London's 1860 greenhouse at Kew Gardens has taken root, the sultry dining room, the soon-to-open indoor-outdoor rooftop patio or the open-plan, tile-clad Cedar Tavern, the focal point of which is the hand carved mahogany bar.

Built in 1866 for the bar of the same name in Greenwich Village, New York, in its former life it's propped up the best of the Beatnik generation, from Kerouac to Ginsberg and Dylan, and abstract expressionists from Pollock to de Kooning and Rothko. It was dismantled when the original closed its doors in 2006, and painstakingly pieced back together for its current iteration by ICON's master carpenter Jonas Durfor.
INFORMATION
ADDRESS
615 South Lamar