Kerridge's Bar & Grill — London, UK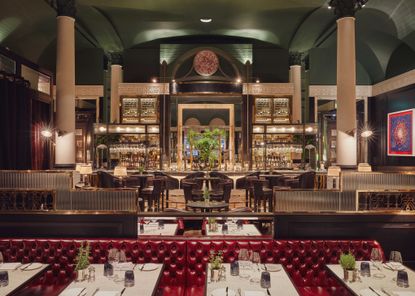 (Image credit: press)
In 2011 The Hand and Flowers in Marlow was the first pub to win two Michelin stars, a coup that ignited the career of the young British chef-patron Tom Kerridge. Meanwhile, in London – the same year – David Collins Studio unveiled its interior for Massimo Restaurant & Bar at the new flashy five-star Corinthia Hotel. Fast forward seven years and Kerridge, who has since built a Marlow gastro empire on his gutsy traditional British food with a twist, has joined forces with David Collins Studio for his London debut, creating Kerridge's Bar & Grill and replacing Massimo in the soaring oval ground floor space at the Corinthia Hotel.

Classically proportioned, the brasserie-style restaurant, once a vision of light, beige and creamy tones, has been transformed by David Collins Studio into a darker, more seductive space, described by creative director Simon Rawlings as a 'spectacle of theatre, preparation, drama and intimacy'. The walls and vaulted ceiling are enriched by an enveloping deep racing green, while armchairs and deep-buttoned banquettes of glossy burgundy leather lend a posh gastropub (very now) meets gentleman's club feel. For a company that practically invented 'timeless glamour', David Collins Studio doesn't disappoint here with a monumental bar featuring a pewter counter, fluted glass, antique mirror panels and brass detailing headlining the room.
In the dining room, David Collins Studio turns our obsession with food provenance into an art form that calls to mind Francis Bacon carcases on canvas, with glass-fronted fridges set into the walls, exhibiting hunks of hanging meat supplied by Kerridge's The Butcher's Tap in Marlow. These are matched by genuine artworks which play a central role, curated by Kerridge's wife, English sculptor Beth Cullen Kerridge whose early success helped the pair invest in their first restaurant. The artworks may not be be to everyone's taste, but the gallery wall in the bar adds character and the golden 'empty suit' sculpture by Cullen Kerridge (her dig at the accountants and bank managers the pair have met over the years) that stands centre stage holds court.
It being Kerridge though, the food is the star. Memorable, to the point of putting other dishes in the shade, was the glazed omelette 'Lobster Thermidor' starter. Sweet, rich and succulent with large chunks of pink meat coated in creamy egg, it came served in a mini frying pan and was the table's unanimous favourite (and is already dubbed 'the most talked about omelette in town'), although the south coast lemon sole with shrimps, seaweed, shellfish velouté and pommes maxim was a fine main. To finish, the high-rise blackcurrant soufflé caused dessert envy all round. Acoustics aren't great and the playlist needs revising to improve upon a monotonous dull bassline, but this is early days and such things will be tweaked. Don't be put off by his bestselling diet books either, because Kerridge's menu here is rich and full of flavour.
INFORMATION
Website
ADDRESS
Corinthia Hotel
Whitehall Place
London
SW1A 2BD