FYN — Cape Town, South Africa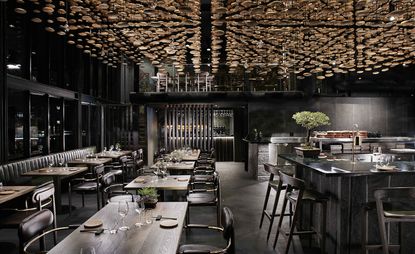 (Image credit: press)
Though Cape Town's latest restaurant tests new territory, FYN is actually the realisation of a space that acclaimed chef Peter Tempelhoff had conceptualised over 22 years ago, when he first started cooking.
Found on the corner of Church Square and Parliament Street in Cape Town's inner city, the historic Speakers' Corner location in which FYN sits is a newly restored combination of two separate heritage buildings, built as early as 1898. Having been handed the fifth floor as a blank slab of concrete, Tempelhoff tasked Tristan du Plessis of Studio A to create a hybridised space that blended Japanese and South African influences.
The resulting materials – which centre around ropes, beads, wood and stone – are evident from the second you enter the restaurant. Boasting expansive views over Table Mountain, FYN's interior is in itself worth marvelling over. An expansive wood-bead roof installation from Christoph Karl floats weightlessly suspended above the kitchen counter, where diners engage in an interactive experience, with servings such as the crispy and chewy rice with white fish, aged soy and wasabi furikake.
In FYN, Tempelhoff compresses an elaborate menu thanks to a kaiseki approach, with small sequenced platings offering three or four courses simultaneously, many of which incorporate varying tastes and variations of the same ingredient, including the unmissable daikon four ways.
INFORMATION
ADDRESS
5th Floor
Speakers Corner
37 Parliament Str
VIEW GOOGLE MAPS (opens in new tab)