'Hotel Kitsch' uncovers the whimsical world of adults-only fantasy getaways
'Hotel Kitsch' is an A-to-Z guide to sleazy and hopelessly romantic American vacations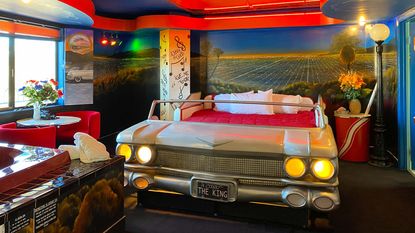 (Image credit: Credit: Excerpted from Hotel Kitsch by Margaret and Corey Bienert (Artisan Books). Copyright © 2023. Photographs by Margaret and Corey Bienert)
In an age where luxury living centres on the elegance of crisp white cotton bedsheets and sleek, monochromatic furniture, it may come as a surprise to some that there is a maximalist hospitality trend powering through. The comeback of kitschy styles is imminent, and it challenges all minimal design ethos by embracing the extravagant and indulgent aesthetics of the yesteryears.
Hotel Kitsch: A Pretty Cool Tour of America's Fantasy Getaways by Margaret and Corey Bienert
Margaret and Corey Bienert, the couple behind the social media sensation 'A Pretty Cool Hotel Tour', have documented this movement in their newly unveiled book, Hotel Kitsch: A Pretty Cool Tour of America's Fantasy Getaways. Boasting over two million followers across Instagram and TikTok, the Bienerts are photographers and avid sightseers reigniting the spirit of pop culture, romance, and a hint of 'kinkiness' in the travel world.
Published by Artisan, Hotel Kitsch is a photographic tribute to the often misunderstood and widely overlooked world of fantasy, couples-only getaways. 'When we first started exploring retro theme hotels, we heard people referring to them as "dying resorts", but they were so fun and new to us. We kept asking ourselves if they were really dying or if, maybe they'd just been forgotten,' share the Bienerts.
Within the book's bright pink pages and vintage fonts, Hotel Kitsch offers an A-to-Z guide to experiencing a fantasy vacation with American flair. In Iowa, one can discover a jungle room with fake trees enveloping the bed, reminiscent of Where the Wild Things Are. Jules' Undersea Lodge in Key Largo offers rooms accessible by scuba diving, while a hotel in Kentucky presents an Arctic Cave room with carved blue walls and no windows. On the California coast, the iconic Madonna Inn boasts 110 rooms, each with a unique theme.
This trend is not limited to the United States; it's a global phenomenon, with destinations in Mexico, Spain, and the United Kingdom also participating. 'While the original audience of theme hotels in the 1970s and 1980s was mostly locals who couldn't really afford a far-off destination vacation, today's patrons come from far and wide.'
The philosophy behind 'Kitsch' is an invitation to embrace the 'tasteless' and the excessive. Despite being considered outdated by some, it's a growing movement across all industries. It has even attracted artists like British photographer Juno Calypso, who finds inspiration in these kitschy settings for her work about feminism, isolation, and self-sufficiency. Her series The Honeymoon took over the Cove Haven Resort in the Poconos, known for its heart-shaped tub, invented in 1963.
The book's narrative delves into the history of American design, with insights from notable figures like Morris Wilkins, the inventor of the heart-shaped tub and champagne whirlpool; Carleton Varney, of the design firm Dorothy Draper & Company; and Gary Strobusch, the industry's best-kept secret, known for his manufacturing company, Rainbow Nights Inc.
Married young and hailing from religious families in the Midwest, Margaret and Corey are forthcoming about how their unconventional travels to adults-only hotels have broadened their horizons and strengthened their relationship. 'This entire project centres around the belief that these kitschy, themed getaways are still needed today. People want escapism and joy and romance, and these hotels are ready to provide that experience.'
You can find 'Hotel Kitsch: A Pretty Cool Tour of America's Fantasy Getaways' by Margaret and Corey Bienert on Amazon.
Receive our daily digest of inspiration, escapism and design stories from around the world direct to your inbox
Sofia de la Cruz, Travel Editor at Wallpaper*, was born in Madrid, Spain. Moving to London at 14 shaped the professional she has become today. She holds a BSc in Business Management from King's College London and an MA in Strategic Fashion Marketing from the London College of Fashion. Before joining the team in 2023, she served as an associate editor at Hypebae, where her focus was on the intersection of fashion, art, and culture. She also contributed as a writer for Futurevvorld, covering a variety of sustainability topics.