Le Montana — Paris, France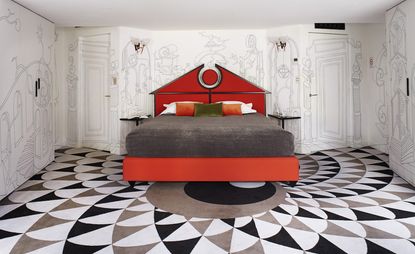 (Image credit: press)
If introducing a contemporary black resin façade to the legendary Parisian pocket of Saint Germain smacks of sacrilege, the Le Montana has managed to make a statement that's equal parts respectful and radical.
Conceived by architect Elisabeth Lemercier, the sober, street-facing building belies the whimsy inside, where the famed nightclub and restaurant, plus six new suites, have been delightfully reimagined by designer Vincent Darré.
Treating each as a guest room within a home belonging to the likes of Left Bank icons such as Serge Gainsbourg and Jean Cocteau, he adorned walls with fresco illustrations, marouflé abstractions, lacquered wood cabinetry or mirrors and metal; laid down kinetic carpeting of his own design; and punctuated the spaces with an eclectic mix of flea market treasures (from a 1930s futurist desk chair to a modular marble coffee table) plus Maison Darré collection and custom pieces. 'You don't refuse a project like this,' muses Darré who says he had full carte blanche from owner and eternal bon vivant Jean-Yves Le Fur.
Meanwhile, the restaurant has been baptised La Gauche Caviar, a double entendre that once again succeeds in being simultaneously derisory (the expression corresponds to a Champagne socialist) and delicious— assuming you fancy Petrossian-supplied sustenance. If not, a rooftop sushi bar with a panoramic view from Sacré Coeur to the Tour Montparnasse will open in the spring.
ADDRESS
28 rue Saint-Benoît
VIEW GOOGLE MAPS (opens in new tab)