Hôtel Square Louvois — Paris, France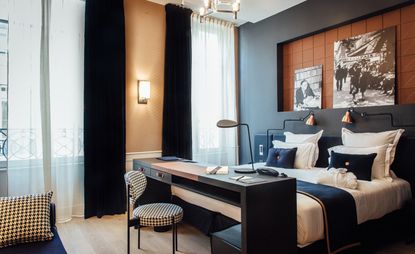 (Image credit: TBC)
Just steps from the National Library of France and facing one of the most charming squares in all of Paris, the Hôtel Square Louvois is surrounded by historical points of interest. But if countless other hotels in the heart of the city have the benefit of a storied past, this new four-star property has figured out how to propose familiar Parisian codes from scratch and without pretence.
Shelves filled with paperback books line the lobby walls—cleverly winking to its neighbour, while taking design inspiration from the novel, recent redesign of Sonia Rykiel shops. Guests are welcome to indulge in a daily gouter, or afternoon snack, laid out in the French-style, mini kitchen at the far end of the lounge; the selection of savoury and sweet treats won't quite replace dinner — you'll need to go out for that — but it gives new meaning to happy hour.
All of the 50 rooms continue the deep, petrol blue scheme established in the public areas. Regardless of size, the accommodations have been smartly appointed with top-stitched leather headboards, indigo denim, felt and copper accents, and mid-century modern furniture upholstered in graphic houndstooth.
The local literature theme is further played up by a black-and-white photo juxtaposition of a legendary French writers—think Simone de Beauvoir, Albert Camus, Émile Zola—and a familiar Paris backdrop, from Montmartre to the église de la Madeleine. Yet the effect leans less towards high-brow elitism than low-profile luxe, especially after a visit to the plunge pool, compact fitness space and reading salon—all anchored in cave-like coziness. 'I want people to come away with nice memories of their stay here,' says designer Leslie Gauthier. 'It's intimate but it also feels real.'
INFORMATION
ADDRESS
12 rue de Louvois