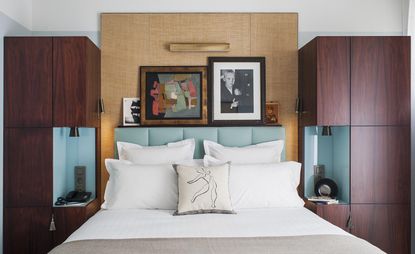 (Image credit: press)
Midway between Paris' twin towers – the Eiffel and the Montparnasse – Rue Blomet may look unremarkable but it's home to a small hotel and an even smaller club, the Bal Nègre, once the epicentre of chic. Frequented by Jean Cocteau, Simon de Beauvoir, Josephine Baker and Raymond Queneau, it has been closed since 2006 but reopens soon as the more appropriately named Bal Blomet.

A few blocks up, the Eiffel Blomet Hotel has undergone what the French call a 'relooking' of its own. Sensitive to its heritage, the approach taken by Vincent Bastie and Bruno Borrione – the former known for his contemporary-austere transformation of Les Bains Douches into a 5-star hotel, the later for years a Philippe Starck collaborator – is a re-reading rather than a recreation of the hotel's art deco past and so new additions, like the underground pool, hammam and gym beneath the courtyard terrace, are designed to co-exist with original elements, like the stained glass roof above the staircase.

In-room, the rosewood furnishings and patterned carpets could almost be Period but the deft use of celadon, teal and aquamarine accents and an assortment of visual references adds a contemporary touch that blurs the boundaries between the 1930s and today.
INFORMATION
ADDRESS
78 Rue Blomet