Sticks'n'Sushi — Copenhagen, Denmark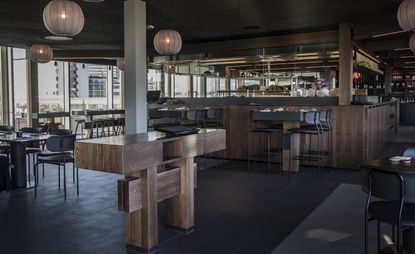 (Image credit: press)
Copenhagen's new Sticks'n'Sushi flagship restaurant is setting the bar high. Perched on the top floor at Tivoli Corner – a newly built mixed-use space by architects Pei Cobb Freed & Partners – both setting and menu deliver a fusion of East and West.
The interior design, bespoke furnishings and exclusive seven-piece tableware set handmade in Portugal, all come courtesy of OEO Studio. Intriguingly, the design concept was devised after a birds-eye view revealed Tivoli Corner to resemble the shape of a fish. This became the creative guiding star throughout and is discreetly visible in the flooring's graphic shapes, depicting the fish's fins and eyes.
Opting for a neutral yet dark colour scheme, the space was transformed into a generous dining area, with each table having access to unbeatable city views (as does a rooftop terrace and bar), while an intimate dining room offers privacy for added seclusion. Taking its cues from Japan and further afar, a tatami pattern adorns the restaurant's acoustic ceiling and serves as a backdrop for striking berry-hued pendants originally designed by Mathieu Matégot for Gubi.
Meanwhile, the inner custom-made wooden structure, or 'theatre kitchen', steals the show where chefs prepare the restaurant's fare, including fried Jerusalem artichokes served with miso aioli, and seaweed salads topped with kelp noodles and yuzu vinaigrette.
Reinterpreting Japan's influences in a modern European context, the new flagship at Sticks'n'Sushi hits all the de rigeur notes of a new Copenhagen restaurant with the design to match and no expected clichés in sight.
INFORMATION
Website
ADDRESS
Bernstorffsgade 3