Carmen Amsterdam is an ever-evolving treasure trove of experiences
Carmen Amsterdam is set within two mid-17th-century canal houses and features a shop, a café and a guesthouse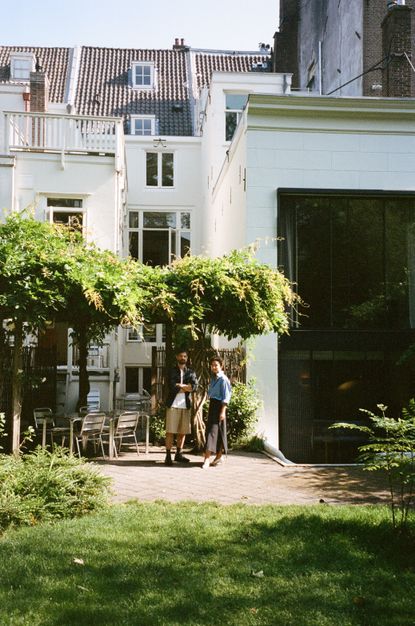 (Image credit: Maxime van Namen)
Wallpaper* Newsletter
Receive our daily digest of inspiration, escapism and design stories from around the world direct to your inbox
Thank you for signing up to Wallpaper. You will receive a verification email shortly.
There was a problem. Please refresh the page and try again.
Carmen Amsterdam is a unique blend of history, creativity and hospitality nestled on Keizersgracht ('Emperor's Canal'), the second of the three main Amsterdam canals forming the iconic canal belt. The latest incarnation of this extraordinary space, housed within two mid-17th-century canal houses listed as national monuments, is the result of a family legacy that started in the last century and which has been brought to life for the public by Joris ter Meulen Swijtink and his wife, Carmen Atiyah de Baets.
Carmen Amsterdam
The story of Carmen Amsterdam began when Joris' grandmother purchased the two canal houses in 1980. Overseeing a year-long renovation in collaboration with Dutch architect Bart van Kasteel, she infused modernist sensibilities into the space, setting it apart from the opulent features typically found in houses of that era. A year later, she moved into the building and called it her home for 29 years, leaving behind an enduring mark on its architecture.
Carmen, who is part Lebanese and has a background in fashion PR, and Joris, a chef, were working in London when they found themselves drawn back to Amsterdam and to the Keizersgracht home that they had inherited. The allure of the unique space ignited their passion to create something extraordinary for their hometown. The result is the transformation of the houses into an inspirational contemporary living space that fosters creative expression.
The buildings house a shop, a café and a guesthouse. The thoughtfully selected range of products showcases both Carmen's own creations and brands that hold significance for her. Internationally, there is New York-based label Maryam Nassir Zadeh's footwear collection and Lebanese designer Rym Beydoun's Super Yaya. Dutch creatives are the backbone of the curation, with unique pieces by local labels such as Flore Flore by Florian van Zuilen, football-inspired nostalgia Lack of Guidance and design studio Pien Studio, among others.
The café, Joris' concept, and open to the public on Thursdays and Sundays, is a culinary haven of natural seasonal food. It opens into a serene private garden, serving as a bridge between the two houses – a quintessential characteristic of Amsterdam's unique canal architectural typology. In the guesthouse, guests are welcomed into a tranquil and historically enriched environment. The interior design strikes a balance between preserving original features, such as the 1980s cabinets in the library, and incorporating vintage and commissioned furniture pieces that add a touch of contemporary luxury. The lounge, doubling as a screening room and an area to relax, radiates warmth with its fireplace and a compact bar. Every Sunday, a movie is selected by the team, providing an intimate cinematic experience.
The pair have left the space's layout as it was, with only necessary interventions, in order to maintain the aura their family envisioned. The two private, en-suite guest rooms are sanctuaries in the historic city centre. The upper-floor room, in particular, offers a peaceful retreat, allowing guests to truly escape the hassles of urban life. In this room, a remarkable set of furniture by a Dutch designer Ate van Apeldoorn takes center stage. Renowned for his expertise in pine wood craftsmanship during the 1960s, the furniture was sourced by Carmen and the London-based vintage dealer, Spazio Leone. Some of the cabinetry has been commissioned from the couple's friend, Liam Dean, while all the lighting features are the result of a collaboration with London-based designer, Elliot Barnes. The attention to detail extends to the quality of every amenity provided, ensuring a tranquil yet luxurious stay.
Carmen Amsterdam is an evolving family story. As the years unfold, Carmen and Joris continue to weave their narrative into the fabric of this charming Amsterdam establishment, making it an ever-evolving treasure trove of experiences for all who enter its doors.
Receive our daily digest of inspiration, escapism and design stories from around the world direct to your inbox
Yoko Choy is the China editor at Wallpaper* magazine, where she has contributed for over a decade. Her work has also been featured in numerous Chinese and international publications. As a creative and communications consultant, Yoko has worked with renowned institutions such as Art Basel and Beijing Design Week, as well as brands such as Hermès and Assouline. With dual bases in Hong Kong and Amsterdam, Yoko is an active participant in design awards judging panels and conferences, where she shares her mission of promoting cross-cultural exchange and translating insights from both the Eastern and Western worlds into a common creative language. Yoko is currently working on several exciting projects, including a sustainable lifestyle concept and a book on Chinese contemporary design.