Ca' di Dio is a Venice hotel we'd like to call home
Venice hotel Ca' di Dio, a one-time monastery with interiors by Patricia Urquiola, is a haven of laid-back luxury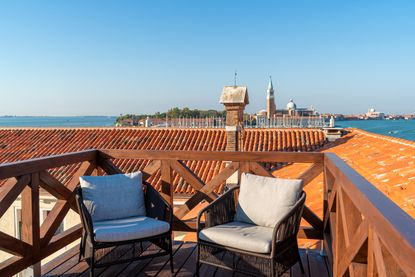 (Image credit: Courtesy VRetreats)
Venice hotel Ca' di Dio offers the kind of welcome that makes the widespread return to travel feel wonderful. Scudding across the Venetian lagoon from the airport and stepping directly from the boat into the hotel's side entrance is a dream transfer. But whatever your mode of arrival, once you're inside Ca' di Dio, Patricia Urquiola's colourful and richly textured interior design, the artisanship of Italian makers such as Murano glassblowers, Molteni & C and Rubelli, and a very warm and relaxed approach to five-star hospitality make it clear why this renovated former monastery has become a sought-after Venetian retreat since its opening in late 2021.
The lagoon-facing site in Castello, on the edge of Arsenale, is hard to beat. Those planning a trip to the 18th Venice Architecture Biennale (20 May to 26 November 2023), or art's 60th Venice Biennale in 2024, take note. From the hotel, a ten-minute stroll along the waterfront takes you to the Giardini della Biennale. Walk ten minutes in the opposite direction, meanwhile, and you're in Saint Mark's Square.
But part of Ca' di Dio's charm is the tranquillity that lies behind its enigmatic façade, offering escape from the city thrum, whatever the purpose of your visit.
The building dates from the 13th century and, in past lives, has afforded shelter to, variously, pilgrims, 'fallen' women and the elderly. Today, after a two-year renovation for hotel group V Retreats that was completed in 2021 and has maintained the integrity of the historic structure, a sense of monastic calm endures to greet the contemporary traveller.
No sign announces the hotel. Its exterior, a discreet putty hue in line with heritage guidelines and selected to subtly change with the light during the course of the day, is dotted with windows in their original size and positions.
Patricia Urquiola's interiors at Ca' di Dio
Step inside the curved sliding doors into the lobby and you find yourself in a former chapel. Here, Urquiola's colourful embrace kicks in. 'When you enter, you see the particularity,' says hotel director Christophe Mercier, adding that Urquiola's design brief was to create not a hotel, but 'a big house'.
Sinuous couches sit beneath a dramatic chandelier, comprising 14,000 pieces of Murano glass and resembling sails. In a corner, a winged armchair offers an enveloping hug. On the floor lies a textured rug. Richly hued Murano glass lamps, the first of many throughout the hotel, crafted by glass factory LP, cast a warm glow. A restored antique butcher's table is temptingly scattered with coffee-table tomes.
The homely feel continues in the adjacent 'reading room', lined with wood shelves filled with books and objects, as if from a personal collection. The terrazzo Veneziana floor – laid by hand, bar final machine-polishing, here and throughout, says Mercier, who scattered some of the stones himself – is mimicked by custom, terrazzo-style wallpaper on the ceiling. Fragrances by local perfumer Merchant of Venice – which also supplies the signature products for the hotel spa – infuse the room. It's a comfortable area in which to relax and read, or set up temporary workspace (if only to check that your out-of-office is firmly on).
The hotel's three storeys wrap around a main central courtyard (there are two more), where a lawn is laid around the original stone paths and well, and two existing palms, and Urquiola's capacious outdoor furniture pieces offer a retreat within a retreat.
The 66 rooms, including nine suites, are set along corridors that retain original built-in stone benches – albeit softened with a cushion for the comfort of contemporary posteriors. In the rooms themselves, with furniture pieces designed by Urquiola and custom-made by Molteni & C, it's soft edges, warm hues and rich textures all the way.
Lagoon-inspired blues and greens mix with earthy terracotta. The walls, in a mottled aqua that evokes watery reflections, feature wallpaper created especially for Ca' di Dio by Rubelli. Tactile details abound. A Carrara marble bedside table features a leather tab to pull out its draw. The bed's upholstered headboard is multi-layered, a cushioned backrest seemingly hanging from soft leather straps while 'wings' are slightly angled at either side 'to give that element of cocooning', says Mercier. Mirrored surfaces in the room are in smoked and mottled glass, making for soft and subtle rather than in-your-face reflections – 'So you can see yourself without really seeing yourself,' he reasons.
Bathrooms feature Carrara marble vanity units, and more Murano glass lamps, while smooth, mottled pink walls evoke the faded grandeur of many of the Venetian buildings outside.
On the practical side, there's a walk-in closet, a hidden-from-view coffee maker, kettle, teas and mini bar – and a superfluous TV. If you can claim a lagoon view room, sitting back on the pillowy bed and looking out to the water, the sky, and the island of San Giorgio Maggiore in-between should suffice.
Trumping even that view, the hotel's two 'altana', or rooftop-terrace, suites boast the lofty, traditional Venetian wooden decks – from where you might see 'on a good day, the Dolomites', says Mercier.
Dining: a taste of Veneto
Dining at Ca' di Dio follows the hotel's ethos of sourcing from the region wherever possible, and embraces a kitchen garden and all things homemade. At the Alchemia bar, you might try the hotel's own gin, distilled using herbs and salt from the lagoon, and choose from light meals and snacks, from panini to chichetti (Venetian tapas). Breakfast is served at the informal Essensia, which looks out onto the internal courtyard (the fruit salads are particularly delicious).
And fine dining restaurant Vero (its name a contraction of 'Venetian Roots') is the ultimate celebration of local produce and cuisine. It offers indoor as well as outdoor, lagoon-facing seating. Inside, diners are ensconced in yet more Urquiola-designed comfort, beneath her food-themed ceiling fresco that's bursting with as much fresh produce as executive chef Raimondo Squeo's kitchen. Vero's menu spans dishes such as slow-poached mountain egg with cannellini beans cream, fresh spinach and black truffle; homemade linguine with turnip greens, clams and lemon; as well as vegan and gluten-free options, and considered wine pairings served in Murano glassware.
Trips and experiences
Watching master glassblowers at work on the island of Murano – an opportunity to see just how all that glassware came to be, and of course to shop – is among various trips offered by Ca' di Dio. Rather more quirky, and perhaps appealing to would-be foragers, is a chance to discover the Venetian lagoon from the perspective of charismatic local botanist Gabriele Bisetto (who is behind the hotel's planting and has a hand in its gin), and how it influences the hotel's cuisine. In his utilitarian flat-bottomed boat, he'll wend his way around islands such as Torcello, pausing to grab sprigs of plants for you to smell or taste, and mining his vast knowledge of local flora and fauna to regale you. There's a stop on the island of Burano, its few streets lined with rows of brightly painted, Insta-perfect houses.
Ca' di Dio, Riva Ca' di Dio 2183, 30122 Venice, vretreats.com
Receive our daily digest of inspiration, escapism and design stories from around the world direct to your inbox