Venice Biennale 2024: a guide to the artists announced so far
Keep up-to-date with our ongoing list of who's representing who at the Venice Biennale 2024 – here's what we know so far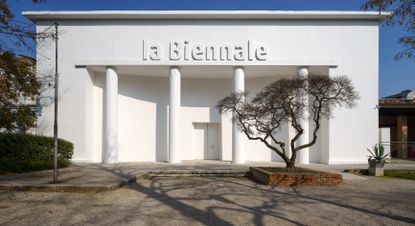 (Image credit: Andrea Avezzù)
It seems only yesterday that the Venice Biennale 2022 was in full swing. But just two months after it wrapped, the 60th Venice Biennale edition of the pinnacle of the art zeitgeist is already firmly in the works. Curated by Adriano Pedrosa, the Venice Biennale 2024 will be held in the main exhibition and throughout the city in an effort to define the art of now.
As the wave of announcements around artists, pavilions and venues picks up pace, we've collated a go-to guide for Venice Biennale 2024 announcements so far.
Austria: Anna Jermolaewa
Commissioned by the Arts and Culture Division of the Federal Ministry for Arts, Culture, the Civil Service and Sport for Austria is Russia-born, Vienna-based writer, filmmaker and photographer Anna Jermolaewa. Jermolaewa uses her work as a space to comment on social discourses and political structures in momentary everyday snippets. She has captured partially demolished sculptures of Lenin, told single-frame stories from found objects and documented hostility in public spaces.
Canada: Kapwani Kiwanga
Paris-based Canadian artist Kapwani Kiwanga's large-scale mixed-media works in natural fibres, glass, ceramics and steel explore the dexterity of organic matter. Perhaps the most distinct recurrence in her work is her use of sisal, a durable fibre derived from agave, which she uses to produce anonymous furry forms. In recent years, she has received the Prix Marcel Duchamp, the Frieze Artist Award and the annual Sobey Art Award for her work. Canada's entry into the Venice Biennale 2024 will be commissioned by the National Gallery of Canada, in partnership with the Canada Council for the Arts.
Estonia: Edith Karlson
Commissioned by Maria Arusoo, director of the Estonian Center for Contemporary Art, Estonia's entry into the 60th Venice Biennale comes from Edith Karlson. The Tallinn-based installation artist and sculptor uses clay to create distorted, fictional characters based on animal forms. Her sometimes collaborative works ponder on humour, anxiety and suffering, incorporating entire exhibition spaces and using light and physical space in their storytelling.
France: Julien Creuzet
Commissioned by Institut Français, the French Ministry of Europe and Foreign Affairs, and the French Ministry of Culture, Julien Creuzet's entangled sculptural forms will lead France's entry this year. Creuzet's upbringing on the French territory of Martinique emanates throughout his work. Stepping off from his lived experience, he considers the collective realities of the Caribbean diaspora, using music, video, poetry and sculpture to describe the relationship between modern Europe and Caribbean ancestry.
Lithuania: Pakui Hardware collective with works by Marija Teresė Rožanskaitė
The Pakui Hardware Collective, made up of creative duo Neringa Cerniauskaite and Ugnius Gelguda, will create an immersive installation. Commissioned by the Lithuanian National Museum of Art, and led by Arūnas Gelūnas, the installation begins with references to literature to reflect on structural societal issues, and incorporates works by the late painter Marija Teresė Rožanskaitė, creating a dialogue around a need for systemic change.
Switzerland: Guerreiro do Divino Amor
Swiss Arts Council Pro Helvetia will this year be presenting Swiss-Brazilian digital artist Guerreiro do Divino Amor, who incorporates his architectural practice into fictitious landscapes. He creates alternate realities, beckoning questions on political ideology and globalisation through humour and irony. He is building a new chapter in his long-standing series 'Superfictional World Atlas' for the Biennale, which will be curated by Andrea Bellini.
United Kingdom: John Akomfrah
Commissioned for the Biennale by The British Council, London-based John Akomfrah creates films and video installations that span multiple screens and touch on colonial legacies, a multiplicity of diasporic memories, migration and the climate, drawing on cultural icons to imagine realities. Akomfrah has participated in the Venice Biennale in the past, with his commission for the inaugural Ghanaian pavilion in 2019. The Shane Akeroyd associate curator for the exhibition will be selected later in 2023.
The 60th International Art Exhibition of La Biennale di Venezia will be held from 20 April to 24 November 2024.
labiennale.org (opens in new tab)
Martha Elliott is the Junior Digital News Editor at Wallpaper*. After graduating from university she worked in arts-based behavioural therapy, then embarked on a career in journalism, joining Wallpaper* at the start of 2022. She reports on art, design and architecture, as well as covering regular news stories across all channels.