The 12 hotels in Paris worth checking into
With such landmarks as the Eiffel Tower, the instantly recognisable glass pyramid at the Louvre and the grand Napoleonic arches of the Arc De Triomphe, Paris has a timeless familiarity, making it the ideal weekend stopover for first-time visitors as well as discerning pros looking for a quick pick-me-up getaway. But, with over 2,000 hotels to choose from, where to bed down is the million dollar question. Here, we bring you the 12 properties worth checking into right now.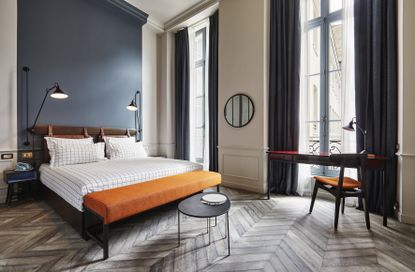 (Image credit: thehoxton)
The Hoxton

Set over six buildings – including a listed 18th-century hôtel particulier – CEO Sharan Pasricha and his team have transformed a crumbling site into The Hoxton, a chic Parisian bolthole with a dash of signature east London flair. Monaco-based Humbert & Poyet dressed the 172 guestrooms with local accents such as Jean Prouvé furniture. Meanwhile, London-based group Soho House stamped its signature shabby chic aesthetic to the outdoor patio, speakeasy bar and Rivié brasserie, where executive chef Ross Clarke serves up an all-day menu of French inspired dishes along with crowd-pleasing Hoxton classics such as mac and cheese or truffle fries.
30-32 rue de Sentier; tel: 33.1 8565 7500; thehoxton.com (opens in new tab); rates: from €99

Hôtel Bachaumont

Located in Sentier, a hip Parisian neighbourhood in the city's second arrondissement, Hôtel Bachaumont is the debut property of fashion retail magnet, Samy Marciano. A former hotel that was previously a clinic, the newest reincarnation is a 49-room affair, designed by Dorothée Meilichzon, whose playful retro style and art deco accents are inspired by the golden era of the 19th-century building's heyday. The interiors of ground floor restaurant Bauchaumont – the latest addition to the Experimental Cocktail Club's empire of bars and eateries – lend a contemporary touch to a space that evokes the bygone glamour of the traditional French brasserie.

18 rue Bachaumont; tel: 33.1 8166 4700; www.hotelbachaumont.com (opens in new tab); rates: from €260
La Réserve

Following the success of a set of private short-stay apartments in Paris, the La Réserve brand launched a hotel and spa within a Haussmann-style mansion, just off Rue Faubourg Saint-Honoré. Its 40 rooms are laden with yards of silk, damask and brocade, and bathrooms are heavy on luxe materials that include carrara and Turquin blue marble – no surprise, considering the design was conceived by Jacques Garcia, who looked to painter James Tissot's depictions of bourgeois 19th-century Paris for inspiration.

42 avenue Gabriel; tel: 33.1 5836 6060; www.lareserve-paris.com (opens in new tab); rates: from €1,300
Hotel Bienvenue

Housed in the former century-old Hotel Fenelon, in Paris' bustling South Pigalle neighbourhood, Bienvenue is the latest addition to hotelier Adrien Gloaguen's growing collection. Set over two buildings – affectionately christened Town and Countryside – that are separated by a central courtyard, the hotel's colourful new interiors are by Chloé Nègre, who gave each building a distinct look. The highlight is artist Julien Colombier's flamboyant floor motif in the courtyard, best seen from the bar and small restaurant on the ground floor, where tasty tapas-style dishes are served alongside the signature wacky cakes from Anaïs Olmer, who also offers cake-making classes on site.

23 rue Buffault; tel: 22.1 4878 3218; hotelbienvenue.fr (opens in new tab); rates: from €120
Hôtel de Crillon

Sat on Paris' grand Place de la Concorde, and despite its impressive history, which dates back to 1758, Hôtel de Crillon wears its heritage lightly, layered with 21st-century Parisian chic and a real sense of place – a pillar of the philosophy of Rosewood Hotels & Resorts. The 124 rooms and suites (two of the latter come designed by Karl Lagerfeld) are in muted colours with elegant grey marble bathrooms and beautiful retro soaps and suds from Buly 1803. Additionally, L'Ecrin fine dining is not to be missed, for the signature dish of Champignon de Paris alone.

10 Place de la Concorde; tel: 33.1 4471 1500; www.rosewoodhotels.com/en/hotel-de-crillon (opens in new tab); rates from: €1,100
C.O.Q Hotel Paris

Tucked on a quiet side street near Place d'Italie in Paris' 13th arrondissement, you'll find Michel Delloye's 50-room debut hotel, C.O.Q. An acronym for Community of Quality, the property – which includes a multi-room lounge with a plant-filled conservatory area, a café and a curated shop selling made-in-France souvenirs – was conceived to evoke the spirit of a family home. Designed by local outfit, Agence Favorite, each room is slightly different, but all implore an eclectic-chic aesthetic that mixes contemporary design and vintage accents, with an emphasis on incorporating local French elements.

15 rue Edouard Manet; tel: 33.1 4586 3599; www.coq-hotelparis.com (opens in new tab); rates: from €150
Hôtel Monte Cristo

Hotel Monte Cristo pays tribute to the literary great Alexandre Dumas and his hero, envisaging what would be a modern-day home for the adventurous Count of Monte Cristo. The Count's travels and Dumas' own Caribbean ancestry provide a unique starting point for the hotel's design, entrusted to Pauline d'Hoop and Delphine Sauvaget. Inside, bespoke furniture, fine fabrics, and hand-crafted accessories has been combined with an eclectic mix of antique treasures. Additionally, as a tribute to Dumas' ancestors, who were rum producers in St Domingo, Hotel Monte Cristo also boasts the first dedicated rum bar in Paris.

20-22 rue Pascal; tel: 33.1 4009 0909; www.hotelmontecristoparis.com (opens in new tab); rates: from €160
The Peninsula

Located a short walk away from the Arc de Triomphe, the 200-room Peninsula occupies a century-old building, previously the Hotel Majestic – one of the city's grande dames. Both the façade and the interior was meticulously restored by local craftsmen, and the hotel now comprises six dining areas, including a rooftop restaurant with views of the Eiffel Tower, a 22m indoor swimming pool and a lobby featuring a bespoke Lasvit chandelier made up of 800 individual hand-blown crystal leaves. The guestrooms are technologically customisable, where everything – from laundry collection to bathroom ambience – can be controlled at the touch of a button.

19 Avenue Kléber; tel: 33.1 5812 2888; www.peninsula.com (opens in new tab); rates: from €695
Hotel National des Arts et Métiers

Housed within a Hausmannian chunk on Rue Saint-Martin, Samy Marciano's 70-room bolt-hole takes subtle cues from the nearby Musée des Arts et Métiers, an institution dedicated to invention, science and technology before mass industrial production. Designed by Raphael Navot, a natural palette of black marble, untreated timber and oxidised copper is employed, which sets the scene for one-off pieces such as hand-painted raw linen panels by artist Gael Davrinche and Jars' ceramic tableware. Don't miss chef Julien Cohen's house-made pasta dishes and the Herbarium bar, where tipples are concocted using vintage perfume beakers within a wild forest setting.

243 rue Saint Martin; tel: 33.1 8166 4700; www.hotelnational.paris (opens in new tab); rates: from €199
Le Nolisnki

Around the corner from the Louvre, Le Nolinksi might sit on the tourist-choked Avenue de l'Opéra, but it's so subtle that blink and you'll miss it. A swanky yet subdued sparkly gem of mirrors, polished brass fixtures, opulent fabrics, and petrol blue hues, the hotel fuses Gulf-style luxury with Parisian scale and a twinkle of 30s South Floridian art deco. Serving bistronomie cuisine, the brasserie Réjane has a futuristic garden patio theme. More intimate, the salon behind the restaurant is a retreat of cushy Danish 50s-inspired armchairs and velvet banquettes against artfully hand-painted silver walls.

16 Avenue de l'Opéra; tel: 33.1 4286 1010; nolinskiparis.com (opens in new tab); rates: from €360
Le Roche Hotel & Spa

As addresses in Paris go, it's difficult to trump Le Roch's perch on the storied rue Saint-Roch strip. Architect Vincent Bastie's renovation of a 19th-century Haussmann pile sets the scene for Sarah Lavoine's elegant transformation of the light-filled interiors. The 37 rooms are dressed in strong shades of deep blues and browns, while slender brass trim and geometric patterned cushions and rugs set off handsome stained walnut floors and Carrera marble. The spa experience begins in the en-suite bathroom stocked with products by Codage and lined with a Kaldewei bathtub and private hammam.

28 rue Saint-Roch; tel: 33.1 7083 0000; www.leroch-hotel.com (opens in new tab); rates: from €405
Lutetia

When the Lutetia Hotel first opened in 1910, it was the talk of the town for embracing the then emerging art deco style. After four years under the knife, the landmark hotel has emerged from a lavish restoration that has brought it back to its former glory. The guestroom's understated interiors are revealed through tactile fluted wood panelling, brushed oak flooring, hand-blown Murano glass wall lights, and rich textiles. On the ground floor, six bars and restaurants celebrate the hotel's past as the place to see and be seen – not least Bar Aristide, which promises to revive Lutetia's jazz heritage.

45 Boulevard Raspail; tel: 33.1 4954 4600; www.hotellutetia.com (opens in new tab); rates: from €659
Melina Keays is the entertaining director of Wallpaper*. She has been part of the brand since the magazine's launch in 1996, and is responsible for entertaining content across the print and digital platforms, and for Wallpaper's creative agency Bespoke. A native Londoner, Melina takes inspiration from the whole spectrum of art and design – including film, literature, and fashion. Her work for the brand involves curating content, writing, and creative direction – conceiving luxury interior landscapes with a focus on food, drinks, and entertaining in all its forms