Hidden gems: the best Los Angeles secret bars and how to find them
In Los Angeles, it's the inside that counts – at least when it comes to bars. With seemingly nondescript exteriors hiding more style than their innocuous doorways suggest, these watering holes contain all the excitement of an unexpected find, with some adding social-media defying cell phone bans. But don't expect only Prohibition-era clichés behind the frisson of secrecy. At these updated speakeasies, nostalgia for time past draws on much wider range of recent memories.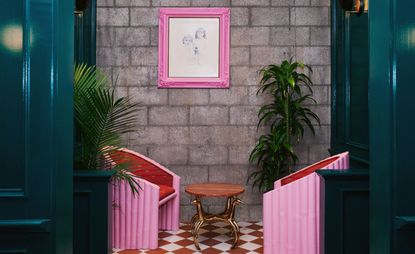 (Image credit: Perry Shimon)
Wallpaper* Newsletter
Receive our daily digest of inspiration, escapism and design stories from around the world direct to your inbox
Thank you for signing up to Wallpaper. You will receive a verification email shortly.
There was a problem. Please refresh the page and try again.
Girl at the White Horse

With an obsessively eclectic vibe that proprietor Reza Fahim has described as John Hughes meets Wong Kar-wai, Girl at the White Horse is meant to be as transporting as the directors' films. Fahim, a film buff and the son of the former social secretary to the last Shah of Iran, created this space to escape the crushing success of his prior Los Angeles nightlife venture, Tenants of the Trees. At Girl at the White Horse, intimate nooks and estate-sale furniture welcome a privacy-loving guest list of young Hollywood, with an even-more secluded upstairs for impromptu performances and occasional book clubs.

1532 N Western Avenue; www.girlatthewhitehorse.com
Now Boarding

Time was that airplane travel evoked mobility and glamour instead of flight delays and security checks, and Now Boarding in West Hollywood lands the cheeky mile-high concept with thankful restraint. With a moody mod decor by Sayre Ziskin, the lounge is all about the destination instead of the journey, with tray tables in permanent downright positions and protective headcovers, elevated by dark wood, brass, and a long wingspan of a bar. Drinks range from individual mini-bottle chasers to the oversized 'Bermuda Triangle' with gin, luxardo and chartreuse that comes in a wooden suitcase and serves up to 25 members of your crew.

7746 Santa Monica Boulevard; Tel: 1.323 848 8447; www.nowboardingla.com
Delilah

Backers H Wood Group, responsible for many a Kardashian-clan birthday party at their hotspot The Nice Guy, know a winning supper club formula when they see it: dinner and drinks sliding seamlessly into bottle service and dancing. 'At small parties there isn't any privacy,' F Scott Fitzgerald famously wrote, and at Delilah, the sprawling intimacy comes courtesy an extensive champagne selection and velvet banquettes from nightlife expert John M Sofio of Built Inc, who added to the Gatsby-inspired plushness with dramatic brass columns, crystal sconces and a central marble fireplace. While the plain white-box exterior on Santa Monica Boulevard isn't hidden, access is helped, in this city of appearances, by that old secret of dressing the part.

969 Santa Monica Boulevard; Tel: 1.323 745 0600; www.delilahla.com
Break Room 86

They say fashion comes back around every 30 years, which makes Break Room 86's period revival right on-time. Twin brothers Mark and Jonnie Houston, who have built a Southern California mini-empire on the sheer appeal of dramatic entrances, decked this space with working arcade consoles and mallrat drinks, like an Orange Julius tiki cocktail. But finding your way inside any Houston Hospitality venture is either an adventure or some sort of ordeal, depending on your perspective. (There's the garage sale refrigerator for the 70s-themed bar Good Times at Davey Wayne's, and a closet leading to Cuban spot La Descarga. You get the idea.) In this case, going back to the future requires a long strut down a loading dock behind The Line hotel and then a slide through a vintage snack vending machine.

3515 Wilshire Boulevard; Tel: 1.213 268 3056; www.thelinehotel.com
Here's Looking at You

The location may be in the heart of Koreatown, but nowhere seems to embody the ever-porous intermingling of LA's diverse communities as much as Here's Looking at You. All drinks are named for songs about Los Angeles, like a warm and grassy Kendrick Lamar The Recipe for the perfect California day; in this case gin set off by osmanthus-infused gancia and birch bark-infused Punt E Mes. The bar of the restaurant is the only place you can get a slice of 'bar pie'; work your way to it with updated comfort food made with seasonal ingredients like yellowtail with tamarind and banana blossoms, foie gras and smoked eel terrine, or a stracciatella egg drop soup studded with yuzu sauce and pepitas.

3901 W 6th Street; Tel: 1.213 568 3573; www.hereslookingatyoula.com
Good Housekeeping

A sign of the changing times in once-residential Highland Park, Good Housekeeping is in a converted storeroom invisible from a busy commercial stretch. Accessible through the bistro Cafe Birdie, or an alley when the restaurant is closed, the exposed-brick and marble-topped bar shares some of the casual DNA and irreverence with classics. Many of the house recipes, by bar director Alex Barbatsis and Good Housekeeping's head bartender Lauren Pool, are inspired tweaks on old standards pulled from the pages of vintage cocktail books, like a vodka and fino sherry-based martini, a savoury-sweet Los Angeles sour, or the Japanese and Irish whiskies and maple syrup-infused Mary Ko.

5631 N Figueroa Street; Tel: 1.323 739 6928; www.goodhousekeepinghlp.com
Rudolph's Bar and Tea

Not exactly unmarked on the ground floor of downtown's new Freehand hotel, the real secret with Rudolph's is how good a bar can be hiding in plain sight. With an inspired studio pottery-meets-California craftsman vibe from Roman and Williams, the drinks are a little bit like a favorite caftan-wearing aunt, transitioning from full daytime tea service to loose leaf-infused cocktails. Dance This Mess Around pairs lapsang souchong with cognac and Armenian apricot jam, while a mezcal-based standout tops Jamaica tea with saffron strands and aloe, and a North African Old-Fashioned combines bourbon, rum, black tea and ras el hanout bitters.

416 W 8th Street; Tel: 1.213 612 0021; www.freehandhotels.com
Receive our daily digest of inspiration, escapism and design stories from around the world direct to your inbox
Melina Keays is the entertaining director of Wallpaper*. She has been part of the brand since the magazine's launch in 1996, and is responsible for entertaining content across the print and digital platforms, and for Wallpaper's creative agency Bespoke. A native Londoner, Melina takes inspiration from the whole spectrum of art and design – including film, literature, and fashion. Her work for the brand involves curating content, writing, and creative direction – conceiving luxury interior landscapes with a focus on food, drinks, and entertaining in all its forms