Yadoya — Brussels, Belgium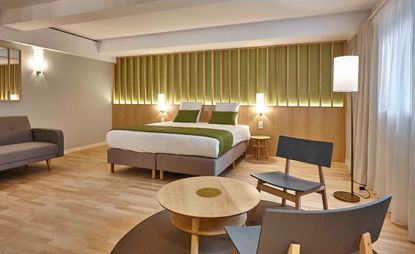 (Image credit: press)
With its peaceful tsuboniwa – a traditional Japanese courtyard garden with a small stone and bamboo fountain – hidden away on the lower ground floor, planted with bamboo, red maple trees and bryophyta moss, Yadoya, in the North quarter of Brussels, is evidence of the Belgian capital's ability to cultivate unexpected little pockets of character.
The hotel, modelled and named after a typical Japanese hostel, is on a busy road near an area of high-rise office blocks. But as can be expected of a hospitality concept that means to immerse visitors into the Japanese universe, once inside the wood and glass doors, the outside world quietens.
The hotel's architect Michel Penneman is an expert at creating intimate worlds to retreat into. Yadoya consolidates his fascination with Japan in a partnership with hotelier Everland.
Penneman honours the Japanese codes truthfully: muted and warm light flows downward from wall lamps, maple wooden floors give an airy impression, green accented walls and bedsheets teamed with grey furniture form a soothing palette. One suite, facing the inner courtyard garden, increases the Japanese caliber one more notch with its tatami-inspired floor-level bed.
The 73-room hotel boasts maple wood furniture by the Belgian-Japanese interior and product designer Jun Gobron, whose Yado chair will be put into production by Belgian firm De Zetel. Gobron's round tables are finished off with an authentic Japanese coin in the centre, gifted by the Japanese ambassador to Belgium.
INFORMATION
ADDRESS
Boulevard d'Anvers 32-33
VIEW GOOGLE MAPS (opens in new tab)