Freycinet Lodge Coastal Pavilions — Tasmania, Australia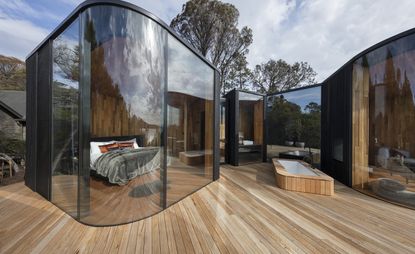 (Image credit: freycinetlodge.com)
Perched on the rocky granite outcrops of the beautifully rugged Freycinet Peninsula, nine new Coastal Pavilions breathe new life into one of Tasmania's most visited guest lodges.

Joining 60 other timber cabins, these new pavilions offer an alternate form of eco-sensitive guest accommodation. Taking inspiration from the 'fluid forms of the nearby bays', Peta Heffernan, co-founding director of local firm Liminal Studio, says: 'The accommodation presents a backdrop and a quiet response to its immediate context, enabling guests to feel immersed in the natural environment rather than being presented with a dominant, competing built form.'

The charred façades form protective, discreet shells, wrapped in ember-proofed Red Ironbark timber cladding. Once you walk through the front door, their opacity makes way for curved, floor-to-ceiling windows which reveal the pavilion's proximity to the water's edge and the surrounding landscape. Further intimacy is enhanced through the considered use of Tasmanian timbers in the interiors, whose varying thicknesses engender an ever-changing interplay of light and shadow. A sense of calm is instilled through a determined design restraint and concealment of the carefully selected hotel amenities.

If guests can peel themselves away, they are invited to enjoy everything that Freycinet National Park has to offer, which includes numerous world-class hiking trails, pristine beaches and secluded sandy bays.
INFORMATION
ADDRESS
Freycinet National Park
Coles Bay Rd
Coles Bay