Garden State — Melbourne, Australia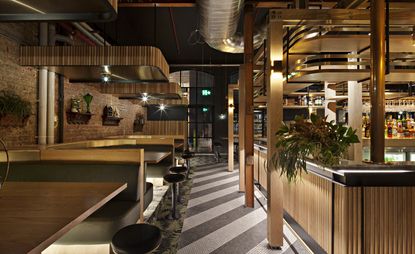 (Image credit: press)
While awash with compelling restaurants and bars, decent pubs in Melbourne's thriving downtown area have always been scarce. It makes sense then, why the newly opened Garden State has been welcomed with open arms.
Joining some of the city's most defined dining establishments on Flinders Lane, the new venue occupies the former site of he famed 1990s Italian restaurant Rosati. And as one of the city's largest venues with a capacity to hold 840 patrons, it is an ambitious venture for proprietors, Sand Hill Road, who has made its name re-inventing old inner-suburban pubs.
Garden State continues a long-running partnership with local outfit Techne Architects, who have created a contemporary space while remaining true to the mood and function at the heart of a traditional pub.
Behind its 1890s facade, a ground floor area features a large stone-clad island bar and double-sided fireplace, and backs on to a soaring four-level courtyard and beer garden. Complete with full-sized ficus trees, an atrium ceiling is a striking feature that ties together the vast space.
In addition to classic pub fare and bar snacks, chef Ashley Hicks gets to exert more of his flare in The Garden Grill. With dusty pink wall-paneling and smoky mirrors, it's an attractive and atmospheric setting to sample a modern Australian take on grill and bistro dishes.
INFORMATION
ADDRESS
101 Flinders Lane