Gabriel — Melbourne, Australia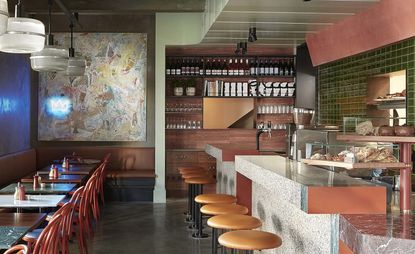 (Image credit: gabrielfitzroy)
Naval officer Gabriel De Clieu is royalty in the coffee world, having introduced the potent bean to the French colonies in the Western Hemisphere in the early 18th century. Paying homage to his endeavour and the drinking rituals it has engendered, Gabriel restaurant, in Melbourne's cosmopolitan Gertrude Street, rocks the sass of inner city café culture with the flair of period dramas thanks to Melbourne-based designer David Flack.

'I imagined De Clieu enjoying a coffee in Milan in the 1950's and a Parisian café surrounded by French arts and crafts furniture,' enthuses Flack. Cue the service counter's richly veined emerald and burgundy marble plus terracotta leather banquettes, and the customised 'serpentine' motif on the American Oak joinery referencing Parisian designer Jean Royère's work. But comparisons stop there.

Flack's precious anarchy is realised through mash-ups of design styles and pigment politics. The counter's sharply contoured modulations and etched brass bass recalls Memphis Group designs, whilst intricate dentil joinery details linking the rectangular space adds an ancient imperial flourish. Punchy pastels including speckled lemonade pink granite mingle with tonally dense marble tabletops, customised Thonet chairs are softened with lavender cushions and pistachio green stripes add a minted finish to the ceiling. 'It's good to throw a few curve balls into the mix and create some tension amongst the materials and colours,' adds Flack.

Hand-troweled plaster walls and scuffed concrete floors give the café a settled patina, whilst giant sash windows and the abstract painting dominating the rear wall, link it to the graffitied streets. The neon crown affixed to its surface nods to Fitzroy's status as Melbourne's food and coffee mecca with a playful air. Inclusion of a black and white striped Shogun lamp – a 'trophy' placed in all Flack's residential and commercial projects – is a throwback to his philosophies of design, 'a little ugly, punchy, graphic, questionable and damn sexy,' he quips.

Gabriel's all day breakfast and lunch menu grants classics a contemporary spin: BLT's are infused with jalapeño cream cheese and onion jam, whilst fruit salads comprise poached rhubarb, balls of strawberry sorbet a lightly spiced gingerbread served with orange crème anglaise. But it's the coffee alone that keeps regulars returning.
INFORMATION
ADDRESS
187 Gertrude Street